Power Washer's Guidebook: Automated Systems Clean Tall/High-rise Buildings
Contributor: Mick Lange, CEO, Sky Pro LLC, Little Canada, MN / Published April 2015

Editor's Note: The main body of this entry focuses on automated cleaning. See also the sidebar (Manual Cleaning Basics) condensed from the entry "High-Rise Rigging" in the 2002 edition of the Power Washer's Guidebook, which was written by James P. Donaghy, president, CSCI/Mantis.
Geographical Considerations
Automated systems are used all over the world. They typically are used in the same weather conditions as manual window cleaning. They are becoming more popular in desert areas, such as Las Vegas in the United States and Dubai and Abu Dhabi in the United Arab Emirates.
Typical Job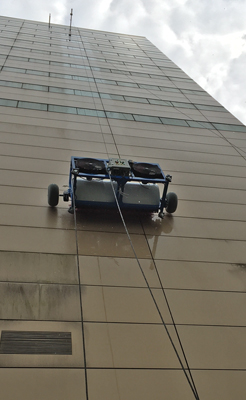 These automated window and building exterior cleaning systems do not require the use of chemicals. Instead, the machines use pure water resulting from RO/DI [reverse osmosis/deionization] water filtration systems (Green Clean).
Sky Pro systems require only two people to operate them. One operator remains safely on the roof and raises and lowers the unit, using a hoist motor, and moves the unit and rigging as each section is cleaned. A second operator is located safely on the ground and also helps move the unit from section to section. These systems greatly reduce the need for employees dangling over the edge of buildings, potentially getting stuck on the building, or falling off the building, as well as dropping items, including cell phones, buckets, keys, etc. 
Techniques that Work Best
Automated cleaning, when possible, provides added safety for workers who do not have to maneuver along the sides of buildings.
Exceptions
These machines do not work on all buildings; however, there are solutions we can recommend such as custom rigging. The equipment can often clean most of a building, and the rest can be done by a manual window cleaner. There are tens of thousands of buildings around the world that would be suitable for cleaning by automated machine.
Equipment and Supplies
These machines come as a complete system.
How to Bill
The best way to bid is by the drop. You calculate for one person how long it would take to put ropes out, go over the side of the wall, and wash two windows all the way down to the ground; and then go back to the roof and do it all over again. If you are using two people, you double it. And if you are using a swing stage, you estimate two people starting at the top, estimating their time to get to the bottom and start again. 
Ancillaries
Window cleaning, building cleaning, and pressure washing are good companion endeavors.
Problem Areas to Avoid
Weather (sleet, rain, ice, etc.)—especially wind—can increase the risk to workers, so working high up in dangerous conditions should be avoided. There are also individuals who are afraid of heights. They would not be good candidates for working high above the ground. By deploying automated cleaning systems to the fullest extent possible, risk to workers is minimized.
How to Fix Mistakes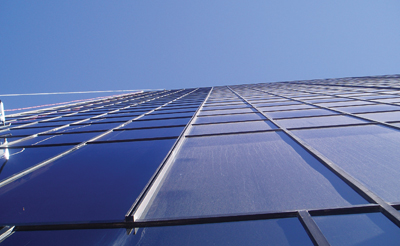 With manual window cleaning, one hears all too often of window washers getting stuck on their rigs/chairs, falling, improper use of their equipment, etc. Automated systems offer a solution to these problems since it is a machine cleaning instead of people doing the cleaning. These machines clean the entire building and are a lot faster than manual cleaning. (It is much like sweeping a parking lot with an automatic sweeper instead of a broom.)
Mick Lange owned a professional window cleaning business for 22 years before establishing Sky Pro, LLC in 2007. In 1992, one of his employees passed away from a fall while manually cleaning windows. It was then that Lange determined that there had to be a safer and more cost-effective alternative to manual window cleaning. By testing prototypes, he came up with four different machines, which work similar to carwash technology. With more than 12 patents and many pending patents, the company has sold approximately 100 machines worldwide.
Manual Cleaning Basics

Safety first—Comply with all OSHA training requirements for employees working on scaffolds or erecting scaffolds (OSHA Standard Number 1926.454).

Swing stages accommodate men and equipment and cover wide swaths of a building. Correct and safe rigging of stages is where manual cleaning begins. (Some buildings are dressed with permanent stages or fixed equipment, which make the approach easier and setup faster. But the responsibility for checking the fixed staging and using it correctly remains with the contractor.)

After required OSHA training and before cleaning any tall or high-rise building, understand (and be sure employees understand) the structure and function of each of the following:

• Davits and davit arms
• Anchoring points
• Parapet clamps and cornice hooks

Staging types vary greatly, and modular stages are available for difficult-to-access areas. Custom stages are fitted with the equipment needed for the cleaning job (e.g., chemical feeds, sprayers, and pressure washers).

Debris netting is required in many places and especially over bodies of water under bridges. Old structures are likely to have contaminants in the coatings and under towers, asbesto may be in the mix of coatings. From lifts that allow access to low stories to rolling rigs that allow easy setup and maneuvering, the approach to cleaning tall and high-rise buildings continues to become easier (and safer), even when it is manual.