Power Washer's Guidebook: Agricultural Equipment
Contributor: Jeff Schutz, Owner & President, Mobile Washer, Alexandria, MN / Published November 2014

Editor's Note: This entry contains some in-formation from a chapter in the 2002 Power Washer's Guidebook, "Agricultural Applications," which was written by Cal Krefft, KEW Industry U.S., Inc., Clearwater, FL, and John North, Alfred Kärcher, Inc., Elgin, IL, and revised by Sam Humphrey, Mi-T-M Corporation, Peosta, IA, and Mike Costa, Costa Barn Cleaning, Tulare, CA.
Geographical Considerations
Agricultural equipment needs to be cleaned all over the country, and the opportunity is limited more by the seasonality of each region than the region. Typically, equipment needs to be cleaned after harvest is completed and before it can be stored or transported to another harvest site.
Typical Job
Cleaning agricultural equipment requires a fully self-contained and portable pressure washing and soft water treatment system. For maximum efficiency, the pressure washing unit(s) should be capable of four to five gpm and 2000 to 3000 psi. Ideally, each crew would consist of two workers and have the ability to wash simultaneously, which would require two single pressure washers or one, dual-gun washing unit.
It is also highly recommended that soft-treated or reverse-osmosis water be used on agricultural equipment as it is gentler on high-finish coatings, boosts the cleaning power of detergents, and is less likely to leave a spotty film or residue. When it comes to cleaning chemicals, make sure to use products that are of a low pH. This will help minimize any exterior clouding to the coating.
Techniques that Work Best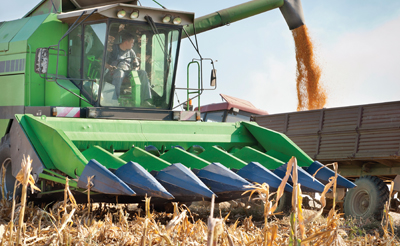 Prior to beginning the cleaning process, make sure a pre-approved washing area has been identified and agreed upon so that the grease, oil, and wash water residue will be controlled and disposed of in a manner that limits your liability and also meets applicable environmental guidelines. Once the equipment has been prepped and readied, the first step to cleaning the agricultural equipment is giving it a good hot water rinse and mud knock down.
Using hot water for the pre-rinse will speed mud and grease emulsification and prep the surface for the chemical to be most effective. The chemical can then be applied through a low pressure, downstream injector, which will give greater control over the amount used, helping control cost and quality.
While one gunner is applying the chemical, another crew member should be following behind with a specialty vehicle brush, working the chemical in and the greasy residue loose. Once the equipment has been thoroughly pre-soaked and brushed with chemical, both crew members should immediately commence detail rinsing. It is important to rinse quickly so that the soap does not dry, spotting the surface, but not too quickly as to miss key buildup areas. If the soap does happen to dry, wet the surface with water, brush, and detail rinse.
Exceptions
Keep in mind that there are many places on agricultural equipment that may require special attention to detail, such as the engines, chassis, or combines. (Cleaning engines and chassis also introduces the reality of adding petroleum products to the wastewater, which constrains wastewater disposal options. For instance, if it is only mud being washed from a tractor, the muddy water can generally be allowed to settle on and percolate through a graveled section of the customer's site, although even this is becoming less of an option.)
Agricultural equipment is cleaned to remove dirt, mud, and grease. It is also cleaned to prevent crop pests and diseases from being transported from field to field by machinery. If asked to apply pesticides or fungicides to equipment, be sure to be properly licensed for the jurisdiction and also fully versed in their use. And be ready to collect wastewater as required.
When cleaning orchard equipment, test clean first to find the best temperature for the material (e.g., sap, fruit residue) that must be removed. Some substances flow off nicely with hot water; others simply become gummy. The testing is important because too hot water will bake the gooey residue onto the machine instead of dislodging it. Some orchard equipment must be cleaned with steam. Detergents and degreasers are sometimes no match for the fruit extracts, but powered, rotating brushes can be useful. Always test first to find a method that works.
Equipment and Supplies
A basic list of equipment and supplies includes the following: self-contained, portable pressure washing and soft-water treatment system capable of four to five gpm and 2000 to 3000 psi and hot water; wastewater containment system; brushes; wands; downstream injector; low pH chemicals. Steam may be needed for orchard equipment.
How to Bill
It is recommended to bill based upon labor time and material usage. The size, type, and dirtiness of agricultural equipment can vary greatly.
Ancillaries
Orchard spraying equipment and building exteriors are good add-ons for contractors washing equipment at a customer site. The farmer that owns small skid steers or loaders for use in the yard may be persuaded to add them to the list of equipment to be washed.
Wastewater collection is becoming such a significant part of jobs involving use of water that contractors in regions where there is sufficient business in washing agricultural equipment may be able to consider setting up a collection system or washing bay with permitted drainage—akin to a fleet washing operation—that can serve several agricultural equipment owners off site. (In the future, the central-site operation for a cleaning contractor may become easier than carrying a collection system and transporting wastewater collected especially because the latter opens the need for additional permits to transport the wastewater when pesticide and herbicide chemical residues are in the mix.)
Problem Areas to Avoid
The key to cleaning agricultural equipment is communicating with the client up front and understanding what their expectations are. Some clients may want more attention to detail cleaning while others are focused on the budget and may just want the chunky mud and grease knocked off.
Use the mildest detergent (or chemicals) possible that produces good results. Understand wastewater collection and disposal regulations—and permitting required—for the place where the job will be done.
When using hot water, keep the temperature low enough (below 140 F) to avoid damaging gaskets, belts, seals, paint, and lettering on equipment.
Be sure to use proper eye and skin covers (personal protective equipment) when cleaning machines that have been used to apply chemicals—whether pesticides or herbicides. Follow all guidelines for using PPE in general.
How to Fix Mistakes
Talk to the customer before beginning and make certain to agree on whether detail cleaning or a general wash is the goal. Make sure a customer asking for a general wash understands expected results so that if detail cleaning is later requested, it can be billed as additional work.
Jeff Schutz, owner and founder of Mobile Washer located in Alexandria, MN, has been providing commercial and industrial specialty cleaning services across the United States for more than 25 years.