The Power of Compressed Air
By Diane M. Calabrese / Published December 2016
A
ir Compressors
Note passing and paper-wad shooting are familiar to anyone who attended grade school. It's the latter activity that interests us here, as it's the first bit of experience many children have with the power of compressed air. Plug one end of a straw with a nugget of paper. Blow into the other. Propel the nugget. Behind the exhalation is our built-in air compressor system of diaphragm and lungs.
From bicycle pumps to bb gun shooters, we all had an early introduction to air compressors. Ingenuity being plentiful in our industry, air compressors may eventually play a bigger, more direct role than they currently do. By direct, we mean using air pressure to put the force behind a jet of water. Most of our readers know that there have been efforts to do that for decades.
Check out the Thunder Gun pressure washer trigger spray gun, which was formerly available from Northern Tool + Equipment and other sources. It yielded up to 1,000 psi from a configuration that included a one horsepower (or larger) compressor and a garden hose. The set up included air and water control valves.
Do-it-yourselfers have provided many blog accounts of their efforts to construct a pressure washing device that relies on an air compressor. What drives their efforts? The why-not question, possible space savings, and anticipated cost savings are all in the mix. Overall, DIYs want to exploit an air compressor to power one more tool.
Using an air compressor to power more than one tool is a way to save space, as each tool that can be powered by the air compressor is one tool that requires no motor of its own. Such a strategy has long been important to individuals with small workshops. Now, it extends to industrial settings.
"We are seeing more demand for more products put into one package," says Curtis Braber, president of BE Pressure Supply Inc. in Abbottsford, BC, Canada. "For example, we now produce compressor, generator, and welder combinations on a single platform."
There's a definite role in our industry for manufacturers and distributors who supply end users with air compressors. It's practical at every level. "When you drive by most construction job sites, you will often see six or seven compressors and one pressure washer for cleaning," says Braber. "For this reason, we are seeing more and more distributors starting to support and supply compressors to their contractors."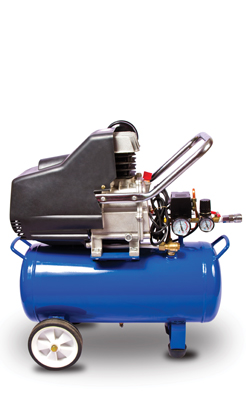 Here and now, there are two areas where compressed air is used in the pressure washer industry, says Bryan McCarron, air compressor division manager at Mi-T-M Corporation in Peosta, IA. They are used to run the pneumatic controls and foaming equipment in car wash tunnels, as well as with foaming devices used to clean food preparation areas in meat and food packaging plants and hoods in restaurants, he explains.
"Since 2004, our company has encouraged our dealers to step out of their comfort zone with pressure washers and add compressed air to the products they sell and service," says McCarron. "It makes sense that our dealers get involved with compressed air sales and service, as we typically see both types of equipment installed in most of the businesses that our dealers sell to," explains McCarron. In addition, being able to provide service to air compressors and pressure washers is important to meeting the needs of contractors, to whom downtime is a bane.
Basics
That backs us up a bit to the definition of an air compressor. Some compressors, such as manually driven bicycle pumps, do not have a motor. The simplest compressor with a motor would be just a crankshaft, connecting rod and piston, cylinder, and valve head. Complexity builds from there.
Most motor-driven compressors include a tank to store pressurized air and a pressure gauge. Beyond that, compressors become more complicated—and capable of providing more power—with the addition of a second cylinder.
In some air compressors, pistons in two cylinders act in unison. In others, they act in tandem with the piston in the second cylinder increasing pressure in air that has been pumped in from the first cylinder. Of course, the more pressure and the more parts, the greater the need for ancillaries such as an unloader valve. (Tanks generally have a safety valve of their own to prevent incidents, should something impair the function of the air compressor moving parts.)
More moving parts leads to the requirement for lubrication. And as with any other setting in which oil is used, routine maintenance is essential. If rings on pistons fail, oil can get into the compressed air. No matter how miniscule the amount, the oil can cause lots of problems. Filters in the air line are one answer; they, too, must be properly maintained.
The option of staying away from oil works in air compressors that provide lower pressure outputs. But piston types such as a diaphragm compressor or a fixed-piston compressor that use no oil will not be suitable where much power is needed.
Our readers know that when the standardized cfm rating for an air compressor is given, it is for the machine at sea level. Atmospheric pressure, air temperature, and humidity all affect the output of an air
compressor.
Key to proper care of an air compressor are "maintaining the engine and replacing the oil in the compressor pump," says Braber. "It is also important to make sure you are using a moisture regulator to keep moisture from getting through the air lines into your tools, which will wear them down."
Air Compressor Care
Tiny leaks in an air pressure system may go unnoticed—or worse, ignored. They should instead be given immediate attention. "The most misunderstood component of compressed air as a utility is, how much money is lost due to air leaks in the system," says McCarron. "Air leaks can consume up to 25 percent of air produced by the air compressor. They can lead to low pressure in the air system, making tools less efficient,"
Make scrutiny for air seepage part of routine maintenance. "The best time to check for leaks is after hours: check couplings, regulators, pipe joints, and quick connects," says McCarron.
The maintenance schedule for an air compressor must match the ambient conditions to which it is exposed each day and the amount of service it sees. "Maintenance schedules of reciprocating, rotary screw, or rotary vane compressor types depend on the environment they live in and their duty cycle," explains McCarron.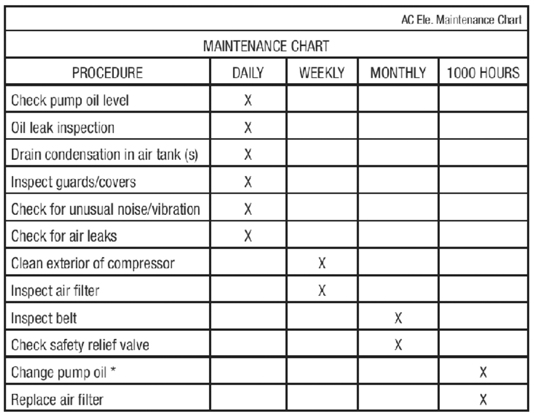 "Our company manufactures a full line of reciprocating compressors where a maintenance chart is provided with each unit," says McCarron. (See the sample chart on page 22.)
Notice that the top maintenance item for compressed air is checking for air leaks in the system daily, says McCarron. The diversion of air toward a leak diminishes the performance of air tools and pneumatic equipment, a negative outcome that cannot be overstated.
At the same time, do not forget the basics. "Changing the oil and air filter on intervals consistent with environment and duty cycle is top of the list as well," says McCarron.
Future of Compressed Air
The connection between air pressure and wastewater is an old one. Those of us with a home tied to a city sewer tend to forget about that air vent on the roof that is such a critical player in the system.
Compressing air by using only gravity and water has been going on for centuries. Credit is given to many for firsts, making it dangerous territory to cite one, but Italian and Spanish engineers converged on a similar approach in the 1600s. They deployed a trompe (or trombe).
The trompe is a water-powered air-compressor system, which most reading this article know was once exploited in mining and mine ventilation systems. A trompe includes a shaft that allows water (gate-controlled) from a higher elevation to flow into a tunnel filled with water (below) and air (above). The tunnel has two exit ways, a shaft for water and a much narrower pipe for air. When water is allowed into the entry shaft, the pressure on the air above the water increases as the water rises. The pressure forces air into the air pipe that at the surface can be connected to valve hoses, etc.
Before he died at the end of December 2013, Bruce Leavitt, an environmental consultant, succeeded in installing a trompe at a water treatment plant in Clearfield County, PA. Many entities (government and private) funded Leavitt's research; they range from the Pennsylvania Department of Environmental Protection to Stream Restoration Inc.
To learn more about Leavitt's support, work, outcomes, and promise of the approach, see www.osmre.gov/resources/newsroom/Stories/2013/trompe.shtm. Low construction and operational costs make the trompe a potentially exciting system for wastewater treatment, one members of our industry will want to add to the R&D hopper—if they have not done so yet.