Plenty to Celebrate
PowerClean 2021
By Diane M. Calabrese / Published August 2021

Mardi Gras may be almost six months away (March 1, 2022), but there will be plenty to celebrate in New Orleans, LA, before then.
     From September 8–11, 2021, CETA's PowerClean 2021 convention and tradeshow co-located with Power Washers of North American (PWNA) will take place in New Orleans. With PowerClean forced to cancel in 2020, the late summer meeting scheduled for 2021 fills members with anticipation.
     Along with the high expectations, of course, there's also a bit of nostalgia over a year that had to be skipped. As always, the best remedy for wistfulness is action.
     CETA co-locates with PWNA again this year as they did in 2019. The co-location gives distributors the opportunity to meet with a large number of the contract cleaners their ranks serve. Products can be introduced, and valuable product feedback can be obtained in an informal setting.
     All the foregoing and more (training, demonstrations, etc.) capture the imagination. Yet what many who will participate in PowerClean 2021 most look forward to is "getting together with customers and industry colleagues we haven't seen in a long while," says Jim Sheperd, general manager at Suttner America Company in Dubuque, IA.
     The connections PowerClean facilitates are important to members in multiple ways. There are business-to-business ties, and there are bonds built around vital subjects, such as addressing regulatory concerns.
     "I feel like I am speaking for a lot of people who missed the opportunity to connect with other industry colleagues," says Robert Bridgeforth, vice president of sales and marketing at Veloci Performance Products in Savage, MN. "I know that may seem a bit cliché, but there is always a good amount of 'knowledge share' that occurs, not only on site during the event but also in the evenings at the various gatherings."
     Bridgeforth says the track record of CETA gives him a very positive view of the September gathering. "CETA had such an incredible response throughout the pandemic," he explains. "Their level of communication and making resources available reflects their dedication to members. I look forward to the upcoming educational opportunities."
     Those educational opportunities include seminars on topics ranging from pump inlet supply systems to succession planning. Nationally known speakers from outside the industry are also part of the program.
     The succession planning just cited is not only a concern within a company. It applies in a broad sense to the industry, and building ties across age groups is important to keeping the industry strong.
     "We have a great business in a great industry," says Brad Howland, president of Easy Kleen Pressure Systems Ltd., which is located in Sussex Corner, NB. "Seeing the next generation of young people in our business so committed has made it all worth this amazing journey."
     The absence of PowerClean in 2020 left a gap that will now be filled. "We missed seeing our many friends, both customers and suppliers, at the show," says Howland. "We are looking forward to seeing them this year in New Orleans and making many new friends as well."
     Many a conversation at CETA begins with an exchange about a piece of equipment or other product. That exchange is a positive multiplier for the industry.
     Is there something Karl Loeffelholz, dealer division manager at Mi-T-M Corporation in Peosta, IA, missed when PowerClean 2020 was canceled? "Yes, absolutely. We didn't get to show equipment and be in front of people," he says.
     "Being in the equipment business, most generally everyone enjoys seeing what new equipment or updates have been made throughout the year," explains Loeffelholz. "Being face to face allows all of us to catch up better on what's happening in the industry and try to improve for all parties involved."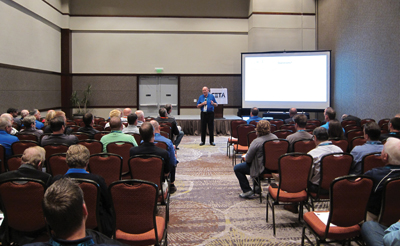 Getting back to interacting with colleagues in the real world is exciting for everyone. "Being able to get face to face again with people you talk with almost every week and
just catch up," says Loeffelholz, is a big plus. "We look forward to the annual trade show and being able to build on existing relationships and create new relationships."
     A 2006 article by Mark Hickson III in Communication Education characterized conferences as the professional equivalent of Thanksgiving dinner. He added another metaphor tied to the gathering: a log fire in a den, the idea being that if logs are not added to the fire, the logs burn until the fire is extinguished. Throw new logs on the fire, though, and it keeps burning. And it can be made to burn more intensely.
     The ideas, the friendships, the conversations, the educational opportunities, and more at PowerClean 2021 are the logs that keep the fire in CETA—and the industry strong. Although not impossible, it was not easy to achieve the same without a meeting in 2020.

Bustle
     "We missed the personal connection and conversations," says David Presley, president of Hydro-Chem Systems in Caledonia, MI. "We love meeting new people and seeing a ton of the regulars that attend the show year after year. You can connect on Zooms and calls, but the human connection was missed the most."
     Bustle is not a word used much in the 21st century, but classic film viewers know it when they see it in the street scenes of New York City that open many an old film. Well, bustle (and hustle) indicates something is going on—the energy of people living life and moving ahead to ever more interesting and clever endeavors can be detected.
     So it is with the CETA annual convention and tradeshow. "It's always a packed agenda when we visit Power-Clean," says Presley. "Between meetings with current clients and prospects, seeing speakers, and managing the booth, we are looking forward to it all."
     The tangible and the digital are different experiences. "The second item of importance at PowerClean outside of human interaction is being able to see and physically touch new technology," says Presley. "We're excited to see if there are any new developments after a year of pause."
     Products, educational sessions, seminars, and keynote speakers will be part of the "packed agenda" Presley cites. There will also be a golf tournament and the chance for groups such as Women of CETA to meet in real time.
     Both the structure and tempo of PowerClean 2021 aim at providing an enriching three days. Those wanting to hone their leadership skills will be able to hear keynote speaker Ted Ma offer strategies for doing so. 
     What is CETA University and how can members tap its offerings? A session conducted by Mike Tonies from Hydra-Flex, Inc., in Savage, MN, will offer a "tour" of the digital tool and solicit ideas for additional content. 
     Jimmy Welch, a member of the team at American Pressure, Inc., in Robbinsdale, MN, will present a technical update. Welch is the 2021 president of CETA.
     And Dr. Bart Basi, an attorney and CPA who has spoken at PowerClean in the past, will return to discuss new tax laws. The foregoing examples are just a short introduction to the robust program that awaits attendees at PowerClean 2021.
     There is much to regret about a 2020 year without a PowerClean meeting. "We were sorry to miss the opportunity to learn about new industry advancements; network with the industry bellwether; and participate in activities, seminars, and other valuable industry-related forums," says Debisree Saha, senior marketing strategist at FNA Group | Global Marketing Services in Elk Grove Village, IL. 
     "In the past, CETA has been an excellent venue for us to showcase our industrial offerings and for the pressure cleaning industry to come together," says Saha. "It's been a place to learn about new companies, product offerings, technologies, and industry trends."
     Saha's company and perspective are representative of others in and beyond our industry. They appreciate that the strength they were certain they had, and had endeavored to build, has been verified.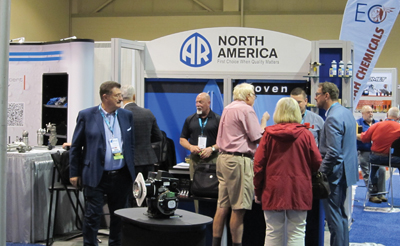 "Like every other industry, we were impacted by the pandemic last year," says Saha. "However, we have been amazed by our industry's resilience, and we have been grateful for the opportunity to contribute to our nation's recovery through new and significant product advancements. We look forward to reconnecting with our industry colleagues and seeing how the industry as a whole grew stronger because of the crisis we all faced in 2020."
   Now, it's time to look ahead. "We are excited to be back to CETA PowerClean 2021 with new hopes and aspirations," says Saha.
     "We look forward to catching up in person on industry performance in the past year, sharing key learnings, and discussing how we predict the industry will behave in the new post-pandemic world," explains Saha. "[The year] 2020 has made us stronger as a company. We have grown in terms of product spreads, facility expansion, and technology enhancements. We are eagerly looking forward to sharing our passion for creating more robust industrial products with our industry peers, retailers, and customers."
     Network, find solutions, learn, test ideas, ignite the imagination, find new energy through talks with colleagues…each person will develop his or her own list of what they most look forward to doing at PowerClean 2021. But do look forward. And do attend.