Perspectives from the CETA Board of Directors
By Diane M. Calabrese / Published February 2018

Editor's Note: We met the 2018 members of the CETA board of directors in the January issue of Cleaner Times. Members introduced themselves by telling us what motivated them to serve on the board, what they have learned from this service (or what they expect to learn from the service for first-time board members), what they are looking forward to the most in 2018, and (the nugget version) their professional background.
Starting in this February issue, members will tell us a bit about their company, their view of the industry, and their philosophy of doing business, as well as what they enjoy most about their work and their free time interests. To allow us to dig deeper with each board member (director), the second "part" of this article will run throughout the year with approximately one or two board members per month featured in this magazine.
---
Chad Rasmussen, CFO, Royce Industries, L.C.—CETA President
"I believe the biggest issue the industry faces is the same one that many other industries face: the internet," says Chad Rasmussen. "The internet has impacted most aspects of life and will continue to. Being a brick-and-mortar company in an increasingly online world has its challenges, and we need to learn how to evolve to survive."
In addition to keeping pace with the trajectory of the digital era, a company must also focus on more traditional and enduring issues. "A constant concern for our company is finding and retaining good employees," says Rasmussen. "The employees we have now are awesome. They are second to none both in terms of attitude and performance."
Even with the roster of strong employees, Rasmussen knows that keeping it so requires ongoing attention. "Every time we decide to expand and fill a new position, I cringe because I know how difficult it is to find good people," he says. "With the economy being as good as it has been within our footprint, it is so hard to find someone who is willing to stay at a job for more than a few months."
Achieving an equilibrium is important, says Rasmussen. "Learning the balance between trying to save as many dollars as possible and making good business decisions can sometimes be a challenging dimension of my position. Though I am sure it is imagined, it sometimes feels like all I get asked to do is spend money. This comes in requests for more inventory, higher pay, newer vehicles, repairs to facilities, new equipment, or a myriad of other things. My initial reaction is usually 'no.' Rather than always answering 'no,' I am trying to do a better job of hearing the reasons why. I am still a 'no' until otherwise convinced, though."
Chief financial officers everywhere certainly echo Rasmussen's characterization of his day-to-day role in putting the brakes on until there's sufficient information to inform acceleration—i.e., spending more money. Through it all, there are great opportunities, one of which is getting to know industrious and creative people.
"The most rewarding thing about my position is the relationships I am able to form with my coworkers," says Rasmussen. There is also the great reward of family.
"In my free time, I enjoy spending time with my wife and three daughters," says Rasmussen. "They are all beautiful, kind, and sweet. They also know how to get anything they want out of me. I also enjoy spending time in the mountains and going to movies."
---
Jim O'Connell, President, Hotsy Pacific—CETA Senior Vice President
Reflecting on the top issues for the industry and his company in 2018, Jim O'Connell identifies three. "Number one—enforcement of Prop 65 regulations [relating to potentially carcinogenic chemicals] for our industry," he says. "Number two—California rule 1147, which deals with NOx reductions as related to our pressure washers. Number three—hiring qualified individuals who are willing and able to work."
Among his many professional achievements, O'Connell would single out two as most important to him. "I am most proud of being able to provide a good living for our employees to enable them to enhance their quality of life," he says. "I am also proud of being able to help our customers overcome challenges they have had in their business and being able to provide them a viable solution that is both economical and sustainable."
The CETA board will meet many challenges in 2018. "The most challenging will be the adjustment to the strategic plan and keeping the focus on that as we move through the year," says O'Connell. Yet, he relishes the opportunity. "I am most grateful for the trust and confidence put in me by my peers and fellow board members to allow me to continue to serve the CETA organization."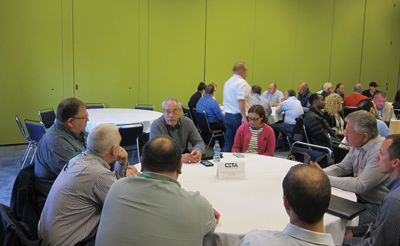 We all learn from others, and O'Connell recalls one person who particularly influenced him. "Mark Wilkie is the gentleman I purchased the business from," says O'Connell. "He had high ideals and also believed in paying forward his good fortune. He was always teaching me the value of treating people the way you wanted to be treated. He was quick to correct an issue and just as quick to give a compliment for a job well done."
Business and board service are, of course, just two parts of life. "My wife and I enjoy spending time at our lake house and on the water," says O'Connell. "We also enjoy spending time with our granddaughters."