Paul Horsley
Looking Back and Looking Forward
By Terri Perrin / Published June 2019

Paul Horsley is known to many in our industry as a successful business owner and a highly-respected power washing professional. After a lifetime connected to all things power washing, Paul recently sold his Calgary, Alberta, Canada-based company—Scotts Pressure Wash. Cleaner Times felt it was fitting to share some of the lessons he has learned as he now works on enjoying his retirement.
The Early Years
Paul Horsley's father, Matthew "Scotty" Horsley, was employed as a milk truck driver in Toronto, Ontario, in 1962. One day, he struck up a conversation with a fellow who was power washing the fleet. He eventually bought this equipment for $2,000, and the story of Scotts Pressure Wash had begun. In 1964, Scotty moved his family and his business to Montreal, Quebec.
One of Paul's earliest childhood memories is riding in his father's power washing truck alongside his brother, Jim. Their feet didn't reach the floor, which was just as well because water usually sloshed about the floorboards, having dripped off of their soaking wet clothing. When they arrived at a job site, the young boys would jump out to help their father by pulling hoses and being "gophers." "Go get this. Go get that," their father would demand. They were usually wet, cold, and hungry, but they did not complain. It was, Paul says, how he learned to work and to be a man.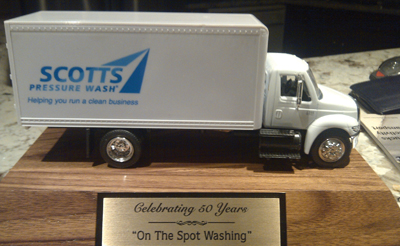 To this day, Paul considers his father a role model and says, "He was my hero."
Paul continued to work at Scotts Pressure Wash until he was about 21. In 1983, Scotty sold the business and moved to Ottawa. Now out of a job, Paul moved to Calgary, Alberta, and was hired by the Canadian Pacific Railway (CP Rail). He had married Nancy, and they had three children: son, Scott Jr.; and daughters, Megan and Jenna.
In 1986, while continuing to work full-time at CP Rail, he started a branch of Scotts Pressure Wash in Calgary. Scotty Sr. and Paul's Mom (May Nan) moved west to help with the business and to be closer to the grandchildren.
After 10 years working full-time at CP Rail and moonlighting at Scotts, annual sales had reached $450,000. Paul quit CP Rail and took over customer relations, sales, and marketing at Scotts. While this should have been a highlight of his career, Paul confides that it was, in fact, one of the darkest periods of his life.
"I had become a workaholic. I had worked myself into a state of collapse and was hospitalized with pneumonia," he explains. "I had depleted all of my energy reserves. That's when we had a family intervention. Something had to change, and that something was me."
A Life-Changing Book
One day a friend gave him The E-Myth by Michael Gerber.
"This book changed my life," declares Paul. "Gerber's message was so profound and exciting. It covered a lot of business basics—something I had no formal training in, just hands-on experience. I couldn't put it down.
"The main message that hit home for me was that I should be 'working on my business, not in it.' Next, was the importance of creating systems and processes. Hiring a manager and entrusting him with control of my business was very hard for me, but it freed up my time to do essential things like build a website, create training programs, and focus on sales.
"Quantifying data—understanding the numbers—was the third premise, based on the fact that there is power in knowledge. For example, how many trucks were we washing each year? I didn't know! Once I added it all up, I was astonished to discover we washed 175,000 tractor trailers each year. Wow! We started quantifying in all areas of the business with amazing results. After that, it was success after success. Everything improved—sales, employee retention, and my life. After 22 years of working full-time at Scotts Pressure Wash, the company had achieved total revenues of more than $80 million.
"I'm not saying this to brag about my success," states Paul, "but to inspire others. You can make good money in this industry, but for me, it was by trial and error. Over the years we expanded and then closed operations. When I recently sold the business, it had 40 employees in three locations and a fleet of 25 mobile trucks. Certainly, I can credit hard work for this success, but I also owe a debt of gratitude to author Michael Gerber for enlightening me on a better way to do business and to the many other business writers who inspired me along the way."
Paul also gives credit to his immediate family. His wife, Nancy, had done the company accounting all those years and has always been there for him with guidance and advice. Son, Scott Jr., has worked at Scotts for more than 20 years. Daughter, Jenna, is now in sales, and Megan does the accounting. After the sale of the company in the fall of 2018, all three of the Horsley children remain on as valued employees.
The PWNA Years
In the early 1990s, Paul learned that there was a magazine catering to the power washing industry called Cleaner Times. He subscribed, and that's how he discovered the PWNA. The first convention he attended was in Dallas, TX, and it was an eye-opener for him.
"First of all, I couldn't believe that there was an association of pressure washers," recalls Paul. "And then I met people who were making millions of dollars a year in this business! Overall, I was very impressed with the PWNA as an organization. The following year, they asked me to be on the board of directors, and I have been a board member ever since, serving as president for two terms."
Over the past 24 years, Paul has been active on various environmental committees; he has been instrumental in developing Best Management Practices; and he recently created the Water Reclaimer Program. Drawing from his 10 years of experience with CP Rail, he is also credited with pioneering the industry in the area of rail car cleaning.
Horsley extends sincere gratitude to the following men and women of the PWNA, all of whom he says have had an impact on his business
success, career development, and personal well-being. They are listed here in alphabetical order, so as not to draw attention to anyone in
particular: Everett Abrams, Charlie Arnold, Tom Bickett, Henry Bockman, Beth Borrego, Eric Clark, Chris Detter, Ty Eubanks, Don Flory, Dan Galvin, Allison Hester, Larry Hinckley, Mike Hilborn, Michael Hinderliter, Jackie Gavett, Christie Kaye, Pete Marentay,  John Nearon, Daryl Mirza, Doc Reisman, John Tornabenne, Joe Walters, and all the other contractors and vendors he has met over the last 24 years.
Paul has finished his term on the board of the PWNA board of directors and will stay on as an advisor. He has set up a consulting business—Paul Horsley Consulting—to help others build their businesses.
"But my real focus for the immediate future is myself," he concludes. "The year 2019 is the year of working on Paul. I'm going to yoga classes and watching my diet. Nancy and I have planned some great trips, and we now have three beautiful grandchildren we want to spend time with. I still intend to attend PWNA conventions to see friends, but I have no set plans. I want to enjoy my free time and continue to read and learn."