Patrick G. Wingen
A Tribute to Success with Honor
By Kathy Danforth / Published June 2020

"The nice guy doesn't always finish last" was part of Pat Wingen's business philosophy, according to his son Chris, and Pat was able to prove that point in his business and personal life. Chris shares other aspects of his father's values: "Treat others with respect. Be honest with them. What goes around comes around. The message he gave was that you don't have to be ruthless in business to succeed."
Pat made his mark in the pressure washing industry as CEO of AaLadin Industries, guiding the company in growth and innovation, and in serving as the first president of CETA (Cleaning Equipment Trade Associa-tion). After receiving his bachelor's degree at South Dakota State University in Brookings, SD, and his MBA at the University of South Dakota in Vermillion, SD, he joined the industry working at Alkota. Shortly thereafter, in 1981, Pat joined with Bill Busker and Eldean Kjose to create AaLadin Cleaning Systems. Their goal was to build the best quality equipment with a new design and easy serviceability.
Pam Hughes joined AaLadin as their first employee working in the office, and she recalls, "Pat was a dreamer—always thinking of the future and planning for the next big thing—but he was also a visionary. He followed through and made his dreams come true: a new building in 1984 and several additions since, innovating new products with new features that weren't standard in the industry, and high-tech machines that improved the manufacturing process. He was always looking for ways to improve our products."
Chris explains, "AaLadin is an American success story, where you have nothing to start with but a dream, and through hard work and determination, you build something from the ground up. In the beginning, he did a little of everything—sales during the day and bookwork and helping to build machines in the shop at night. Employees from those days still comment on the fact that everything had to be absolutely perfect before he would let a machine leave the factory; it was as if he was shipping every machine to his house. That is the kind of man Dad was, always wanting everything to be perfect. As the company grew and more people were hired to handle the growth of the business, his responsibilities changed as well; and he was able to focus more on building his management team as the CEO and leader: overseeing operations, managing/coaching people, and being a visionary for the company."

Over the years Pat started and grew several other companies, including Steel Eagle Inc., making pressure washer accessories, such as hose reels, surface spinners, undercarriage cleaners, vacuum systems, and more. Chris recalls, "Dad was always thinking of ways to improve, and he truly embodied what it means to be an entrepreneur. He had that spirit and passion about him." Pat became sole owner of AaLadin in 1998 and semi-retired in 2015, with the company currently employing approximately 100 people. As Chris says, "In 2015 Dad was able to take more time for himself and the family, and that really gave him joy. He dedicated nearly 40 years of his life to creating and managing his businesses, so he was ready, and he deserved more time for himself to enjoy all that he worked so hard for." In April of 1994 he was named the South Dakota Small Business Man of the Year.
Carl Harry started with AaLadin in 1981 and notes that Pat's strength was the "innovation of the very best quality pressure washers that were also serviceable. His state-of-the-art innovations of many kinds have become industry standards." AaLadin was at the forefront in many industry advances, including these features:
 
Quick-change coil design—a vertical heat chamber with a lift-out coil
Two-piece coil design with cold-water wrap and helical coil
Bucket insulation
Rotational molded fuel tanks
Poly float tanks
Diagnostic control panel for flow, temperature, and fuel
Flat-free tires
Swivel front casters
High efficiency heat chamber
Stainless steel wrappers, belt guards, and control panels
Self-contained pod assembly for pickups
GFCI cord assembly
Pat's treatment of employees reflected his view on life. Chris says, "One of his favorite quotes was, 'We are all made in the image and likeness of God. Be fair and kind. Share the blessings you have.'" 
Carl recalls, "He helped me advance through the company in many different positions and always tried to give a chance to advance yourself. He was always there when you were going through tough times, to visit with you and give you advice. Sometimes this is rare with an employer and his employees, but his door was always open."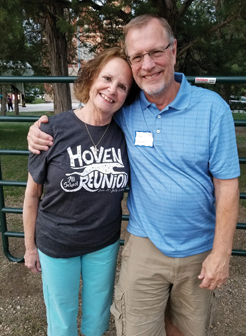 "Pat also wanted to improve the lives of his employees," shares Pam. "I think he was as excited as an employee was when he heard the employee had purchased a new car, especially if it was a Chevy. He rewarded employees for their tenure—one example is offering a 'dream vacation' after 25 years. They choose the place, and we make the arrangements for them. There have been several employees who have enjoyed this benefit with much appreciation. He wanted to give things they might not be able to accomplish on their own and was always excited to hear about their trip when they returned to work."
Jack Hill, vice president of GP Companies, has known Pat as a General Pump customer for 34 years. Hill states, "His absolute commitment to be the best in quality always remained at the top of his priorities." But in addition, "Pat always considered AaLadin employees an extension of his family. I cannot tell you how much love and respect I have for him."
Pat and his wife Theresa have seven children and 22 grandchildren. Of the seven kids—Bona, Nathan, JoMarie, Mindy, Christopher, Lindsey, and Mary—two have joined AaLadin. Chris says, "Since I can first remember, my dream was always to take over the company when Dad retired. He would often tell the story of my third grade parent-teacher conferences; when he went in to meet with the teacher, the first thing she said was, 'I've never met a kid more certain of what he's going to do with his life.' She went on to tell him that 'Chris told me that when you turn 65, he was going to take over and run the company.' Ironically, that's the way it worked out. I came back to work in the company in 2008, and in 2015 was named president, though Dad was still involved and never fully retired from the business. My brother Nathan is also involved in the business, with his focus being on the manufacturing/operations side."
Jack notes, "I remember Pat pulling into the General Pump warehouse all those years ago in a van, and out came an army of wild, young children (all his), including Chris, who at the time was three feet tall. They just kept coming out. I recently saw a whole family photo with all of the grandchildren as well, and I know how happy he is for that. He loved every single one the same!"
Chris says, "His favorite hobby was spending time with grandkids. He always said, 'The reason you have kids is for grandkids.' He and my stepmother enjoyed spending one-on-one time with each family at their house in Florida."
"Pat's priorities were God, family, and company," says Pam. "He was very active in the Catholic Community Foundation as well as other committees and organizations. His love for Theresa and his family was very apparent, and he was so proud of them."
"He was a very religious and devout Christian," explains Chris, "so faith and philanthropy were a big part of who he was. He helped build the new Catholic elementary school and was committed to philanthropy. He instilled in us that you cannot out-give the Lord. Whatever you give comes back ten-fold." Pat also served on the South Dakota Chamber of Commerce and Industry, the Youth Business Adventure advisory board, the Great Plains Policy Institute board, and the Dakota Hospital Foundation.
Pat Wingen's legacy was shown by the outpouring of gratitude and respect at Pat's funeral. "The number of people, the stories, and the appreciation they had show his character. His impact even outside of business was astounding," shares Chris.
For those in the industry, an email Jim Coleman sent to Pat's wife and others sums up the sentiments and experience of many.
Subject: My friend has gone to Heaven.
I met Pat Wingen around 1978 just after he joined Alkota. During the next few years, I got to know him better as Jim Prosser and I attended dealer meetings in Alcester. When he, Bill, and Eldean formed AaLadin in, I believe, 1981 in Elk Point, Jim and I visited them…and a new association began. Over the years we developed both a personal and a business relationship. We laughed together and fought together but always loved each other. We shared confidences that we probably didn't share with anyone else.
Even when the business part of our lives changed, we always remained very close friends. We shared a love for our families…and a love for our God.
He left today for a new adventure…and to be with our Lord. He will get to see my Vee as well.
God be with you dear friend. I will miss you so very much.
"We all miss him so very much and nothing will replace having him here with us, but his legacy lives on through his family, those that worked with him, and anyone who knew my Dad," shares Chris. "As for the businesses, his presence and impact continue to be felt on a daily basis. For me, keeping his memory in and around our companies is an important part of my job, and a responsibility I do not take lightly. He had a far-reaching positive impact on the lives of so many people, some he knew but also many he didn't. He didn't ask or need the recognition that comes with doing good for others; he just did it because he wanted to, and that is what made him such a special person. For those of us who were fortunate enough to know him, his legacy is something that reminds us to appreciate the things we have and share with others what we can. For me personally, I find the most happiness in knowing that I was lucky enough to call him my Dad, mentor, and best friend. He is missed but will never be forgotten."