PA SpA: Growing Alongside It's Worldwide Partners
By Diane M. Calabrese / Published June 2015

PA is part of a group of companies. The group includes Mec-To and REM, two precision milling and turning centers, and CT (Chierici Tito), a plastic molding facility. In addition to providing PA with plastic parts, CT (Chierici Tito) produces its own range of low-pressure accessories for spraying and foaming.
Arnaldo Benetti is the current president of PA, which was founded in the early 1980s. He took over the company in 1982. At the time, he was the chief engineer. After Arnaldo Benetti took over the company, PA was rapidly transformed from a small venture into one of the leading manufacturers of high-pressure accessories. By the mid-1980s, the first international customers were established, enabling PA to export all over the world.
Shared Values and Philosophy

I've been working for PA for nearly 30 years now. In these years, I have certainly seen the company grow fast and efficiently and somehow I feel I have given my personal contribution to its successful growth and to its long-term great reputation, gained year after year.

The allure of my job and therefore the reason I never needed to change is that since the beginning, I totally shared the company's values and philosophy: high standard quality in all aspects, as quality is first a state of mind, then it becomes a managing style.

I've always strongly felt both the responsibility and the rewarding satisfaction given by my position that is, for sure, a crucial hub: customer service means connecting people, skill sets, and activities. It is all about fast-moving decisions and processes to actively solve problems and consistently satisfy customers' stated and implied needs.

Naturally, my proactive approach has always been motivated and fostered by a really dynamic organizational support: team-working advanced by talented and inspired managers and by an efficient company system communication and organization.
—Luisa Casini, Sales Representative, North America
"It is a great accomplishment that the oldest accounts are still some of the biggest customers of PA today" says Stefania Benetti, sales manager at PA. "It means that PA was able to grow alongside its partners worldwide in a relationship beneficial to both."
Stefania Benetti attributes much of the success of PA to the reciprocity that exists between PA and its global partners. "The ability of PA to respond well to the demands of each market has its foundation in the requests of our customers—and the great feedback they provide," she explains. "Without their guidance, we wouldn't be where we are today."
Structure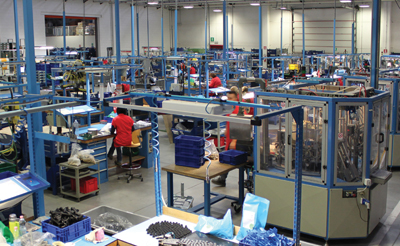 Today, Stefania Benetti and Alberto Benetti, the CEO, manage PA. They are the children of owner Arnaldo Benetti. The group to which PA belongs employs more than 140 people. One hundred of the employees work exclusively at PA. The main purchasing, sales, and R&D departments are at PA, even though each company can count on its own dedicated team.
The vast majority of employees at PA and related companies are residents of the small town of Rubiera near Reggio Emilia in northern Italy. All the companies in the group are situated in Rubiera. (Reggio Emilia is located 100 miles from Milan to the east and south and 20 miles from Bologna to the west and north.)
Strong bonds unite members of the PA team. "This is a small, tight-knit community," says Stefania Benetti. "Everybody knows each other. We actually have family members working side by side or employed in different departments. It's always good to see friends and family of employees coming to seek a job. It means they have heard great things about working here."
The location of PA adds to its strength in many ways. "The area around Reggio Emilia is highly industrialized," says Alberto Benetti. "This makes it easier to find skilled workers, as many have the education and experience to work here. PA hired three engineers in the last three years, and we have no intention of stopping there. Also, PA is constantly investing in new machinery, most of which is custom-made. Just having skilled suppliers around makes the process much easier."
Team members at PA illuminate the vigor of the company. Read reflections from a few of them located throughout this article.
Focus and Future
The largest investments made by PA in the last years were done for two main reasons. The first was to improve the quality by controlling most phases of production. The second was to be able to diversify products, in order to adapt to an ever-changing demand.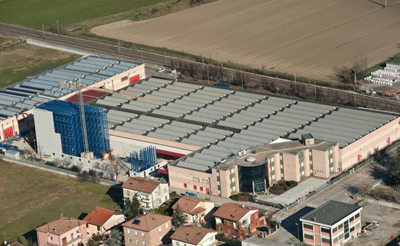 "The last few years have seen the growth of markets that were only marginal to us beforehand," says Stefania Benetti. "Most pump manufacturers would mainly work at 5000 psi, but we are currently seeing many users looking to increase pressure to 7000–8000 psi, even 10,000 psi. At the same time, we are getting more and more requests for certifications both for safety and for materials, especially in the food industry."
PA is prepared to meet the needs of customers. Given its tight control on quality, PA can identify and resolve issues while a product is in development. "PA has always been a quality-driven company," says Alberto Benetti. "We joke internally about the fact that, once our items have left our premises, we don't want to see them again. This is the reason why PA products are 100 percent made in Italy. We want to exercise control over all phases of production."
With customer demands for a wider range of products, more space is needed. "We are trying to be flexible as much as we can and expand our storage in order to meet demand in the quickest possible terms," says Alberto Benetti.
Commitment To Innovation

I'm one of the oldest employees of PA, having worked here for 33 years now. I was even given a plaque when PA turned 30, as my professional life turned 30 that year, too. I got here as a teenager and never left. During my time at PA, I have worked in all different departments: assembly, packing, and shipping…you name it, I've worked there. The good thing about PA is that there is always something new to learn: new products to develop, new applications to explore. It just never gets boring.
—Lauro Strozzi, Maintenance & Claims Department
PA is in the process of building a vertical storage space right next to the main factory. The storage will measure 180 x 42 x 65 ft. with 5,600 lots. This expanded capability will not only shorten delivery times; it will also enable a greater diversification of production.
"The main core of our production has always been the pressure washing industry, and so it will remain," says Stefania Benetti. "However, in the last few years we have seen our customers tackle other industries, such as sewer cleaning, hydro-excavation, and food plant sanitation. Since we have the technical knowledge and production capabilities, we're fully committed to explore these markets as well."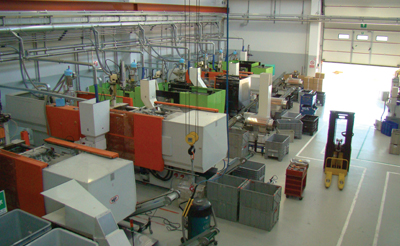 Investment goes beyond PA. All the other companies in the group with PA expanded in recent years. In 2013, CT and REM moved into a brand new facility right next to PA, as the restricted space in the old buildings would not allow for expansion. CT was finally able to acquire two new injection molding machines, for a current total of 10. The investments for new machinery in Mec-To reached 4.5 million Euros ($4.8 million at current exchange) in the last three years.
"We feel that the more processes we're able to control directly at PA, the quicker we can move and adapt to different challenges," says Alberto Benetti. "Even if something was made for decades, there's always a better way to do things, and we'd like to explore that. We should also be able to correct the course immediately should any issue arise."
Fascinating, Exciting… Both
Each team member at PA has one product that he or she would single out as exceptionally noteworthy. We include three examples.
Alberto Benetti cites flow sensitive unloaders (www.paetl.it/en/catalogo/unloader-valves-64-mpa-9100-psi/vb60-600-400-250-zero-valve-with-zeroed-outlet-pressure-in-bypass.html). "I'm very proud of our line of flow sensitive unloaders," he says. "These unloaders bring the pressure down to zero in the delivery line once the machine has been turned off, and they're a great safety device, especially at higher pressure. The design is totally new and patented by PA. The maximum pressure right now is reached by the VB60/600 at 9000 psi. We are already getting requests to go higher, so an expansion of the line is in the works."
Potential Coupled With Opportunity

I recently celebrated my first 10 years with PA. I remember that the big potential of the company played an important role in my choice. In those 10 years, I have had the opportunity to give my contribution in the exploitation of this potential, being part of the growth of the company, and having a correspondent, personal professional growth.

I started work in the testing facilities and, when I became more involved with the sales department, I could appreciate with pride the opportunity to explain such a good product.

Working as a connection between the technical and the sales departments, I am involved when a more technical approach is required thus having the rare opportunity to speak with clients all over the world. Faced with a wide range of applications, collecting feedback and new ideas: all this, together with awareness of the support of the company, makes my job really exciting and challenging.
—Davide Rizzi, R&D Department
Tank cleaners (www.pa-etl.it/en/catalogo/rotating-nozzles-and-tank-cleaners/a300r-self-propelled-tank-cleaner.html) also merit special mention. "The market request for spinning heads has grown exponentially in the last few years," says Davide Rizzi in the research and development department. "Not just for cleaning tanks, vessels, and the inside of trucks, but also confined spaces like manholes….PA is expanding its existing line according to the needs of the market. Right now, we're launching the A300R, a new model that works up to 80 gpm at 1000 psi. We should also mention that PA has a full line of tank cleaners for food and pharmaceutical applications: these are made entirely of stainless steel Ai 316, with NSF-approved materials, in compliance with FDA regulations."
Pre-adjusted safety valves (www.pa-etl.it/en/catalogo/safety-valves/vs-80-280-400-atex-sst-duplex-viton-o-rings.html) round out the trio. "PA now offers most of its safety valves as pre-set," says Stefania Benetti. "We see that safety regulations are more and more stringent, which is obviously a good thing, but it can become a burden for the manufacturers. By pre setting the valve and fixing a cap with a wire and lead, we can make sure that the pressure will not be tampered with. This is of first and foremost importance in certain fields, like oil and gas, where rules and regulations abound. We are now launching a line of valves made in duplex stainless steel, with materials and construction requirements that obey the standards and certifications of oil and gas applications."
Building Ties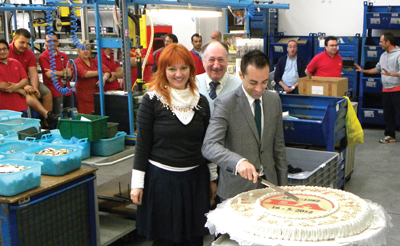 PA is not just expanding and diversifying at its home base in Italy. Its team members have long taken advantage of professional meetings and organizations to build links all around the world.
For example, PA is currently a member of CETA and ISSA. "Our history with CETA dates back to the early days of the organization, when it was still called CEMA," says Stefania Benetti.
"We first visited PowerClean in 1987," says Benetti. "The PowerClean exhibition has always been a great occasion to meet not only our direct customers, but also the pressure washer manufacturers and distributors from across North America. Since we're located in Europe, it's a great way to keep our finger on the pulse and hear what's going on in the market over here."
It's not all about business though. "Such professional ties give us the chance to personally meet and enjoy the company of so many people in the business," says Stefania Benetti. "It's always great to put a face to a name, but also to establish relationships that go beyond simply talking about work. Since we're also members of ISSA, we were happy to see the two shows combined. The Orlando show last year really brought in results,  and we have great expectations for Las Vegas 2015." 
Collegial Environment

I've been working at PA for seven years now. The atmosphere is great, and I enjoy working with my colleagues. We're actually a smaller department, so getting along is key. We concentrate on some product lines, like gear boxes and car-wash booms. I specialize in tank cleaners, and as these are made to order, my work is always different. Plus, I can see that numbers are up; it gives me great pride to know that customers all over the world are using the tank cleaners that I made.
—Giovanna Brai, Assembly Line