Regional Profile
Ontario—The Province of Opportunity
Published June 2019

This is the fourth in a series of regional profiles exploring the pressure cleaning industry in Canada, focusing on the province of Ontario, which is Canada's most densely populated area.
Looking at a map of east/central Canada, some describe the province of Ontario (ON) as "fish-shaped." Equating this province to a fish seems fitting, considering that it is famous for its water. In addition to some 250,000 freshwater lakes and 62,000 miles of rivers, Ontario offers hundreds of miles of shoreline, with borders on James Bay and Hudson Bay to the north and the Great Lakes to the south. Being shaped like a vast jagged-edged flounder also gives the province the distinction of having a 3,000-mile-long provincial border, with the province of Manitoba to the west and Quebec to the east. Ontario also shares a southern 1,678-mile long border with the United States—from west to east including Minnesota, Michigan, Ohio, Pennsylvania, and New York.
Ontario is the second largest Canadian province by geographic size and is home to 38 percent of Canada's 37 million people, making it the most populated province overall. Over 90 percent of ON's 13.5 million residents are concentrated in the southern region, in an area that is sometimes referred to as "the Golden Horseshoe." This is where you will find the Canadian side of the world-famous Niagara Falls and the Greater Toronto Area, (GTA). The GTA has a population of 6.5 million and consists of 25 incorporated municipalities within the provincial capital city of Toronto and the four regional municipalities which surround it: Durham, Halton, Peel, and York. In contrast, the larger northern part of Ontario is sparsely populated and heavily forested.
The GTA is a diverse multicultural region where more new immigrants settle than anywhere else in Canada. The ability to draw from a large and culturally diverse population base is great for employers, and opportunities exist for government-subsidized work experience programs.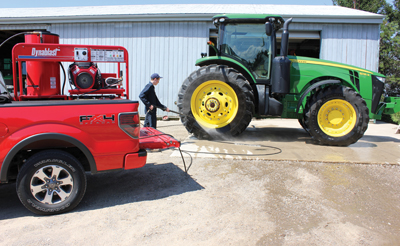 With large cities and a well-developed economic infrastructure, southern Ontario is the hub of Canadian manufacturing, trade, and commerce. Farming is not as big an industry here as compared to the Central and Western provinces, but a thriving mining industry centered around iron, steel, and nickel, and hydroelectric power production make up for that. With such high population density and access to both north/south and east/west trade routes, it is not surprising that many companies that offer Canada-wide distribution networks and manufacturing facilities are headquartered in Southern Ontario. In this densely populated region, there are opportunities galore for power washing professionals.
With the current economy, there are plenty of good paying jobs available and people to hire. A recent government-mandated increase in minimum wages to $14 per hour, however, combined with the lowest unemployment rate in 18 years, makes finding skilled employees a challenge. The cost of living is also high, and housing prices in the GTA are among the highest in the country.
Ontario From A Power Washing Industry Perspective
"From a personal point of view, what I love about Ontario is that there is always something to do," remarks Garth Logan, product manager at Dynablast Equipment, a division of John Brooks, in Mississauga, ON. "With great beaches, national parks, camping, and hiking
trails, it is easy to get away to relax and enjoy the great outdoors. From a business perspective, the fact that we are centrally located in the province and within proximity to the majority of our customers is a huge bonus. Our Dynablast pressure washers are assembled and warehoused all under one roof in our location in Meadowpine, ON. This 54,000-square-foot facility is the national head office, manufacturing plant, and distribution center. We also have an 18,000-square-foot warehouse in Edmonton, AB, and another 21,700-square-foot warehouse in Laval, QC. This offers us the flexibility to rapidly respond to changes in the market."
As with most regions in Canada, the pressure washing industry in Ontario is seasonal, with time during the slower/snowy winter months used for product development, marketing, training, or building up inventory for the selling season if you are a manufacturer and for seeking new customers if you are a pressure cleaning service provider.
"It can be difficult responding to the seasonal influx of sales," states Logan, "and ensuring we have the right product mix in stock to take advantage of the limited selling season, which is, of course, weather dependent."
Contractors who provide services such as flat surface cleaning in parkades and parking lots, exterior building cleaning, etc., will typically commence work in late March or April and be busy until the end of October. Cleaner Times readers may be surprised to learn that the areas south of Windsor, ON, are the same latitude as northern California, so spring comes earlier in this region.
Craig Ivatts, general manager for Eastern Canada for BE Power Equipment, is based outside of the GTA in the city of Kitchener, ON. He agrees that the power washing industry in this province is significantly affected by Mother Nature and that the short window of sales opportunity makes for some serious competition across the board, for manufacturers and distributors as well as service providers and power washing contractors.
"We have some of the strongest competition in Canada in this region, with about a dozen pressure washing manufacturers vying for a piece of the pie," reports Ivatts. "But you have to recognize that competition can also open doors of opportunity for any company…to make themselves stand out by offering better warranties, excellent customer service, and a wide range of quality products. I have been fortunate to visit some of my competitors, and I must say that I have been very impressed with many of the smaller companies in our region because their products meet or exceed industry standards."
While many companies with USA and Canada-wide distribution are headquartered in ON, BE Power Equipment is the exception to that rule. "Globally, BE Power Equipment has about 300 employees," explains Ivatts. "Our Ontario warehouse and distribution center is one of 13 Canadian branches. We are a critical part of the Canadian operations, with 14 employees working out of a 25,000-square-foot warehouse
serving all of Ontario and east to the Maritime provinces. Most of our manufacturing is done at our head office in Abbotsford, BC, where they have a 150,000-square-foot manufacturing space and a 300,000-square-feet warehouse/distribution center. We also have manufacturing facilities in Shakopee, MN, and Shanghai, China."
This excerpt from TheCanadaGuide.com perfectly sums up what it is like to live, work, and play in Ontario, "the province of opportunity." "Everything in Canada inevitably leads back to Ontario. The country's most populated province by a wide margin, one in three Canadians dwell within its borders, along with practically everything powerful and important. Among other landmarks, Ontario houses Canada's parliament, its largest city, the national stock exchange, the country's biggest university, the headquarters of virtually every major Canadian newspaper, television station, corporation, and bank, and— just to top it off—Canada's tallest building and biggest waterfall, too." 
As A Matter of Fact—Neat Things To Know About Ontario

Highway 401 in Ontario, specifically the part that travels through the Greater Toronto Area (GTA), is the busiest highway in North America! Almost half a million vehicles per day pass through the busiest part of the route along sixteen lanes of traffic.

Ontario also lays claim to the longest street in the world: Yonge Street. The section of Yonge Street that runs from Lake Ontario to Barrie is 53 miles long. However, if you want to call Yonge Street by its highway designation of Highway 11, it is 1173 miles to Rainy River on the Ontario/Minnesota border.

Ontario is the leading manufacturing province of Canada, accounting for more than 50 percent of total national manufacturing shipments.

Several world-renowned celebrities come from Ontario, including Justin Bieber, Jim Carrey, Ryan Gosling, Avril Lavigne, Rachel McAdams, Alanis Morissette, Mike Myers, Matthew Perry, Christopher Plummer, and Shania Twain, to name a few.