Oh, The Places You Can Go While Visiting New Orleans
By Michael Hamline / Published October 2017

Editor's Note: On October 25–27, the WaterJet Technology Association-Industrial & Municipal Cleaning Association (WJTA-IMCA) will be having their annual tradeshow in New Orleans. In the September issue of Cleaner Times, we provided the educational classes that will be offered in the Basics & Beyond Short Course on October 25 as well as a schedule of events for October 26 and 27.
We realize that the primary reason you are in New Orleans is to attend the WJTA-IMCA Conference & Expo. However, you may want to consider taking a couple of days before or a couple of days after for sightseeing, and so we have provided a brief list of some places you might want to visit during your stay in the Big Easy.
---
Audubon Aquarium of the Americas
The Aquarium is open seven days a week from 10:00 a.m.–5:00 p.m. Located on the Mississippi River adjacent to the French Quarter, Audubon Aquarium of the Americas immerses you in an underwater world. The colors of a Caribbean reef come alive in the walk-through tunnel, while penguins and Southern sea otters enchant you with their antics. Touch a sting ray, feed a parakeet, and marvel at the gigantic sharks, tarpon, and rays in the 400,000-gallon Gulf of Mexico Exhibit. Watch for sea turtles throughout the Aquarium. Some of the animals you can see here include the African Penguin, the Leopoldi stingray, the green sea turtle, the potbellied seahorse, and many more. 
For more information, visit www.audubonnatureinstitute.org/aquarium.
---
Mardi Gras World
Open seven days a week from 9:00 a.m.–5:30 p.m., tours start at 9:30 a.m. and the final tour begins at 4:30 p.m. The Mardi Gras World Tour provides a behind-the-scenes look at New Orleans' Mardi Gras. Knowledgeable guides take the mask off Mardi Gras with an all-access Mardi Gras tour, winding through the massive studio where these magnificent floats are built from the ground up. You'll learn about the history of this unique and festive tradition and go beyond its reputation to get a deeper understanding of the real Mardi Gras. The whole family will love the experience of touring the space where artisans create spectacular floats for more than 40 parades each year.
For more information, visit www.mardigrasworld.com.
---
Preservation Hall
Live jazz can be heard nightly from 6:00–10:00 p.m. New Orleans' Preservation Hall was established in 1961 to honor one of America's truest art forms—traditional New Orleans jazz. Operating as a music venue, a touring band, and a non-profit organization, Preservation Hall continues its mission today as a cornerstone of New Orleans music and culture.
Situated in the heart of the French Quarter on St. Peter Street, the Preservation Hall venue presents intimate, acoustic New Orleans Jazz concerts over 350 nights a year, featuring ensembles from a current collective of 100+ local master practitioners. On any given night, audiences bear joyful witness to the evolution of this venerable and living tradition.
For more information, visit preservationhall.com/hall.
---
St. Louis Cemetery No. 1
This tour is available Monday–Saturday at 10:00 a.m., 11:30 a.m., and 1:00 p.m.  and available on Sunday at 10:00 a.m. Reservations are strongly recommended. The cemetery is the oldest existing cemetery in New Orleans founded in 1789. Listed on the National Register of Historic Places, St. Louis Cemetery No. 1 is located just steps outside of the French Quarter at the corner of St. Louis and Basin Streets. It is the burial ground of some of the most illustrious citizens of New Orleans, including Etienne de Bore, pioneer in sugar development; Daniel Clark, financial supporter of the American Revolution; Paul Morphy, world famous chess champion; and other local and national figures.
For more information, visit www.saveourcemeteries.org/st-louis-cemetery-no-1-tour
---
The National WWII Museum
Museum exhibits are open seven days a week from 9:00 a.m.–5:00 p.m. The National WWII Museum tells the story of the American experience in the war that changed the world—why it was fought, how it was won, and what it means today—so that all generations can understand the price of freedom and be inspired by what they learn. Through exhibits, multimedia experiences, and thousands of personal accounts, the Museum takes visitors on an immersive tour of World War II in every theater of war.
For more information, visit www.nationalww2museum.org.
---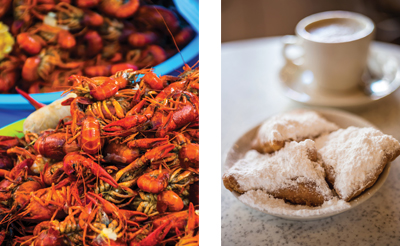 Of course, food is a big part of the appeal of New Orleans. Realizing everyone's tastes vary, here are a couple of links that might help you plan a culinary trip through the Big Easy:
Cleaner Times looks forward to seeing you in New Orleans, and we hope you get a chance to spend some extra time in the city and get to visit some of these popular locations and restaurants.