No Routine Window Cleaning Jobs
By Diane M. Calabrese / Published September 2016

Snowflakes and raindrops on windows warm hearts and inspire poets. Dirt and organic debris—insect parts and bird droppings—do not. Clean windows present an unobstructed view of what could be a beautiful world.
"I have yet to find a routine window cleaning job, as each job has its own nuances which keep our techs on their toes," says Mike Vidan, owner of All American Pressure Cleaning and Window Cleaning in Savannah, GA. "The idea of assembly-line type work seems quite boring and monotonous, so having to adapt with each job keeps things interesting."
Vidan's company has been cleaning windows for 14 years. Since it began using water-fed technology several years ago, it cleans as high as five stories. There's an abundance of reward in cleaning windows. "People are always amazed at the difference professionally cleaned windows make; happy customers talk about us and refer us," says Vidan.
Of course, customer expectations must be aligned with the condition of the windows. "It is our job to educate our customers and ensure they understand what they can expect to see when we have completed the job," says Vidan.
"One way we try to accomplish this is by using a pre-inspection form which our technicians fill out as they perform a thorough walk-through prior to beginning work," explains Vidan. "We encourage our customers to accompany us during this part of the process. This allows us to document any potential problem areas or damage, which can eliminate questions down the road and allows us to talk them through the process while managing expectations."
Communication and Education
There's no substitute for "properly setting customer expectations," says Tony Evans, COO of A New View Exterior Cleaning in Marengo, IA. "You want to be sure you're on the same page."
Tackling a window cleaning job without talking with the customer first would not be prudent, except in a long-term, ongoing account. There must be give and take. "We always do an on-site evaluation," says Evans. "We explain the process and make sure the customer is comfortable with it."
The same process may not always bring exactly the same results. Neighbors may have similar homes but windows separated by a decade or more in years. "When they're old, neglected windows, we will not remove years of scratches and grime," explains Evans. "We ask questions. How long since windows were cleaned? Who did it? What about screens?"
Good communication is necessary throughout the job, says Evans. For instance, his company has a yearly account that is adjacent to an interstate. There is quite a bit of exterior lift work and interior work, which means navigating around employees in the building.
With more than 12 years of experience, Evans' company works to five stories. It's not just commercial jobs that pose a challenge. "Every job presents a unique set of situations," says Evans. There are "hazards" even in a residential setting, which include bumping into things and slipping. All must be guarded against with safe practices.
Evans is a director of UAMCC as well as a member of the organization's certification committee for windows. He emphasizes the importance of continuing education. "Training and education are vital for everyone in the industry to keep pace with new techniques and new tools."
Every profession brings satisfaction, but window cleaning is somewhat special. "It's one of the professions with instant gratification," says Evans. "When we leave, there's a noticeable difference and light."
Employees
All work done well takes a commitment to the best possible outcome. Staffing is perhaps the greatest challenge in window cleaning, says Kyle Ballweg, owner of Clear Vision Window Cleaning in Dane, WI. "That means finding good reliable help that shows up on time and performs the services in a manner consistent with company standards."
With a good team, a business gets results. "We have been in business since 2003," says Ballweg. "We routinely work at heights of four to six stories." Much of the work that Ballweg's company does is regularly scheduled. "We have monthly route work, such as storefronts, bars and restaurants, car dealerships, and banks, where we routinely clean the same windows every month—or even on an every other week basis."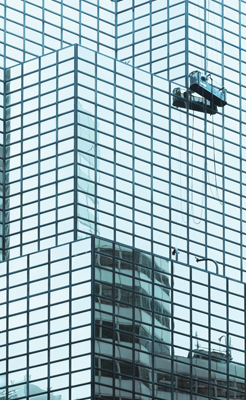 Assessing the parameters of each job prior to beginning work is essential. "Many times larger commercial jobs can have their own sets of challenges specific to the job in regards to window placement and how we can effectively and safely access the window," says Ballweg.
Like his colleagues in the industry, Ballweg says that "setting customers' expectations is vitally important" and a first step. Beyond that, he recommends determining how to get the best results on a window irrespective of its age.
"Old windows where the window seals are not broken can still be cleaned with great results," explains Ballweg. "It is only when the window seal is broken and the window gathers condensation that it is hard to make it look like new again."
For employees and employer, as well as for building owners, clean windows are something to behold. "When you walk away from a window-cleaning job, you can turn around and see the nicely cleaned, gleaming windows," says Ballweg. The immediacy of the "before and after" is a reward of the work.
Efficiency
Taking advantage of the most efficient tools available can mean changing methods, says Perry Tait, director at Reach-iT Poles, who is based in Ningbo, China. That always causes some trepidation. Contractors want to be certain they will not reduce quality, and they want to be assured the new tool will work. Yet, adopting new tools and methods can be important.
Tait says the best advice he can give window cleaners is to "focus your attention on your efficiency—push and stretch yourself, challenge your habits and beliefs." And he gives us an example related to customer satisfaction.
"We are paid for customer satisfaction," says Tait. "Customers are also satisfied if they do not have to stay home all day while tradespeople clean their windows. It's not wrong to be faster, and require the same fee for your service." Taking the time to train employees in the use of new tools brings a good return on the investment. Do it, says Tait, because time really is money.
Tait's company has provided tools to many challenging projects. "We recently developed an extension arm for Nic Brand [Canada], of the awesome Men In Kilts Franchise Group," he says. "He needed a water-fed brush extension that reached over a balcony and a flower box to clean second- and third-floor windows that were three to four feet inside the balcony rail."
The solutions that Tait's company provides to customers often result in new products. The Max-Reach Goose-neck, for instance, was developed to enable a customer to clean a window 20 feet off the ground that was recessed six feet, without using a ladder.
Embracing Change
Using tools that allow the job to be completed faster is a natural process. Not all contractors adopt new tools at the same pace, but change happens. "There are many combination tools being released now, like the Moerman Combinator and Accelerator for the traditional guys, and the Constructor Pro-Brush for the water-fed window cleaners," says Tait. "These tools are no less than twice as fast because they both combine the once separate processes of agitation and removal into one movement."
Doing more with less movement—recall the value of a larger squeegee—the more efficient the process, Tait reminds us. And, again, he is an advocate of an efficient path to good outcomes.
In fact, Tait gives a great deal of consideration to how components of cleaning fit together. He cites the early days of water-fed poles when the way to reduce their weight was to put a small, 10-inch brush atop the pole. He laments that this led to smaller brushes than necessary becoming the norm even now, two decades later. Poles can now support larger brushes, and that means more area covered in the same amount of time.
Tait strives to counter the misconceptions that slow down the adoption of efficient tools. "The two biggest myths in the water-fed pole industry are—one, the purer the water, the better the clean; and two, you need to buy a water-fed pole to reach the highest window you want to clean," he explains.
Understand the workings of a filter to ascertain that it does what it promises, and consider telescoping poles instead of the longest pole that will ever be needed on a job site. Buying a pole that will reach a seven-story window is a good decision if a contractor cleans all seven-story windows. "The problem is that less than two percent of all the windows in any given year will be seven stories off the ground," says Tait. "That pole is cumbersome at five stories and unmanageable at three stories." That translates into buying shorter poles. In other words, reach high, but do so in a thoughtful way. Windows deserve no less.