The 'Net' Generation: Working with Millennials in the Pressure Washing Industry, Part Three
Published October 2016

S
tatistically Speaking
Over the next 10 years, there will be a mass exodus of baby boomers from all industry sectors. The pressure cleaning industry is no exception, and succession planning is not something that we can continue to put off. Whether we like it or not, if we want our businesses to succeed long into the future we need to attract the younger generation, and that means we must hire millennials.
In parts one and two of this series, we looked at the millennial generation from various personal perspectives. Now we examine the issue from a statistical point of view with THOMASNET.com. This company is a US-based provider of solutions that make it easier for buyers and engineers to partner with the right industrial suppliers. THOMASNET.com is the leading platform for supplier discovery and evaluation of original equipment manufacturers (OEM); maintenance, repair, and operations (MRO); and other products and services. Their Industry Market Barometer (IMB) Survey of North American Manufacturers published in November 2014 sheds some light on baby boomers' perceptions of millennials.
How To Manage Millennials 

TIME magazine once dubbed millennials as the "Me, Me, Me Generation." While some people might believe that this stereotype is true, you can't apply that label to everyone in this demographic segment. Don't forget, the expectations that these young people have are a direct result of their upbringing. From a young age, millennial parents doted on this generation, working diligently to instill confidence. And that's not a bad thing! View this heightened sense of self-worth and high expectations as a positive, not a negative, and hire and train staff accordingly.
• Take time to have one-on-one meetings with potential new employees, to let them learn about you. They want to know who you are as an individual as well as your business.
• Value partnerships. Ensure that every new millennial employee is teamed up with a mentor, not just a manager. This generation is more social, and they value relationship building.
• Be open. Make it easy for them to ask questions, share ideas, and show their enthusiasm.
• Be adaptable. Have a policy that gives workers some flexibility to attend to medical appointments, family events, etc.
• Make work fun! Show your appreciation with more team engagement events to make everyone feel important.
• Remember to recognize. Say "Thank you" for a job well done. Say it often and mean it!
• Implement a solid safety policy. Millennials have been a "protected" generation, and they are very aware of the importance of safety.
• Be politically correct. Millennials are very sensitive to women's rights, gender equality, race issues, and more. Build a corporate culture that does not allow bullying in any form.
• Be big on environmental initiatives. Demonstrate how your company is working with environmental protection in mind.
• Get social. Make pressure washing trendy, top-of-mind, and fun by utilizing Facebook, Twitter, and other social media platforms to educate millennials about opportunities at your company in particular and the industry general.
• Go back to school. Put competition on the back burner and collaborate with other pressure cleaners and manufacturers in your region to set up a traveling road show and attend career fairs and other community events to promote industry-related career options.
• Join up! Recognize that when it comes to promotion and education, there truly is strength in numbers. Become an active member of an industry organization such as CETA, the PWNA, or WJTA-IMCA and take advantage of any business- building programs they may offer.
These research findings are of interest to the pressure cleaning and equipment manufacturing industry because we draw from a similar demographic pool of potential employees and face many of the same challenges in hiring and retaining staff.
The report summary offers some good news for this industry sector: "This year's data shows that the manufacturing industry increasingly aligns with millennials' value systems and technology expertise. The research demonstrates that millennials have an opportunity to make a social impact working with sustainable and green technologies, innovations in design and manufacturing software, and automation/robotics as intrinsic to today's jobs."
With 80 percent of IMB respondents being ready to retire, there was also some not-so-good news. Thirty-eight percent of manufacturers reported that they intend to leave their jobs in one to 10 years, and most lack a succession plan. It was touted as a "ticking biological clock that has now become a ringing bell."
The problem? "On the one hand, respondents didn't see their industry as a place for millennials. Forty-six percent said that a larger issue is that younger people still perceive manufacturing as 'blue collar' work, and Baby Boomers' perceptions of millennials exacerbate the challenge. Forty-three percent of respondents believe that this generation lacks the work ethic and discipline to succeed."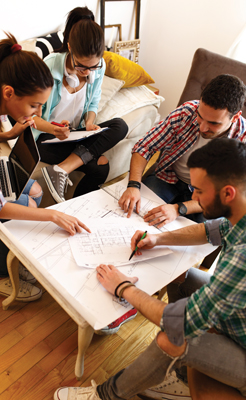 The report continued to explain: "One bright spot that can help bridge intergenerational barriers is apprenticeship programs. Last year's IMB respondents were advocating for them, and this year, a small number are using them to teach skilled trades. Manufacturers see [apprenticeship] programs as a way to fill skill gaps and get new talent into place. But until misunderstandings on both sides are erased, the manufacturing community won't be able to fully participate.
"For the industry to sustain its steady climb, all the fundamentals need to be in place, and one of them is missing—a robust pipeline of skilled workers. Having the people to operate the machines, work the lines, and create new products is mission-critical. Yes—manufacturers are hiring and developing their people—but to keep up with the opportunities at hand, they will need to recruit faster, smarter, and harder.
"Yet, one solution is in plain sight —formulating plans to attract the generation of millennials (ages 18–32) who will comprise about 75 percent of the workforce by 2025. For an industry that values specialized training and experience, this generation represents a goldmine of opportunity, as most millennials are technology-savvy. Manufacturing is increasingly headed towards digitization and is very much reliant on this skillset. Whether changing careers or just entering the workforce, millennials can take the time to learn the business before their predecessors retire. Yet, most manufacturers (62 percent) say millennials represent a small fraction of their workforce, and eight out of ten (81 percent) have no explicit plans to increase these numbers."
Connor Eubanks (age 24) is the Business Development Manager for California-based South Shore Building Services. As both a millennial and a pressure cleaning professional, he shares an interesting perspective on the hiring, retention, and employee attraction challenges faced by the industry.
"I do feel that there is an issue with 'labeling' people," says Eubanks. "I hear it at networking events, gatherings, and through gossip. Our parents and grandparents are labeling us as a group no different than the generation before labeled them as baby boomers. We are all being painted with the same paintbrush, but we are also changing that perception one idea at a time. Most of us millennials are in our early 20s, in entry-level positions, and applying what we learned in school to our jobs. However, once we grow comfortable and confident, we will ignite each industry with brainstorming, creativity, and urgency.
"I can't speak for every millennial, but I can speak for myself," adds Eubanks. "I am ready to work: to provide security for my wife, to put food on the table, and to provide value to an organization. That motivation has always existed from individual to individual, and is not solely generation-based."
In summary, the pressure cleaning and manufacturing industry must consider what it can do to make this line of work attractive to millennials. Whose fault is it if they don't consider our industry as a career option? Ask yourself what you can do to make the industry as a whole, and your business in particular, attractive to the millennial generation. (See sidebar.)
Whether we like it or not, eventually, the young adults of one generation become the elders of the next, and they carry the elements of their generational influence with them.
To read the full ThomasNet Report, visit http://goo.gl/F99pWK. 
As A Matter of Fact

Millennials are likely the most studied generation to date. According to U.S. Census Bureau statistics, there are plenty of them to study, 80 million plus (the largest cohort size in history). There are data to find pretty much whatever you are looking for, as the data are varied and sometimes contradictory. In fact, Millennials are full of contradictions, which, of course, may explain the youth of any generation. Most consistent is that this generation is technically savvy, almost as if it has a digital sixth sense. A wired, connected world is all that Millennials have ever known. This generation displays their passions and determines the most expedient path forward, rather than having others set a path for them.

Source: US Chamber Foundation Millennial Generation Research Review

Learn more at www.uschamberfoundation.org/reports/millennial-generation-research-review.