Multi PSI Celebrates 20 Years
Quebec Distributor Provides an Integral Link to French-Speaking Canadian Markets
Published September 2018

Situated near the southern shores of the St. Lawrence River about a 25-minute drive from Montreal, the city of Boucherville, Quebec, is home to just over 40,000 people. With easy access to transportation routes, the city is also the home base for a multitude of businesses, including a thriving pressure washing equipment and service company originally named Multi Pression LC.
The company was founded in 1997 by Richard Cournoyer and Pierre Lalonde when they recognized that there was a significant lack of after-sales parts and service for pressure washing equipment in their area.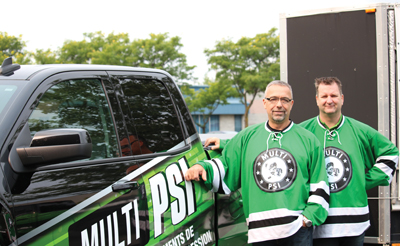 Shortly after they had launched their business, the North American ice storm of 1998 struck a relatively narrow swath of land in eastern Canada and the United States. The destruction caused by the ice storm put unprecedented pressure on the companies that were called upon to help with the clean-up, including power washers in the Montreal area. It was fortuitous that Multi Pression was able to provide the parts, equipment, and service needed to aid during this natural disaster recovery.
Having such a significant demand for their business in their first year set up Multi Pression for a period of rapid growth. Within 10 years, they had more than a dozen employees and had secured distributorship for a number of well-respected brands. They served a wide range of industry sectors, including public service/municipalities, transportation, agriculture, forestry, mining, oil and gas, commercial, and industrial food services and manufacturing, to name a few.
By 2014, the company had caught the attention of a couple of entrepreneurs who were looking to invest in a new business venture. Eric Veillette was then employed in the welding industry as a business development manager for Eastern Canada. He wanted to pursue self-employment through business ownership. He and his wife, Jocelyne, enrolled in a program called "Success Changing Business" that was offered through the local business development center in the nearby city of Longueuil. One module of the course was taught by Jimmy Boudreault, who holds a master's degree in finance. Casual in-class conversations led to a private breakfast meeting where the two men considered a business partnership.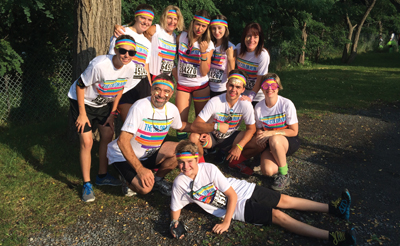 "We discovered that not only did our skill sets perfectly complement each other, but we also shared the same family values. We both have two children, like to play hockey and go camping, and live just 20 minutes from each other," exclaims Veillette. "Jimmy proposed that we get together with our wives to discuss the possibility of becoming business partners because we wanted to ensure the opportunity would work for everyone. The next step was to compare personal balance sheets; and again, we realized we were very similar and concluded that yes, we could be good business partners."
The hunt was on for an investment opportunity. In December 2014, Veillette and Boudreault became the new co-owners of Multi Pression LC. When leaving the offices of their primary investor, Jean Ellyson of Investissement Québec, he said, "Wow! You really have the winning combination. If a company has impressive sales but they are mismanaged, it's not good. If they have a good administrator but there are no sales, it's not good. The two of you are highly complementary. You cannot fail."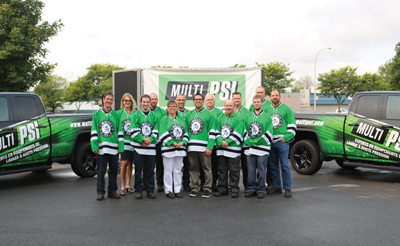 The new business partners were fortunate that one of the two former owners wanted to stay with them for a few years, so they had the opportunity to transfer knowledge of customers, processes, and product lines. All of the former employees, many of whom have been with the company for over a decade, also stayed under the new leadership. Eric Veillette
took on the role of vice president, and he handles everything relating to business development, sales, and marketing. Jimmy Boudreault focuses on financial management and human resources.
Rebranding the company was their first priority. Within a few months, "Multi Pression" became "Multi PSI." "Pression," which is French for "pressure." was changed to "PSI" because the measurement of "pressure/pression per square inch" is bilingual. The new branding that featured a logo with an eco-green color was incorporated company-wide, including the website, social media, vehicle wraps, and even private "MPSI" branding on spray guns and hoses.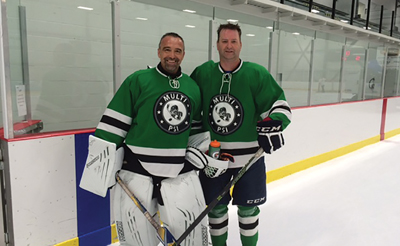 Next, they created a new internal sales department to ensure faster and more efficient customer service and follow-ups. Quotes could now be turned over in 24 hours or less. This change resulted in a positive corporate shift, where the company moved from an operational culture to a sales and service culture. Business is now being conducted "on the Cloud," with all service technicians equipped with iPads, so billing and service requests are done in real time.
One key industry advantage that they now offer both North American parts and equipment manufacturers and customers alike is that they speak French and English. (The previous owners only spoke French.) This eliminated what had previously been a barrier for some USA companies who wished to do business in French-speaking parts of Canada and vice versa. About 90 percent of their orders are currently shipped throughout Quebec, but their geographical territory is expanding to other regions, including the Maritimes.
Hydrotec was (and still is) a primary supplier; however, the 25 percent difference between the US and Canadian dollar necessitated that they investigate new Canadian partnerships with PSC Cleaning, MS Gregson, and Dynablast.
Another challenge embraced by Multi PSI is the need to custom-build systems that can withstand the harsh Quebec winters, where lows around -25 °F may occur. The climate requires that all equipment (especially coils) is properly insulated against the cold and that deicers are used. "We have also designed our own system to thaw frozen pipes," explains Veillette. "With bigger fuel tanks and two heat elements for faster and higher temperature increases, our system has proven to be considerably more efficient than others on the market.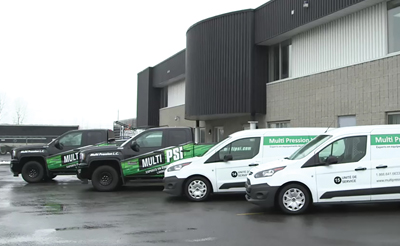 "We then recognized that it is hard to get repeat business when you sell equipment because the customer likely will not need to upgrade or replace for five to 10 years," he adds. "So getting signed maintenance contracts was one important step."
Meeting one-on-one with current and prospective new suppliers, as well as customers, made a significant impact on relationships and subsequent sales. Signed service contracts increased from 31 to more than 175, with the frequency of service visits also increasing from an average of two to four a year to 12.
One product line that underwent significant change in focus was soap and degreasers. Multi PSI committed to stocking more ecologically-friendly cleaning products.
"We went with a new generation of 'green' products," says Veillette. "This was not an easy decision because the new products were not proven, and we were shutting down a connection with a long-standing supplier. One of the former owners questioned our decision. We still did it, and it has been successful. Today, more than 75 percent of our soaps
and degreasers are 'green,' and sales of our new environmentally-friendly product line are up 47 percent over last year.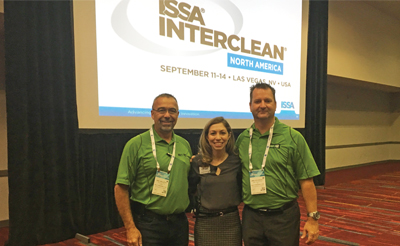 "Within 18 months of the purchase, we had a new name, a new brand, a new internal sales department, and a new corporate culture. The foundation is in place for ongoing growth," concludes Veillette. "We have 15 employees who work out of a 6,000-square-foot distribution center. We have a service fleet of two vehicles with two repair technicians covering a geographic region of more than 60 square miles, as well as three pick-up trucks dedicated to sales and delivery. We have also paid close attention to ways that we can improve our employees' work/life balance. We now close between Christmas and New Year's, and this summer we are introducing Friday afternoon closures on long weekends. We close at noon but pay our staff until 5:00 p.m. Small things like this make a big difference. We try to be creative owners. As Multi PSI celebrates its 20th year of operations, we look to the future with great excitement as we continue to evolve in the future."
For more information on Multi PSI, visit www.facebook.com/multipressionlc or multipsi.net.