Marketing Your Service Business
Chapter Four—Building Your Company's Service Bundles
By Beth Borrego / Published June 2020
C

hapter Four: Building Your Company's Service Bundles

Before you print the brochures and advertisements that were discussed in chapter three, we are going to have to take a look at how your services are "packaged." Perhaps a better way to approach this is to consider how you will bundle your services into meaningful groups that consumers are likely to purchase together; and to do this, let's look at basic consumer behavior.

When you walk into any store, the available products are packaged according to how the manufacturer believes you are most likely to purchase that particular product in their line. Let's take a look at potato chip packaging for a moment. Most of us like potato chips and buy them with some amount of frequency. Manufacturers offer them in many package sizes and in a variety of flavors. If you are having a football party, you are most likely to purchase the largest bag of the most popular variety so that you can easily pour the contents into a large bowl and serve them to your guests. The manufacturer knows that typically larger groups of people will consume this product, or perhaps a family will keep the open bag clipped at the top and stored in the pantry for future use before it becomes stale.

But notice also that in the very same aisle, you can buy a large variety pack of smaller bags commonly known as a multi-pack. This package is aimed directly at putting lunches together quickly, since you simply place one small bag into the lunch tote next to the sandwich and out the door you go. The variety pack may have an assortment of five or so flavors or snack varieties of chips, making it an attractive choice for an easy change of pace. The same products are contained within the smaller bags that are found in the larger ones, but they're packaged differently based upon the market segment being targeted and the product's use by the consumer. In this chapter, we are going to explore how to do the same thing with services so that your clients can select their preferred service options the same way.

Let's look at an example of bundling that is more service oriented. Have you ever planned a large, catered event such as a wedding or reunion? Caterers offer good, better, and best menus all designed to tastefully fit your budget. You can purchase the budget menu that offers an appetizer buffet with no main courses, the full buffet that offers a complete meal from appetizers to desserts with guests serving themselves, or the sit-down tableside service with a formal wait staff and complete menu selections from appetizers to desserts. Of course, there are the à la carte items, such as beer and wine or perhaps a full-service bar, that can be added to any of the catering packages. The caterer might also be able to offer you a package that books a disc jockey for your celebration at a discounted rate. All of these packages and à la carte items are designed to help the customer purchase within her budget.

Creating your company's service bundles is not an easy task. It requires a solid understanding of not only your customers and which services they purchase together, but also the market you are targeting for those potential customers you have not met yet. First, look at your company's core services to determine what the most popular items are that attract new clients, leading to the initial telephone inquiry. Then, take a look at any other services your customers have purchased in conjunction with those core services. Next, make a list of those sub-services underneath each of the core services you have listed. You will see there is going to be some overlap in the services as you begin to build your service bundles, and that's exactly what you should see. You will be doing this exercise for each of your core services. What you are building is your good, better, and best service bundles for each of your company's core service offerings. You will also find that there are services that by themselves are only purchased occasionally, but they may complement one or more of the service bundles. Don't feel as though you have to shoehorn all of your services into a bundle. It is perfectly okay to offer certain à la carte items; in fact, it is also perfectly okay to offer any one of your core or sub-services by itself when requested by a customer. Bundles are simply opportunities to sell add-ons to clients who are open to purchasing that way.

Let's look at auto detailing as another example of service bundling. First, you'll need to define your service levels and the benefits included in each one. For example, a basic wash might be your base service and include wiping down the vehicle by hand. Your next level might be a wash and wax service and include some amount of bug and tar removal and cleaning of the wheels. You will also want to offer full exterior and interior detailing packages that cover everything from windows to carpet cleaning and everything in between. These service bundles should integrate together, build onto one another, and, of course, complement your business model. Next, you would need to consider the size of the vehicles and the rates that each would have.

What you should begin to see is that each package is a series of sequential steps or services, all connected to one another to create the bundles you are selling. Where you divide those services are the defining points of your good, better, and best service bundles and will be determined by each type of core service your business offers. Your service bundles need to address the needs of your target market as well as your current customer base so that both can clearly see that you have the service bundle they wish to purchase, regardless of the desired frequency. The customer's purchase frequency must be considered as well when creating a service bundle. Opportunities for maintenance plans and service contracts should not be overlooked and should be a carefully planned part of creating service bundles for your company. Recurring revenue is an important part of the structure, positioning, and promotion of your services and bundles.

If you are not sure what the service bundle comparison should look like, that's okay. To begin, get a piece of paper and a pencil. Across the top of the page horizontally create four columns with three of them representing the different levels of your company's service bundles. The far left column would contain descriptions of each featured service, listed line by line. These columns and lines should form a grid. Then, in the boxes under each service bundle, there would appear a check mark if that service was included in the bundle. It might look something like TABLE 1.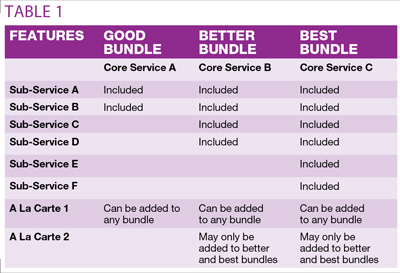 This exercise should be done for each of your core services and the sub-services that are typically performed with them. Creating these service bundles for your customers provides them with both knowledge and perceived value. Consumers should have the knowledge and understanding of each service they're purchasing so that they can place a monetary value on the collective group of services that go into the bundle. This approach is widely used by many service companies of all sizes, such as plumbers, landscapers, HVAC, and carpet cleaning companies to name a few, and it lends itself to furthering the client's perception of your company as a professional one. Make sure to carefully define or explain the methodology behind industry buzzwords commonly used to promote services so that the consumer is not confused and understands what you are offering.
There are certain points that can become sales objections if they are not addressed when you are selling a service bundle. They usually boil down to pricing and payment terms, the service bundle features themselves, and scheduling and availability.
Let's look at each of them in turn. If your proposed services represent a large purchase, you will want to offer a package price and then offer the customers a carefully outlined payment schedule based upon the scope of work or a percentage of the job. It's important to listen to your customers should they disclose their budget limitations to you. It's your job to help them to be able to afford the services they want to purchase. If they are having trouble affording certain services, see if there is anything you can eliminate from what you are offering so that they are able to afford an altered form of the service bundle. When possible, custom tailor the package to gain the new customer. 
Occasionally, you will find that a customer's needs for service will vary from your service bundle. When this happens, it's okay to be flexible and to modify what is offered if you can. Work with the customer, and you're more likely to keep the customer. Let's look at an example of this. Mr. Smith loves his new sports car and wants it to look a certain way all the time. He knows he can only afford to spend a certain amount of money per month having Sparkle Cars Inc. detail his nice new BMW convertible, and he doesn't have time to do it himself. So, Sparkle Cars Inc. works with him to offer specific service bundles during different weeks on a pre-defined schedule. He might want the "best" level of service once per week, but what he might end up purchasing instead is the "good" level of service and the "best" level of service alternating every other visit so that he can afford weekly service. Once you have consulted with your client to find out what is most important to him and will solve the problem he has, you will be able to present a solution that works for and benefits you both.
The second issue you are likely to face is scheduling. How soon does the client need the services performed, and is it really time sensitive for the client? Is there a special event or an inspection driving the sense of urgency? Do you get enough of these kinds of requests to hire, train, and outfit a crew to handle just that type of work, or are the requests too sporadic? This kind of resource planning will require you to look at the internal scheduling of your crews, the targeting and promotion of the services they will perform, and any seasonal obstacles you may face. If, for example, you are doing night work and day work, you will be scheduling multiple shifts. You might have one crew dedicated to certain commercial services at night, and that same truck might have another crew assigned to it during the day performing a completely different set of services. Some of the services you schedule for your customers might be weekly, monthly, or quarterly, while other services might be annually or one time only. Some jobs might last two hours in duration, while larger projects may take multiple weeks to complete. Having the crews to address the timely needs of your clientele is something you need to plan for continually to maintain a healthy business. 
From time to time, the need for a new service may arise, or a service that may not have been as popular may become so. As you see new opportunities on the horizon, or if you begin to get requests for things you had not considered previously, you might want to add them to your services and prepare bundles if applicable.
Alternatively, as conditions change within the economy, you may have to reinvent your bundles, perhaps changing things a bit or creating slightly different bundles to keep the interest of consumers during an economic downturn. Consider what your most basic popular services are and create a bundle or a single offering to accommodate your clients and keep them buying from you. Have it ready to advertise should you need it. Plan ahead!
Now that you have put all of this work into creating your own unique service bundles, you'll need to name them. The names you select should be simple and should not be the same as any names your competition offers for their service bundles. Keep your names brief and professional. As we have seen, you'll also need to write a description for each bundle in a format that allows consumers to easily determine which one best suits their needs and their budget. It's easy to see why bundling your company's services into multiple packages is attractive to consumers and profitable for your business.