Making the Service Department Work for Your Business
By Diane M. Calabrese / Published March 2015

Editor's Note: This article was originally published in the February 2013 issue of Cleaner Times|IWA. It is reprinted here with the hopes it will be a useful tool to provide some guidance for running an efficient and effective service department in 2015.
Everything in its place is a comforting adage. It strikes a harmonious note and suggests a peaceful equilibrium. Yet, decisions about the correct spot for the most ordinary things can be tricky. Spouses may easily differ over the best place to store the coffee mugs.
Not surprisingly, then, two service center employees might not agree on where to keep the wrenches. And one of the first tasks for a distributor aiming to ensure that a service department adds to its revenue is to make certain the department is staffed with employees capable of finding common ground.
Larger service departments benefit from a manager who leads by example, demonstrating the proper way to interact with colleagues and customers at each encounter. Smaller departments require trusted employees with a commitment to the task of providing customers with the repairs or refurbishments they seek in an expeditious and drama-free manner.
Today, after all, it's about more than repairs. Service department employees confront many vexing situations. For one, they must be certain that each machine exiting their shop meets standards to which it might not have been originally built. The requirement that equipment meet the UL-1776 pressure washer safety standard is serious. Failure to comply with the rule brings legal jeopardy.
The Occupational Safety and Health Administration (OSHA) expects U.S. equipment manufacturers, and distributors that configure or repair equipment, to meet UL-1776 standards. What if a customer does not want to pay for an upgrade along with other work on a machine? The customer and the machine ought to be turned away, politely. There is no written waiver, even when duly signed by a customer, which can afford a distributor or manufacturer full legal protection for not upgrading a machine modified by its service center.
In short, organization of a service department encompasses personnel issues and legal issues, as well as a range of well-known fundamentals. To make a service department work for a business, all of the following must be considered: mission, management, spatial and temporal logistics, and billing.
Mission and Management
Just as with any component of a business, the mission of the service department should be clearly stated as part of in-house business planning. Candor about the mission of a service department allows a distributor or manufacturer to make prudent decisions about how much to invest in personnel—including ongoing training—tools, space, billing software, etc.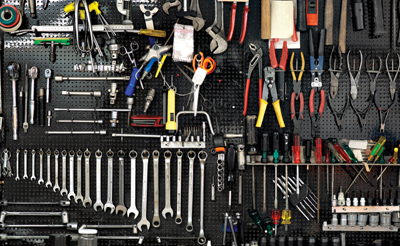 Not all service centers are launched for the same reason. Some centers actually begin as more of a cost center than a revenue center—a courtesy to valued customers. With good monitoring of costs and expenditures, though, they attain equilibrium.
From inception, the mission of some service centers is to be a bona fide revenue generating component of the business. All service departments bring additional traffic—and new buyers—to a dealership.
With the mission defined, it's easier to determine how the service department will be managed. A full-time manager might not be needed if the center only provides service on a particular brand of equipment. But with the increasing number of government regulations imposed on business procedures—including repairs and billing for repairs—managers are important.
A service department manager may play an important role in sales. While service technicians dedicate themselves to efficient and accurate work, the manager can talk with customers, citing the options for repairs and discussing the cost-benefit of a replacement machine versus a repaired machine.
When a manager oversees operation of a service department, it should be easier to avert many of the big obstacles that impede work flow. Hindrances to throughput—encapsulated from the huge body of research on operations—may be summarized as: inventory, queue, allocation, scheduling, and competition from other service departments, in this case. All are discussed more fully in the next section.
Start with the basics when considering the addition or refinement of a service department. Get advice from colleagues in the industry. Ask them about what they would suggest regarding best practices. We did that and got a great summary of how-to-do-it from Twig Wood, Owner of American Cleaning Systems, Inc. in Columbia, MO.
"Here are three tips for an effective and organized service department," says Wood. "One, a well-stocked parts department; two, proper tools to do the repairs; three, a clean and spacious work area."
By committing to the trio of best practices cited by Wood, a service center can prove itself exemplary. "At our store, the most efficient asset is the ability to repair 90 to 95 percent of all equipment brought in without having to order parts," explains Wood. "Therefore, turn-around is usually less than 24 hours."
Spatial and Temporal Logistics
Sufficient space for service technicians includes both an individual work area, which is large enough to spread out parts from a dismantled machine, and a buffer zone between him and the nearest other technician. Appropriate space also allows for correct storage of tools.
Crowding can lead to mix ups. It can also fray nerves and cause tension as someone's bolt slips into someone else's work area and goes missing. Moreover, if the service department work area is visible to customers, any view of tight quarters and overlapping work areas will not give the customers confidence.
In the lexicon of operational theorists, insufficient space can lead to problems in both queuing and allocation. Which machine has priority amongst the repairs (queue)? Which technician gets to use a single repair resource first (allocation)?
A manager can make decisions and sort out the logistics of work queues and resource allocation. Without a manager, service technicians will have to take time to negotiate. In day-to-day terms, scheduling problems will arise and someone has to deal with them.
All dimensions of service center organization, then, may affect temporal logistics.
Giving a customer a bad estimate of when a repair will be completed can lead to a loss of future work.
When readying a time-of-completion statement for a customer, myriad considerations have to be made that go well beyond the repair needed and the other equipment already awaiting repairs. For instance, is any one of the service technicians scheduled for a day off? Or, are routine maintenance issues in the service area, such as floor cleaning, going to slow down the work?
With tepid economic activity, service centers are in greater demand. It can be more economical in the short term to repair instead of replace. As a result, service centers compete—in some markets, fiercely—for business. From service contracts to discounting, the lures to attract customers are many.
Extra hours and days—half-day Saturday, for instance—are also used as hooks for customers. Before lengthening hours of operation, the cost of more hours, such as utilities, personnel, and security, must be weighed.
It's much the same cost considerations when evaluating the benefit of a service contract. A distributor must be certain the personnel, space, and time to fulfill requests will be available. It might be necessary to stipulate that across certain intervals, such as when repair traffic is expected to be high in early spring, the time for completion of a service request will be longer.
The spatial and temporal logistics of service center organization also extend to mobile service. Technicians traveling to customer sites will garner a good response from customers. But for a service department to make such treks, using well-stocked, mobile units, it must have a significant revenue stream. Vehicles, fuel, insurance, and duplicate sets of tools add cost. So does the non productive travel time.
Billing
Irrespective of the final structure of the service department, a decision about how to bill customers must be made. Any mobile service call may have to begin with an upfront, non-negotiable fee for the visit; charges for the actual service provided would be determined and billed after that.
Flat billing has been adopted by many service departments over the last decade. Customers like it because they have certainty about the bill prior to the beginning of a repair.
The smooth path to successful flat billing is paved with detailed information about the costs of all that goes into completing a repair—from parts to labor to utilities to rental space. Nothing can be omitted from the calculation if a valid amount is to be assigned to each kind of repair.
Successful flat-rate billing plans demand the same kind of refinement as traditional plans that charge separately for parts and labor. Both of the approaches require routine monitoring to make certain that the charges are in keeping with the costs of providing the service—for example, continue to yield a profit margin.
Even when a flat-billing schedule is used, there still must be evaluation and possible severing of employees. But with flat rate, slower technicians are more easily accommodated when learning.
The choice between flat-rate billing and parts and labor billing is largely a matter of perspective, style, and location. There is not always one best way. In all facets of a service department, what works best in design and execution will be what works best for a particular owner; it's your decision.