CETA Edge
Lifetime Achievement and Distinguished Service Awards 2021
By Diane M. Calabrese / Published December 2021

There will be a lot to look forward to when members of CETA again meet during PowerClean 2022 at Shingle Creek Resort in Orlando, FL, October 12–15, but topping the list will be the opportunity to recognize and offer congratulations in person to the 2021 award winners for distinguished service and lifetime achievement. 
     For now, we share some reflections from the winners. Jack Hill, the executive director of sales and marketing at General Pump in Mendota Heights, MN, received the CETA Distinguished Service Award. Sam Humphrey, president of Mi-T-M Corporation in Peosta, IA, received the CETA Lifetime Achievement award.
     Debbie Murray, the managing director of CETA, points to a rich tie between the two awardees—that is their commitment to reaching out to help and mentor others, thereby strengthening the entire industry.
     "Both men were the first to contact me personally to offer their support to CETA in any way that was needed when we had to cancel PowerClean 2021," explains Murray. "Both are huge supporters of CETA and have always helped when they have been asked. I have the utmost respect for these gentlemen."
     To be sure, those nominating Hill and Humphrey echo the words of Murray. The awardees are exemplars of doing and modeling how it's done.
Sam Humphrey—Lifetime Achievement Award 2021
     Team building. It's a concept that's been an integral part of the leadership approach of Sam Humphrey throughout his professional path.
     By building a management team that strives for continuous improvement in business practices, manufacturing efficiencies, and customer relations, Humphrey has further strengthened a strong company he joined in 1991. 
     Early in his tenure at Mi-T-M, Humphrey realized the importance of assisting customers not only with their cleaning needs but also with their resolve to comply with regulations from all levels of government. The realization fostered the development of a water reclamation division, which complements the industrial pressure washer line.
     Indeed, Humphrey's company installed its first biological water treatment system at a country club in Florida in 1998, and the company has earned national recognition for its water recycling technology.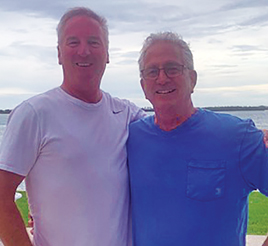 But let's turn to some reflection from Humphrey. "I will soon be approaching 31 years with Mi-T-M," he says. "In all those years CETA has always been an important part of the journey."
     Humphrey points to the unique dimensions of CETA. "Of all the trade organizations, CETA has always been the one that drove many important aspects of our trade," he says. 
     CETA's attention to the industry goes well beyond the boundaries of the day-to-day of the members who are immersed in it, explains Humphrey. The outreach across generations and throughout business sectors is something he appreciates and enjoys.
     "The association has supported the education of our youth, the specifications and safety of our equipment, and the communication and fellowship of members," says Humphrey. "It helped focus and direct manufacturers and provides a valuable resource for established and startup companies."
     Many accomplishments and initiatives have filled three decades, to be sure, but is there one particularly significant to Humphrey? "I can say without hesitation that the most gratifying part of my career was one of the most recent," he says. "On October 1, 2021, Mi-T-M transitioned into an Employee Stock Ownership Plan—ESOP."
     What's so important about the ESOP, explains Humphrey, is the opportunity for employees. "As the company grows, so will the employee shares. This is a real game changer in the lives of our employees."
     The cohort of past awardees that Humphrey joins is important to him. "I am honored to be a recipient of the award and humbled when I look back at some of the dedicated individuals who were awarded this honor in the past," he says.
     As he considers the group of those recognized for their lifetime achievements, Humphrey observes one of the enduring endeavors that unites them. "They carved out the direction of our industry with unconditional devotion to our industry. I am proud to be a part of the group."
Jack Hill—Distinguished Service Award 2021
     Being able to talk to an expert about a mechanical device and gain a better understanding of it is something we all appreciate. Jack Hill has an industry-wide reputation for being a person easy to talk to about new products and wish-list possibilities. 
     Hill appreciates that his company has been engaged with CETA from the association's inception. "The network and personal relationships established have been a tremendous benefit to the company." 
     Being able to interact on a regular basis with members of the industry has been an excellent way to build links and help make a vibrant industry stronger, explains Hill. He recalls the time he served on the association's board as an important opportunity for sharing ideas about the industry and the future of the organization.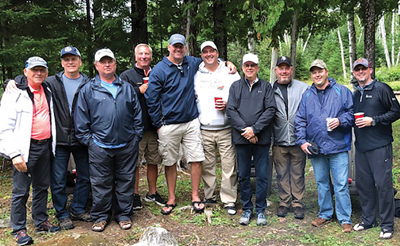 Collaboration is a vital dimension of service and one that Hill has made an integral part of his professional life. It's also something he learned to value early on.
     "When I first began working for Mike Christopherson at General Pump more than 37 years ago, his philosophy was always to follow your customers," says Hill. "That has probably been the one thing out of so many that I learned that has meant the most, and today at the company we continue with the same philosophy."
     Interpump Group acquired General Pump in 1998. The founder of that company, Dr. Fulvio Montipo, has a "philosophy very similar" to that of Christopherson, says Hill. "He demanded company synergy and that our company in the United States become more involved with the team in Italy."
     "Dr. Montipo's passion has allowed us to develop new products, solve technical issues, and create direct relationships with the factory much more quickly," says Hill. "And finally, most importantly, I would be absolutely nothing without the team at our company that means everything to me and makes it all happen. As I have said a million times or more, 'There's no better in the industry.'"
     Taking a moment to reflect on his tenure in the industry, Hill is gratified by the opportunities and outcomes he has been able to experience. "I never imagined 37 years ago when I left school and accepted a job working for Christopherson" what the future held.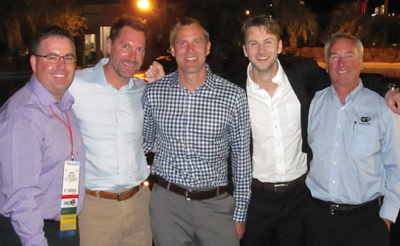 Hill explains Christopherson asked him to "help grow an idea" and realize "a dream" he had. They began their work together in a small home that was renovated into an office space with a parts warehouse in a garage. 
     "It was Christopherson's passion and energy that made my decision to take the leap," says Hill. "That leap allowed me so many wonderful relationships moving forward to today, and I would not change one thing."
     For Hill, service is just part of the day. It's what we do as a byproduct of committing to our best effort—and more—as a matter of priority. It's an outlook that defines the foundation of our industry.
     Hill sums it up this way: "Working hard with  so many people over the years to overcome obstacles, create new products for new applications, and truly partner in improving situations for all parties involved is something I will be forever grateful to have as a part of my life."