The Legacy of Cliff and Betty McGinty:
A Lifetime of Seeking Solutions to Problems
By Adia Walker / Published November 2016

Editor's Note: Cleaner Times is reaquainting readers with past CETA Lifetime Achievement Award Winners.
Helping people solve problems was a lifelong goal of Cliff and Betty McGinty, founders of General Equipment Company in Medford, OR. When the husband and wife duo were awarded the CETA Lifetime Achievement Award in 2005, the industry recognized the hard work and creative problem-solving the couple had poured into their careers in the cleaning industry for more than 40 years.
Sue Riches, current president of General Equipment Company and daughter of Cliff and Betty McGinty, said her parents never really felt a need to leave the cleaning industry, as they enjoyed the many opportunities to solve clients' challenges. "It seemed that everyone had a cleaning problem, and General Equipment could deliver a solution to make work easier and more efficient while saving time and money," Riches says. "Although the bottom line was making money, that was not the overriding goal. Putting energy into solving clients' problems became the first consideration. The sale often followed. The ever-changing needs within various industries always presented fresh challenges. Didn't everyone have a cleaning issue? And then, what to do with discharge water created more opportunities."
According to Riches, her parents had several key values that they lived and worked by:
Think of others before yourself
Be honest, work hard, and keep your integrity
Your attitude always shows
Keep your word and promises
Be kind and generous
Your actions reflect your values
The couple shared a strong work ethic, along with a genuine interest in learning new processes that they could use to help others. Cliff and Betty's contributions to the industry over the decades were trademarked by a willingness to share and collaborate with others. It was clear that they valued factory tech support, factory sales, and marketing staff. "The equipment was well-built, but the end user always needed a little help with employee training on use of equipment and instruction on preventative maintenance," says Riches. "Keeping a customer's needs first was a winning combination."
Riches recalls her parents as always approaching their work with "a can-do attitude, the curiosity to seek new solutions to problems, an appetite for life-long learning, and a zest for life." The business they built still serves the cleaning equipment industry today, guided by these same principles. "It is the go-to place for many items that no one else carries in the community," says Riches. "It is also one of the few repair shops in southern Oregon. Each day customers comment they are so thankful GEC is still up and running, helping them in their daily business." This year marks the 52nd year of business for General Equipment Company, and Cliff's motto of "We service what we sell" is still a vital part of the business.
In addition to their contributions in the cleaning equipment industry, Cliff and Betty were dedicated to serving their community through volunteerism. Cliff served on the Board of Directors for the YMCA and enjoyed being a member of Rotary International, Lions International, the Mt. Ashland Ski Patrol, and St. Peter Lutheran Church. He was also instrumental in helping to establish Medford's first public fireworks display in the 1950s. Betty spent time volunteering with the American Red Cross, the Lions Club, and the South Oregon Sight and Hearing Center. She also traveled to Mexico City to work with EnBlanco Mariposa Group, an organization for children with special needs.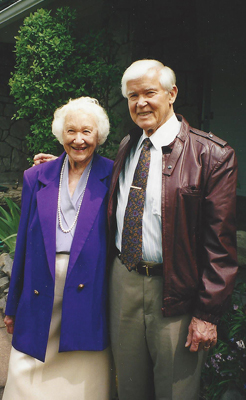 Riches remembers her parents serving on local boards of directors, helping to build a small apartment complex for disabled area residents, and participating in local fundraising events by washing cars and selling watermelon slices at the county fair. "When asked for help, the two always replied with a 'yes'," she recalls. The importance of serving others has been passed down to Cliff and Betty's children. Their son Michael volunteers with Habitat for Humanity, as well as numerous church projects. Sue has dedicated many years of her life to community service with various non-profits, including being a national officer for Kappa Kappa Gamma and raising funds for college student scholarships. 
A sense of commitment to the community was instilled in Cliff and Betty from a young age. Both their families moved to southern Oregon in the 1920s, right before the Great Depression. Cliff was raised in a family with seven boys and one girl; according to Riches they were "rough and tumble kids who cut wood, which was traded to the local grocery store for food and supplies." Betty lived with her family nearby, and they both excelled in academics at a local high school in Jacksonville.
Upon graduation in 1942, Cliff was offered several college scholarships for basketball and football, but he chose to finish his summer job with the U.S. Forest Service as a spotter for forest fires instead. The job ended in November, and when World War II began, he enlisted in the Marines as a paratrooper. Cliff served in the Pacific Theatre carrying out staff reconnaissance on Guadalcanal, Bougainville, Purata, and Iwo Jima. Riches believes that her father's childhood spent in the woods served him well in the dangerous terrains he found himself in during the war.
When Cliff returned home after the war, he and Betty began dating and were soon married. The couple had two children, Michael and Sue. Together they started a wood and sawdust delivery business named McGinty Fuel. The company grew from one delivery truck to several trucks, purchased with income from Cliff's second job at an area mill. This enabled them to save money to build their first home.
McGinty Fuel continued to grow until it was sold in 1959, when Cliff had an opportunity to purchase a Tidewater Oil distributorship in Klamath Falls, OR. A few unprofitable years later, the distributorship was sold and the couple moved back to southern Oregon, where they established General Equipment Company. The local area had an active timber and agriculture industry, which allowed Cliff and Betty's company to flourish. They specialized in steam cleaners, small engines, hoists, jacks, generators, and all service station equipment.
In 1975, they expanded operations to Houston, TX, and were able to apply their problem-solving skills to issues faced in the fast-growing oil industry. "Service calls often included being flown out to an oil rig to repair equipment," recalls Riches. Time spent in the gulf coast area piqued Cliff's interest in water treatment, reverse osmosis, and waste water treatment. He was often quoted as saying, "The world will not always fight over oil, but eventually over clean water." While working with engineers to manufacture equipment that was shipped to offshore rigs in the North Sea, Cliff felt great satisfaction in his ability to help generate solutions.
Soon, General Equipment Company expanded once again to include the Hawaiian Islands. "New challenges were presented in the pineapple industry with the red soil, salt water, and delicate marine life," says Riches. "Close friendships were formed with locals and became a highlight of working in the islands. Equipment was sold and installed in many locations, including the airport, rental car agencies, Pearl Harbor, Coca-Cola, Dole, and many small businesses."
Betty was known by many for her love of traveling and meeting new people. Working and vacationing in the Hawaiian Islands was an opportunity for her to do both of these. During their 64 years of marriage, Cliff and Betty traveled the world, exploring cultures and making friends. Whether they were working trade shows, spending Saturdays catching up on office work, taking detailed notes in a factory training class, or embarking on international explorations, the couple lived by the motto "Work hard, play hard."
When Betty passed away in 2009, Cliff gradually lessened his time in the office, turning over the day-to-day operations to his daughter, Sue, in 2011. However, he still made time to come to the office to supervise, interact with customers, purchase inventory, and keep current with industry trends until his death in 2013.
Through a lifetime of achievement, Cliff and Betty left their mark upon the cleaning equipment industry, southern Oregon, General Equipment Company, and, of course, their family. They left behind countless, wonderful memories and served as an inspiration for many. When asked about some favorite recollections of her parents, Riches had several to share, including globe-trotting adventures and valuable life lessons.
"Over the years Cliff exposed the family to swimming, water skiing, scuba diving, bowling, snow skiing, basketball, volleyball, handball, racquet ball, tennis, and golfing," recalls Riches. "All this hubbub of activity taught me to try new things. I added crew dragon boat racing, cross country skiing, tai chi, and surfing to the list. I met my husband on a sand volleyball court—we were on opposite teams!"  Riches remembers her parents often encouraging others to try something new.
Cliff and Betty McGinty are a wonderful example of how trying something new and developing creative solutions to problems can not only bring personal accomplishment and happiness, but can help others to achieve success as well.