LeAnne Moreno and DSG Equipment & Supplies: A Match Made in Independence
By Diane M. Calabrese

Many exciting starts have been made in Independence, MO. Among them were beginnings by dreamers who departed along the Santa Fe and Oregon Trails in the gold rush of 1849. With its central location, the Show-Me-State city continues to be a natural nexus for those going and coming—and meeting.
In Independence, LeAnne Moreno, a service technician at DSG Equipment & Supplies, Inc. in Kansas City, MO, began her move into the cleaning equipment and pressure washer industry. It is the city where she first met the owner of DSG, Stephen Haith, for a job interview.
Although Moreno only joined our industry in August 2015, she brings exceptional experience. For more than 20 years, she worked in factory maintenance in plants as wide ranging as canning, combines, and boxed soap.
Prior to taking on maintenance work for the commercial sector, Moreno served as a member of the U.S. Navy. She was a Seabee (CB), a member of the U.S. Naval Construction Forces (NCF).
Moreno's military record includes being stationed in Atlanta, GA, on the USS Canopus (AS-34), a Simon Lake-class submarine tender that was in service from 1965–1994. When she first joined the military, roles for women were restricted. Hence, her initial assignment as a Seabee was as a stores keeper. Later, she was able to gain a mechanical rating to work on boilers.
In the commercial sector, Moreno studied to add electrical credentials to her mechanical expertise. She loved the work, but nights and shiftwork were becoming less attractive to her, especially since she helps to care for grandchildren.
"I said, I want to do something different," explains Moreno. Not knowing which direction she might take, she posted a resume online. And she drew immediate responses.
In fact, Moreno scheduled three interviews in one day. She was kept longer at her first interview than she planned. Consequently, she was late getting to Independence. The understanding she was shown by Haith gave her a very good impression of his company.
Haith and his wife, Dolores Haith, his business partner, had travelled to Independence to meet with Moreno. "They came and met me where I was at," she explains, making it much easier for her to keep her appointments that day. "They are amazing."
One of 11 employees at Haith's company, Moreno is a member of a dedicated service team. "The service team meets each morning with our service manager and assignments are made," says Haith. "The assignments can consist of spending the day in our shop or out in the field."
Travel may take Moreno as far as two and one-half hours away from the home base in Kansas City. Her one surprise about the industry she joined is its size. "It's a lot bigger than I ex-pected," says Moreno. "There are people who depend on their equipment to clean—truckers, farmers, hog places, tractor supply, rental equipment…"
Ongoing training that Moreno gets from Hotsy and Kärcher North America in Camas, WA, the group to which Hotsy belongs, is important to her. "Whenever there are changes, they give us more training," she says. In the course of her professional life, Moreno has always been keen to take the opportunity to learn more. It's that life-long learning that got her the attention of Haith's company.
"LeAnne's technical skills and expertise got her the interview with our company," says Haith. "We offered her a job because of who LeAnne is. She's positive, spiritual, a team player, honest, sincere, incredible work ethic, caring, trustworthy, great people skills—shall I continue? We are very fortunate."
Influences, Perspective, and Context
A native of Macon, MO, Moreno was first interested in the U.S. Navy by hearing of an uncle who had served in the branch of the military. "I just thought it would be something neat to try," she says, adding she was intrigued by the opportunity to travel.
"Never give up and patience" are two things Moreno says she learned in the military. "Of course, they don't teach them directly." It's the expectations set for service members that establishes the environment for knowing the right thing to do.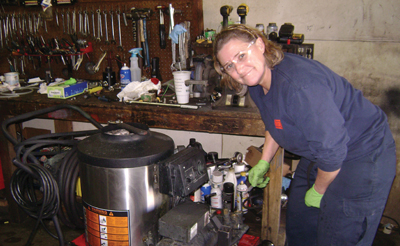 The respect for one another that members of the military have is something that serves well outside the military, says Moreno. Irrespective of the setting, there are times when each of us encounters someone who may be wrong. The proper way to get the facts straight, such as about why equipment has failed, is by interacting respectfully, she explains.
Work ethic is something Moreno learned from her father and her grandfather. Her father worked in a coal mine and later built houses and had a body shop. "He worked hard all his life," she says. "Just watching him—he said, 'You have to work." Following her father and grandfather as they repaired mowers and other machines also sparked Moreno's interest in all things mechanical. Seeing the commitment her elders had to keep learning also affected her profoundly.
"Do things right," says Moreno, summing up her philosophy. "Do it right and everything will work out. I love God personally. I pray every morning."
Moreno's outlook is a good fit for Haith's team. "Our core purpose is to make people's lives better," says Haith. "At the end of the day, we're a family business. We try to treat everyone—our employees, customers, vendors…etc., like they are part of our family."
In her free time, Moreno enjoys working out. She can bench press 250 pounds and she lifts weights. In the past, she has competed with other body builders.
Looking at the cleaning equipment and pressure washer industry, Moreno does not see a great deal happening in terms of mechanical changes. She believes the fundamentals are in place. Yet she does envision more PLC [programmable logic controllers] providing digital, exacting guidance to mechanical and electrical components.
Moreno has the opportunity to work on a broad range of equipment. "In addition to Hotsy, we represent Veloci—formerly MTM—heaters, Steamericas steamers, and JRI parts washers," says Haith. The variety is the sort of opportunity Moreno relishes. It's something she sought when she left the factory niche.
Haith's company opened a second location in Springfield, MO, about one year ago. The service manager there is an 11-year veteran of the pressure washer industry and the sales manager came from another Hotsy distributor in Colorado. Haith's company itself is one of the oldest Hotsy distributors in the nation. It opened in 1978, and he purchased it just over three years ago.
"People ask about our markets, and I say we can take care of anyone who needs to clean something," says Haith. "Ag is about a third of our business. The rest of our business is divided between automotive, construction, contract cleaners, healthcare, hospitality, general industry, public service, retail, and transportation." The business serves the northeast quadrant of Kansas and the western half of Missouri.
Moreno looks forward to a productive and long tenure in our industry. "I love everybody," she says. "I'm pretty compassionate." Committed to putting her skills to work on behalf of those needing service on equipment, Moreno is fully prepared to get the job done whatever the task. "Don't let a woman fool you," she says.