Keith Price: Reflecting on 36 Years in the Industry
By Diane M. Calabrese

Keith Price joined the pressure washer and cleaning equipment industry in 1979. After 36 years and a career path that included 18 years with Hotsy Corporation, seven years with C-Tech Industries, and 11 years with Kärcher North America, he retired in September 2015.
Forward looking and with deep industry expertise, Price provides just the sort of perspective that will buoy readers as they begin a new year. "There were very few corners of the industry I wasn't involved with—dealer sales, brand marketing, consumer market, environmental equipment, aqueous parts washers, private label, rental market, and overall general manager responsibilities," says Price.
Working in so many segments of a single industry gives a professional especially keen insight. So does traveling. And Price traveled widely in North America and internationally during his tenure in the industry.
A native of Iowa, Price moved to Colorado in 1975 after earning a degree from the University of Northern Iowa. He joined the industry four years later, when he was recruited by Hotsy.
"I knew virtually nothing about the industry…," says Price. "But I was attracted to the performance of the product, the highly dedicated staff, great dealers, and the opportunity to come in on the ground floor. I had a super boss at the time who took me to the deep end of the pool for training."
That quick immersion proved invaluable. "I learned fast about what I didn't know," explains Price. "My classrooms were hog barns, processing plants, repair shops, wrecking yards, and more."
The good start led to more good things. So that looking back, Price has compound layers of positive thoughts about the industry. "The people I met in all corners of the industry were enthusiastic—and sharing," says Price. "I was feeding off my co-workers, dealers, and competitors. It seemed to me that everyone was laying the bricks to the industry and having a blast doing it. It's probably why there are a lot of long-term players in this industry. I was very fortunate to work alongside of some very smart people at Hotsy, C-Tech, and Kärcher. I will miss them but will keep tabs on their accomplishments in the years to come."
Moreover, Price expects the employees he hired and mentored and the brands he represented to continue to do well. "I took my responsibilities as a manager seriously and tried to hire people who were smarter and more skilled than I was," he explains. "My role was to coach and put employees in a place where they could succeed."
In fact, Price's own path to leadership roles in the industry serve as a great example to others. Post college his first job was with Maytag Cor-poration as a regional sales manager. A promotion landed him in the Centennial State. Then, there was the move to Hotsy and the position of regional sales manager for the Southeast United States.
By 1988, Price had become vice president of sales and marketing at Hotsy. For approximately the next 15 years, he directed Hotsy, Shark, Cuda, and several private label brands in a growing market for pressure washers.
Consolidation in the industry meant several changes in ownership structure. "In 1997, Hotsy was sold to Harbour Group, an investment company," explains Price. Harbour Group later bought Landa and Spraymart and formed C-Tech Industries as the umbrella company for the entities, establishing the headquarters in Camas, WA.
In 2004, Kärcher bought C-Tech. Price moved to Camas in 2005. "At the time, I was responsible for Shark, Cuda, Water Maze, key accounts, and government sales," he explains. "Kärcher provided a lot of manufacturing and technical expertise to the company and sales grew rapidly. Their long-term view and commitment to the North American market was refreshing."
That's a lot of change even across almost 40 years in one industry. Yet Price was equipped to meet it thanks in part to some wisdom imparted by his father. "My father was also a corporate sales and marketing guy and certainly my role model," says Price. "Early on he advised me to stay focused on my current job and do the very best I could, rather than worrying about the next move up the ladder. If I was with a good organization, things would work out."
Things did work out. "I am very grateful to the owners and CEOs of Hotsy, C-Tech, and Kärcher who kept me around," says Price.
Honesty, Optimism, and Participation
There is a guiding philosophy that fortifies Price each day. "Honesty is the best policy," he says. "Life is a lot less stressful when you lead an honest life, avoiding the long-term consequences of the lack of integrity."
Less stress means more energy to apply in a variety of situations. In his extensive international and domestic travels, Price has been in some places in complex times. For instance, Price was in the Middle East shortly after the 1991 Gulf War. It was a memorable experience that he will long recall. "Hundreds of oil wells were on fire and the smoke blackened everything," he says. "There was a demand for hot water pressure washers to assist in the cleanup. I met many interesting people and learned a lot in the six weeks I was there."
Equanimity also derives from a stress-free as possible approach to life. That, in turn, fuels a positive outlook in all matters of life—both personal and professional.
To be sure, optimism sums up Price's overview of the current state of the industry. He is optimistic about both the quality of equipment and the opportunities for more sales.
In fact, Price is adamant the adage 'they don't build them like they used to' simply does not apply to pressure washers. "In the early days, the components used to build a pressure washer were designed for heaters, home furnaces, boilers, water wells, etc.," he explains. "Today, most of the components are specifically designed for a pressure washer, which has substantially increased reliability."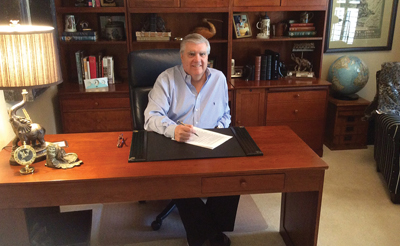 Not only do today's pressure washers last longer, says Price, but they are safer—made so by nationally recognized certifications. "With more modern manufacturing techniques and sophisticated engineering, the consumer is getting a better deal."
Tied to high quality is better performance. "When I started with Hotsy, our best-selling machine was 500 psi, using a reciprocating pump with an open wand," says Price. "Today, 3000 to 4000 psi is the norm. That represents better and safer cleaning, faster cleaning—using less water, detergent, and fuel. Again, what a great value for the consumer."
Across the next five years, Price sees strong growth in the sale of cold water pressure washers. "Some of this is being driven by the expansion of the construction, paint, and rental industries," he says. "A pressure washer is now a top 10 item at most general rental stores. That trend will continue for the next few years as these markets are growing two to three times faster than the general economy."
Robust opportunities await those in the industry who work at "taking the mystery out" of recycling equipment, says Price. The simpler recycling equipment is to sell, configure, and install, the better pressure washers will be able to play a significant and logical role in countering drought and other environmental problems, he explains. "End users are still frustrated and confused over the benefits of washwater treatment systems," he says.
Confidence in independent professional dealers is something that Price has in abundance. He explains he has seen the dealers adapt to changes and adopt marketing and sales techniques that match commerce accomplished via electronic devices. "Second- and third-generation owners are using the Internet to provide a sales advantage in the marketplace," he says.
Although Price expects to see more dealer consolidation in the next few years, he also anticipates the remaining "super dealers" will "grow exponentially and have new demands on their suppliers."
Growing, multi-location players will require manufacturers to "step up their game," says Price, adding that he believes the entrepreneurial spirit among business owners is as strong as ever. Entrepreneurism may be expressed differently, he explains, but it is still there.
New market segments will keep opening, such as manufacturer packaged solutions, explains Price. "Boxed" solutions for specific sectors ranging from agriculture and automotive to property management and janitorial have the potential to add significantly to sales. "This will take pressure off of dealers who are now developing their own package solutions, which is less profitable and time consuming," he says. 
Over the next five to 10 years, Price sees pressure washers taking on "a more modern or contemporary de sign." Such a design, he explains, will lead to more market expansion.
Participation in the industry has long been important to Price. He has served a term as vice president and on the board of directors of the Cleaning Equipment Trade Asso-ciation (CETA). "It was a great experience, and I really appreciated my fellow board members, who in most cases were my competitors," says Price of his CETA service. He explains that he came away with admiration for all with whom he worked. "Each was committed to improving and growing the industry—and they did."
Reflecting on his years in the industry, Price cites the amount of time he had to be away from his family as he traveled to sell cleaning equipment. "Miraculously, I was blessed with a great family, and I now spend a lot of time with them, enjoying the mountains of Colorado," he says.