It's All About Satisfied Customers at High PSI Ltd.
By Diane M. Calabrese / Published August 2014

Chicago is the third largest city in the United States. The Great Lakes port is a microcosm of U.S. economic activity. Its 2.7 million residents are engaged in industries ranging from chemical, electronics, and steel to food processing, as well as in endeavors tied to the arts, finance, education, and healthcare.
High PSI Ltd. has been serving the greater Chicago area since 1976, when it was established by Tim and Karen Layden. The company is based in Glendale Heights, IL. The Laydens started their company in a rented space that lacked amenities (e.g., heat). They left other good jobs—he in sales and she in construction administration—to do so.
"We thought we could better control our future and be better off financially," explains Tim Layden, who responds for this article. [Karen Layden was the subject of a profile in the March 2011 issue of Cleaner Times | IWA.]
A straightforward philosophy guides the team at High PSI. "We never want to give the customer a reason to call anyone else," says Layden. "We have very good employees that have been with us for many years," explains Layden. There are 14 employees—seven of them involved with parts and service.
"All of our service people are on commission, so we can better serve our customers and ourselves," remarks Layden. "We like to challenge our employees to know and sell the machines and accessories." The challenge is coupled with ongoing education. One of the things that sets the company apart from others is "our dedication to education of our employees," says Layden. Another exceptional feature of the company is its extensive roster of products. "We have the largest inventory of machines and replacement parts in the area," comments Layden.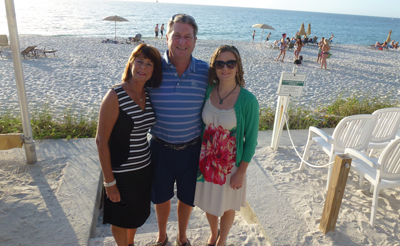 High PSI is a charter member of the Cleaning Equipment Trade Association (CETA) and a CETA-certified distributor. Membership in industrial organizations is an important way to keep pace with and learn from colleagues and competitors, says Layden.
Kim Micha, CPA, the CFO at High PSI, is a CETA board member. [Micha is also a former recipient of a CETA scholarship. She was profiled in the June 2009 issue of Cleaner Times ("Putting a Scholarship to Good Use"). Micha (née Layden) was then an auditor at KPMG, but her immersion in this industry began in childhood when she sometimes accompanied her parents to trade shows; and she expressed the hope she would earn a place in the company her parents founded.]
Distributors share many of the same concerns, says Layden. "It's always a challenge to hire, train, and keep good employees. We are always looking for talented people, both in sales and service."
One of the biggest changes that has occurred at the company since its inception is one that parallels the industry as a whole. Innovation across almost 40 years has been phenomenal. As a consequence, the quality of the products coming from manufacturers has gotten better and better—excellence surpassing itself, as it does by definition.
High-efficiency products and the use of clutches are just two of the improvements that have elevated the already high level of equipment, notes Layden. New technologies offer new opportunities—"something new to sell," he explains.
Great products and excellent service are musts for a distributor that aims to thrive and grow. So, too, are the ability to assess and respond to customer needs and the commitment to learn.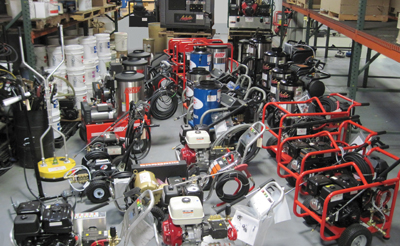 "We interact with customers in many ways, via e-mail, mailers, phone, in person, trade shows, and industry groups," says Layden. "We never stop learning and studying the industry. Many changes have made this industry better for everyone."
One of the changes that Layden laments just a bit pervades all business sectors. "I'm a face-to-face type of person," he says. Thus, the ubiquity of electronic communication often abridges the pleasant experience of meeting customers in the real world. He adds, though, that he "can't complain" because "it is working very well."
As for looking forward, Layden is continuing to do what brings results. By studying the industry and learning, his company can assess the needs of customers and identify the best available matches in equipment and solutions. He is committed to ensuring his company sells the best equipment and stands ready to service all types of equipment.
Teamwork
Pulling together—we all know how important that is. Ken Sunden, the office/marketing manager at High PSI, tells us something about how teamwork invigorates the company.
Sunden says he likes to think of himself as "the glue" of the company when he develops logistics for projects with cohesiveness in mind. He gets a great start, he says, from the leadership provided by the Laydens and Micha.
Other team members ease Sunden's task. For example, the service manager, Armando, assists the parts manager, Tom, as needed. Besides doing accounts receivable and bookkeeping, Veronica keeps "everybody else straight," exclaims Sunden. "Joe is one of the top mechanics in the area, specializing in engines, welding, and having a vast knowledge in every other aspect of pressure washing equipment. Larry is one of the best troubleshooters out on the road. Chad has many years of experience. Matt and Marco are up-and coming super techs of the future."
Deploying personnel is about getting the job done correctly and in an expeditious way. "The strategy is simply looking at what aspect of the business the problem will pertain to and then who has the most experience and who may have the most information regarding any particular situation," explains Sunden. "These people will get together as a team and search out the best solution for the customer and for High PSI Ltd."
There are multiple levels to serving customers. "We care about the success of our customers," explains Sunden. "We sell only the best pressure washing equipment from the best quality manufacturers. Our parts department is careful to only buy the best quality parts, even if they are not as cheap as some of the imports."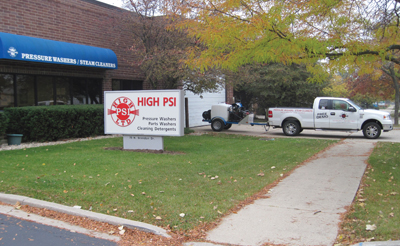 Also among the levels of great service provided is speed. "We are very proud to have fast service, typically getting our customers up and running within 24 hours," says Sunden. "Our customers know they can count on us to get the job done—and done right."
Sunden believes that all companies sharing and competing in the same niche have the same goal and that's a happy customer with some profit in the mix. "It comes down to 'may the best company win'," he says.
In the competitive atmosphere surrounding distributors, there is still plenty of space for geniality. That is not something Sunden would ever want to see change.
One aspect of business that has changed over the years is the way technology has become an integral part of every component of the company. "We still have good, old-fashioned values as far as good customer service and running a fair, honest company—that will never change," says Sunden.
"But technology has really taken off," explains Sunden. "We've gone from sending biannual mailings through the U.S. Postal Service to sending a monthly sales e-mail. We no longer mail a quote and literature to a prospective customer. We e-mail it or tell them where to easily find the literature on our website." It's a long way from 1976 when invoices were typed on an IBM machine, and stuffed in an envelope that was stamped and mailed. "We are able to do things so much quicker these days," says Sunden.
Among Sunden's responsibilities is Web design for www.highpsi.com, the company's website. That's in addition to advertising, sales, customer service, and operating the scheduled maintenance program offered by the company. His vantage gives him a wide view of product developments that are especially interesting.
Is there anything that intrigues Sunden right now? "For me, it's the AaLadin high-efficiency, gas-engine units with clutch-driven pumps," he says. "If you can offer a product with less pump repairs and burner fuel cost savings—and the fact you don't have to stop a project as often to refuel, you have a big edge in having a product no other competitor has to offer."
All forms of outreach to customers—from traditional calls to social media such as Facebook—are important and in use by the company's team, which also avails itself of an in-person chance to connect when possible. "On occasion, our service techs will stop in a customer's facility when passing by—just to say 'hi' and see how their equipment is doing," says Sunden. Customers appreciate the time taken.
The future and technology are inextricably linked, explains Sunden. Being receptive and incorporating new technology brings rewards. "Two years ago, we stuck our website's QR code on all of our trucks." That was at a time when many people still asked "what is that goofy blotch," he explains.
"We are all very proud of our company," says Sunden. "We have bonds with so many people, both customers and suppliers alike—and that's important for maintaining the best customer service. At the end of the day, it's all about satisfied customers."