Imagine Life Without Reels
By Diane M. Calabrese / Published July 2017

H
ose Reels
Long before there were hoses, the frame around which hoses are wound had a name. 'Reel' derives from a Greek word for weaving. Today, hoses provide the closest acquaintance most of us have with a reel. But through the end of the last century, reels were known widely as the uptake and release devices in the film industry. Then, there were recording tapes, VHS tapes—all close to a memory now, as well as spools that moved typewriter ribbon for a century.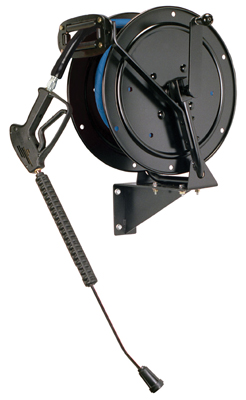 In short, reels (save those on some fishing rods) see more limited use in 2017. Most of them are tied to storage of hoses or wire. (The fishing reel may claim the greatest antiquity, having been invented 2000 to 3000 years ago in China.)
Irrespective of the context in which a reel functions, the issues that vex are the same: twisting of the entity being wound, unwanted slack, or a snap. In the technological sphere, reels have been supplanted by digital equipment. In the industrial world, reels continue to play a significant role—and the more flawlessly they perform, the better.
Smooth uptake and release and compact storage have long been important issues to users of hose reels. Efforts to achieve both have succeeded in the pressure washer industry.
Changes to hoses themselves have been part of the innovation. "Many hoses are now made with lightweight materials so they are more flexible and may wind on the reels a little easier and tighter," says Dave Hildebrand, vice-president of Barens Inc. in Seneca, PA.
Hildebrand's company sells hoses and reels only to our industry. Across 23 years of selling, he says that "except maybe the size of the order" there has not really been a surprise in a request.
When one thinks about hoses and the reels that make storage and transport of them manageable, consistency is the departure point for good performance. For companies that sell hose reels across many industries, even the unusual request becomes the norm.
"Because of the wide range of applications and industries the pressure washer industry serves, we've come to expect out-of-the-ordinary requests from our dealers," says Warren Eley, vice president of sales and marketing for Eley Hose Reels in Lincoln, NE. Meeting the needs in the pressure washer industry can be "more challenging due to the higher pressures, temperatures, and extreme-duty applications in which the reels are used."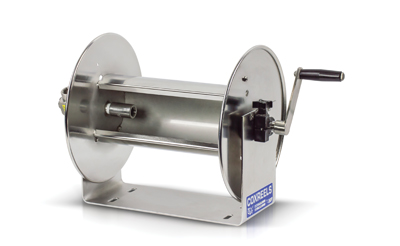 Eley singles out "durability" as a top-of-the-list criterion for a reel in the pressure washer industry. "Ease-of-use would be second, and lightweight a distant third." The reel must hold up without exception.
Mounting applications are an important consideration for reel users, says Eley. "There are a wide range of hose reel installation and mounting needs in the pressure washer industry."
Precisely meeting the needs of the end user improves outcomes and adds opportunities for distributors. "Options include wall mountings, flatbed/trailer mountings, and mountings directly to the frames of larger portable pressure washers," says Eley. "Accommodating these mounting options not only creates an opportunity for the dealer to make more margin on the sale of the washer, but to also do a better job of providing a complete solution for the customer."
Reel Perspective—Q&A
We get answers to a few of our questions about reels in this section. Jennifer Wing, marketing manager at Hannay Reels in Westerlo, NY, provides us the responses based on collective input from the team at the company.
Cleaner Times (CT): Is meeting the need for reels in the pressure washer industry easier, more difficult, or about the same as serving other industries?
Wing: There is a lot of crossover in the overall construction of a reel built for, say, wash-down or spray, versus one built specifically for pressure washing. The principal difference is the construction of the fluid passage components in the reel. In pressure washer reels, where 4000 and 6000 psi hose is often used, you must use an appropriately rated swivel joint, and you also typically need to construct the fluid path hub out of high-pressure pipe or tubing.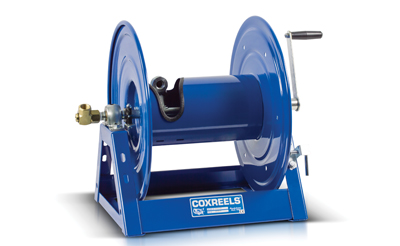 In certain cases, the customer may also opt for heavier gauge construction of both the drum (the part of the reel the hose wraps around) and the outer discs, particularly in cases where the hose is likely to be charged or pressurized while still partly stored on the reel.
CT: Have you ever had a request for a reel that surprised you?
Wing: Pressure washer reels have been around for a long time, and there are not many surprises. However, recently we are seeing a trend in requests for stainless-steel constructed reels, compared to the usual standard painted reels. One reason could be due to resistance to damage to the finish from overspray of any cleaning chemicals that might be used in some pressure-wash applications.
CT: Are there criteria for reels that transcend industries?
Wing: Particularly when the reels are mounted on trucks, trailers, or other mobile equipment, durability is often the primary consideration when selecting a reel. Heavy-gauge steel construction, durable low-maintenance sub-components, an ergonomically mounted electric rewind switch or crank, and a maximum flow swivel joint design are all part of a well-constructed reel that will provide years of reliable service.
CT: What's the biggest change in hoses across the last five years that has made it easier to offer more user-friendly reels?
Wing: Hose with a choice in durable covers, whether smooth or wrapped, has been available for many years. Providing a small bend radius, such as 3½ inch, is pretty typical now, even for pressures up to 6000 psi, and is a welcome improvement, as it allows reel manufacturers to keep the reels both economical and compact.
Reel Innovation—Examples
Design begins with the end user in mind. "The pressure washer industry is more challenging than some other industries due to high saturation of products and the wide scope of various grades of equipment," says John Kucera, design engineering manager at Coxreels in Tempe, AZ.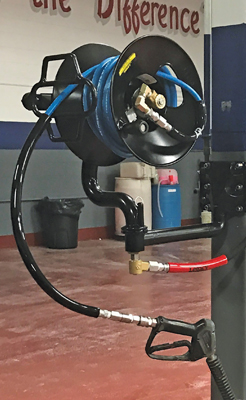 Lower-quality hoses offer some challenges to reel makers, explains Kucera. "Our company developed a product feature specific to the industry, known as the Brawny upgrade, in reaction to the performance characteristics of some hoses."
Kucera explains that a pressurized hose expanding on a reel drum "behaves a lot like a boa constrictor," and in doing so, it can damage the reel. The upgrade counters the constrictive force of the pressurized hose through greater reel strength and other methods.
Before they began working in the pressure washer industry, contractors had experience doing their childhood chores that included using the garden hose. They learned what features made a good reel. And they developed a wish-list, starting with mechanisms to counter unexpected reverse from uptake to release or uneven coiling.
In its hand rewind series of reels, Kucera's company incorporates a pin lock to prevent unwanted unwinding and stainless-steel hose guide rollers. U-frame design and lubrication-free bearings are also features in the company's 100 series reel.
"Our company's 1125 series reel was, and still remains, the workhorse of the commercial pressure washing industry," says Kucera. It has an all-welded A-frame, making it a good match for installation on the backs of trucks and trailers. Capacity is up to 500 feet of ½-in. hose. Three different swivels in the series enable a user to choose one that corresponds to grade of equipment.
"The 1125 has another unique feature…a gear drive motorized system rather than a chain drive," says Kucera. The motorized drive adds to reliability and longevity, even while eliminating maintenance associated with chain drives. "Pressure washer equipment is always wet and trying to maintain the oil on a chain rewind system can be cumbersome, leading to issues of neglect and failure in the field."
Configuring a reel for the industry it serves is important. "The wet environment of pressure washing is a difficult environment for steel parts," says Kucera. "Our company powder coats the components of their reels before assembly, providing superior protection against corrosion."
Options allow customers to make choices that fit their needs precisely. As such, Kucera's company offers its reels in stainless steel versions and electro-polished versions.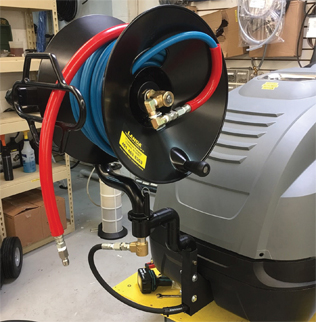 "To better serve the industry, we recommend EPDM seals on all pressure washer reels, especially those used in conjunction with hot water," says Kucera. EPDM, ethylene propylene diene monomer, is a synthetic rubber (an elastomer) able to withstand heat and sunlight, as evidenced by the ever-wider application of one variant as a roofing material.
"Pressure washing is a tough industry on all products, but especially on the reels, hoses, and wands," says Kucera. "Because those components are the main points of operator interface, they have to deal with all the abuse, neglect, and manipulation. Robust construction and foolproof design are critical for this kind of application. Even though cost is an industry-driving factor, a balance including longevity and performance is needed."
Reel Summary
Imagine life without reels—tangled hoses, complicated transport, and much time wasted in moving hoses on site and between sites—not to mention trips and falls. Instead, reels configured in every form imaginable (mounted, dolly, cart) simplify a contractor's work. The story is reel magic.