The Huge Convention Recap: What Did I Miss?
By Beth Borrego / Published December 2016

It was scorching hot and humid in the D.C. area this past August, but that didn't stop the speakers, vendors, and attendees from attending The Huge Convention, held at the Gaylord National Resort & Convention Center in National Harbor, MD. This marked the second year that this event landed on D.C.'s doorstep, and the turnout once again was very substantial.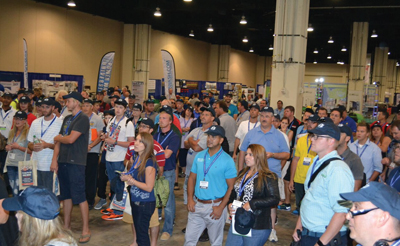 "We were thrilled with the lineup of speakers this year. People inside and outside the industry were giving advice to attendees so they could take their businesses to the next level," Thad Eckhoff explains. "People approached me and didn't understand why they needed to be here. I told them, 'Talk to me afterwards. You'll see.' The same people approached me afterwards to tell me that now they understand why they needed to attend. Now they get it."
But what did some of the attendees think? Well, Sid Graef, owner of Spectrum Window Cleaning out of Montana, has been cleaning windows for 20 years, and he went from skeptic to believer. You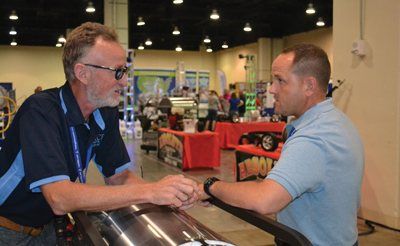 see, until this year Graef had never, ever been to any event or convention. "Honestly, I thought it would be boring. Most window cleaners I've ever met are a little weird (like me) and love to talk about how great they are. I couldn't imagine wanting to be in a room with 500 of them." But that opinion changed, and changed dramatically for Graef. "We dove in deep about some of the biggest needs in the industry. I was surprised at how accessible everyone was: the speakers, the organizers, and the vendors. Everyone was eager to answer questions and help. However, the biggest impact on my company has come from insight learned from private conversations with other owners who are working hard to make a difference. I'm certain the impact on our business, based on changes we have made so far, will be worth more than $50,000 in 2017. So was it worth it? Absolutely! I'll see you next year!" exclaims Graef.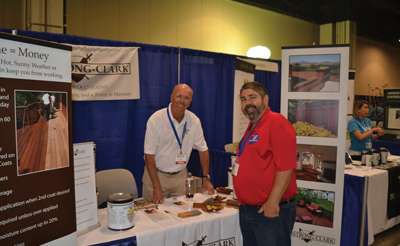 Sid Graef wasn't alone in his enthusiastic remarks. Matt Adwell, owner of Adwell Services in Annapolis, MD, has attended previously and explains why he continues to go. "I attended the convention in 2014 and  2015 and received tremendous value, both from the presentations and the networking. In addition to the information, I find the convention to be just the pick-me-up I need after a busy spring and before pushing through the rest of the year. I will continue to attend because I gain something different every time I go, but even if I heard the same information again, because I'm at a different place in my business, I'd get something new from it."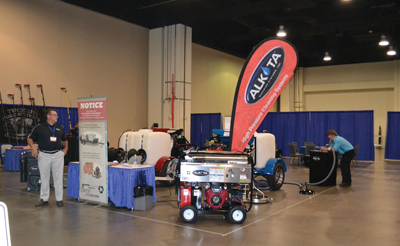 As anyone who has ever attended a convention knows, there is more to a convention than just the seminars and the vendor show. There is great value in the networking and building of business relationships and in helping one another as peers. Adwell elaborates on this, saying, "It can be lonely at the top, but spending time with fellow business owners and comrades is always encouraging. For me it is clarity, seeing the path. Most of us know how to clean stuff but are figuring out how to run/grow/scale a business as we go. It's hard to press forward toward a murky goal. However, networking with those who have just walked the path I'm walking really helps me to have a clear vision of where we're going and how to get
there, and for me that is highly motivational. This year I had lunch with a fellow business owner who shared some of his organizational information. I will be following some of his suggestions and implementing programs very similar to his. I really appreciated his input." And that is something that is hard to factor in when you are crunching numbers and trying to decide if you can afford to attend any convention. The value of networking is hard to measure, and it takes work to network. You can't sit in a corner and expect that it will happen. You have to be social, be willing to mingle and talk, and above all you have to be open and ready to share as a professional.
For some, the trek to the Washington area involved coming in from another country. Jonathan Harwood, owner of Mr. Sparkle, located in Nanaimo, BC, Canada, made the trip to The Huge Convention and remarks that the "biggest reason I wanted to attend the convention was to gain knowledge about what our company can do to improve our existing system and methods." Harwood continues, "The convention was very motivating; I liked all the speakers. Howard Partridge was especially great at motivating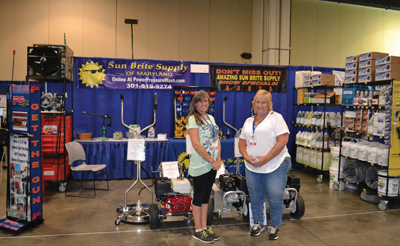 everyone. The seminars were good and there was an amazing amount of variety. Seminars were focused on topics from how to expand your business and make it a larger company to even keeping your business hands-on and smaller in scale. It is always a good idea to have different perspectives on why you should or should not grow your business on a larger scale.  Sometimes your net profit is larger in keeping your company at a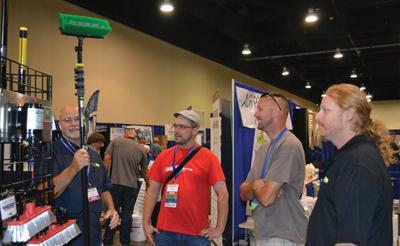 smaller scale. I like that they discussed this at the seminar, and I liked hearing from the people who have experienced both sides of the coin. I walked away with some further knowledge on promoting our business in a simpler fashion, without the stress of doing things in a more difficult manner than we have done in the past….I guess streamlining our system with our clients." Harwood was also the lucky winner of a soft wash system and shared his gratitude, saying, "I was very grateful to have won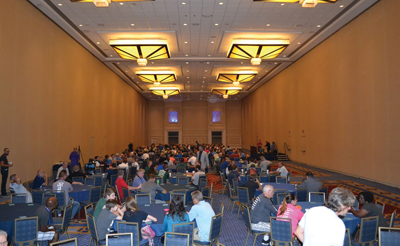 the soft wash system from Bob at Pressure Tek. I really was thankful for Bob to have sent it all the way across the continent for me. What a great guy!"
There was much to be grateful for this year at The Huge Convention. To the promoters and show staff, thank you for all of your hard work. To the vendors, thank you so much for sharing your products and services with the attendees. And to the many attendees, thank you all for attending. It's events such as this one and others that elevate our industry, keeping it professional and focused on providing excellence for anyone we would do business with. Keep up the great work!