Growing Pumps & Pressure Inc.
A Portrait of Jack Tremain
By Beth Borrego / Published December 2019

Pumps & Pressure Inc. was founded on April 23rd, 1984, in Red Deer, Alberta, by Jack and Sandy Tremain, along with Sandy's father, Mr. Jack Ross. Today, they are proud to say that they have been in business for 35 years. Back in those days, the company operated under the name Pressure Washer Pump Service. "I started the business with $275," says Tremain. "The sign cost $200, and the desk and chair another $75." He still keeps the desk and sign as a reminder of his humble start and of hard work and perseverance. He took the last of his wages he earned from his former employer and used it to pay the rent. Today, Tremain's creation is a multi-million-dollar business. Tremain graduated on a Friday, began working on Monday, and hasn't been out of work since then. He is a firm believer in making his own luck, and coupled with hard work, it looks as though he's done wonderfully. He is truly a self-made man.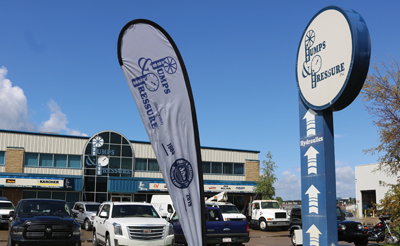 Of course, he next began building the business, and he's never looked back. The company soon morphed from pressure washer repairs to including pressure washer sales and parts as well as other necessary items that fit his clients' needs.
In 1999, the company changed their corporate name to Pumps and Pressure Inc. Since then, they have opened multiple locations. Some of these locations have been the result of expansion, and others are the result of well-thought-out acquisitions. These acquisitions have added new services like mobile hydraulic sales and service during the 2001 acquisition of Badger Hydraulics, and tanker inspections when Pumps and Pressure Inc. acquired D&T Inspections in 2002. The acquisition of D&T Inspections meant expansion and more space, so a new location in Red Deer with a whopping 28,000 square feet was secured.
Because of rapid expansion, it wasn't long before Tremain built a 15,000 square foot shop in Leduc to further Pumps & Pressure's operations. The Leduc location primarily works on tank inspections and fabricating steam trucks. Contractors in this region use steam trucks for both cleaning and thawing. Today, they have locations in Calgary, Edmonton, Grand Prairie, Lethbridge, Leduc, Red Deer, Saskatoon, and Brandon, providing both in-house and on-site service for every product sold.
While the Red Deer and Leduc locations offer hydraulics, only Red Deer offers tank testing and repair and recertification. All of the locations offer air compressors, car wash systems, chemicals and soaps, fluid handling, pressure washers, pumps, small engines, hose reels, and steam truck systems.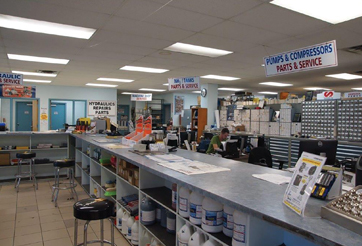 In addition, there are manufactured items, such as automatic touchless car washes, self-serve car wash pump stands, pet washing racks, and other items like bench tanks, a tote and barrel automatic wash system, and waste evacuation controls for waste oil. They also offer custom fabrication, and their manufacturing division is responsible for building Hot Shot brand pressure washers.
Going back to the animal washing equipment for just a moment, Pumps & Pressure has washing equipment installed in the dog training kennels for the Royal Canadian Mounted Police. At the Calgary Zoo, both the hippos and the giraffes have special washing equipment installed in their containment pens as well.
Given the nature of the business, Pumps & Pressure had to remain on top of the latest environmental regulations. It meant that they had to keep up with the requirements for wastewater recycling and make sure that they were environmentally responsible, since the company provides specialty washing and wastewater recovery equipment as a part of their business for industrial maintenance shops.
Over the years, the expansion continued through the acquisitions of High Pressure Washer Service in 2002, Kern Tech Inc. in 2004, JDA Machine Works in 2005, Toolsmith Agencies in 2008, Panther Wash Systems in 2014, Under Pressure Washers in 2014, Bridge Pressure Washers in 2016, and All Seasons Manufacturing in 2017. These acquisitions also meant that there were new service locations as well.
Pumps & Pressure carries many well-known and respected industry brands, which are listed in Table 1.

As a business, giving back to the community and offering support often become a part of the company culture. Pumps & Pressure Inc. is no exception and is heavily involved in community support. Local hockey clubs like Red Deer Rebels, Edmonton Oil Kings, Calgary Hitmen, Lethbridge Hurricanes, Brandon Wheat Kings, and Lacombe Generals receive support from Pumps & Pressure, but it doesn't stop there. Canada is home to curling, and Pumps & Pressure also supports numerous curling events, including Scott Tournament of Hearts, Red Deer Winter Games, Oilmen's Curling Bonspiels, and Farmers' Curling Bonspiels. They support the Mustard Seed homeless shelter and also the Strive Dance Studio.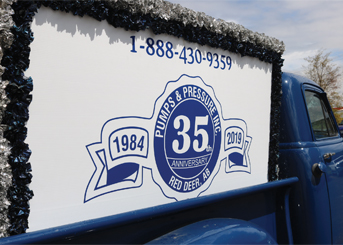 The enthusiasm for volunteer and fundraising activities flows throughout the company, and most of the employees are also engaged in these activities. It's such a large part of the company culture that Pumps & Pressure seldom turns down requests for participation that they receive from their community.
Pumps & Pressure has certainly been written about and recognized many times over the years. In 2006, they were cited as one of the Fast Growth 50 companies by Alberta Venture Magazine, and were listed as one of Canada's top 100 fastest growing companies by Profit magazine. In 2015 EY Entrepreneur of the Year listed Pumps & Pressure as a finalist in the category of Business-to-Business Products and Services. These impressive accolades are an example of what business owners can achieve through hard work, dedication, and perseverance.
There are so many variables that go into building a stable and successful business, and learning from those who have maneuvered through the waters of entrepreneurship successfully is an important part of growing your own business. With regards to advice for young startups or even for struggling businesses, Tremain states, "I found that it was most important to build strong relationships with employees, customers, suppliers, bankers, and accountants. On the surface, these comments might seem obvious, but taking the time to actually apply the advice, to make the time and do these things, is another matter altogether. You must walk the walk. So many young startups are under pressure and rush to try to earn without doing things right." Tremain further adds, "My advice to young startups is take your time growing; there is no rush, and haste makes waste for sure. Remember to take prompt pay discounts when you can, and remember that almost everything in business is negotiable. If you don't ask, you won't get it."
Jack and Sandy Tremain have been married for 40 years now and have three wonderful daughters and six energetic grandchildren. Their oldest daughter, Ginger, has two sons; their daughter, Nova, has twin girls; and their youngest, Danya, has one girl and one boy. Tremain also had both the wisdom and the vision to involve his family in the business, to ensure that the legacy that he has worked so very hard to create endures. "The real reward to me personally is the recognition I receive from many of my business associates that we were able to build a multi-million-dollar business from an investment of $275. This has afforded my wife and I to enjoy the finer things in life for us and our family. We have two sons-in-law working in key positions on our management team, so when we decide to retire, we know the company will be in good hands," Tremain adds.
Every small business owner starts at the beginning, in an unfamiliar place with very little behind them except perhaps their own drive, ambition, and vision. Jack Tremain's story could have been very different had it not been for his vision, hard work, and perseverance. Becoming successful and growing is never easy, but as Tremain has shown, you can begin with as little as $275 and a passion for business. Just make sure that you surround yourself with the type of professionals that it takes to help you succeed. Solicit help and advice from successful professionals, whose advice comes from experience and having previously done what you are now trying to do. Be realistic about what you plan to achieve during the formative years; good things take time.