Giving Back: Extraordinary Compassion for People and Pets
By Terri Perrin / Published December 2016

Located at the crossroads of Routes 84 and 441 in north-central Clinch County, GA, Homerville is a small town of fewer than 3,000 people, where the entrepreneurial spirit is a key economic driver. Homerville boasts many strengths and assets of larger communities but has managed to maintain a sense of hospitality, quality, and community. This small town charm was one of the things that appealed to John and Shelley Allison when they moved their home and business from Connecticut to Georgia in 1993. It was not long after they relocated that they realized that the state had a blind spot.
"There are so many good people in Georgia, but we found ourselves in the middle of a society that places little value on the care and well-being of animals," recalls John Allison, owner of EnvrioSpec. "My wife, Shelley, and I have always considered ourselves compassionate people, and realizing that there was such a large number of stray and neglected animals in this area of the USA was eye-opening. We simply couldn't sit back and do nothing."
An orphan himself at the age of two, John knows from experience how it feels to be unwanted. He spent two years in foster care before he was adopted into a loving forever family. So began the couple's decades-long crusade to help not just animals, but children and veterans as well. Empathy, he says, is simply part of their DNA.
A Labor of Love
Since 1993, the Allisons have invested more than $4 million in profits from EnviroSpec and contributed thousands of hours of their time to help homeless animals. Unfortunately, reports John, little has changed, in-so-far as public attitudes. After they had rescued (and adopted) their 25th dog, Suzie—a little yellow stray with a broken front leg that required amputation—Shelley commented that they should just build an animal shelter. So they did. And they named it after their beloved Suzie, who recently passed away at the age of 16.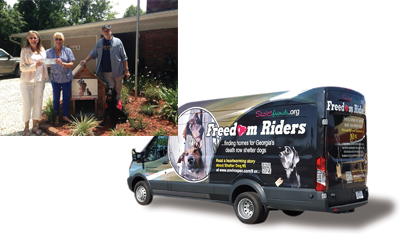 Completed in 2002, Suzie's Friends No-Kill Animal Sanctuary is a state-of-the-art facility. It is interesting to note that the shelter animals are cared for by EnviroSpec employees who start their workday by feeding animals and cleaning the pens.
"If you want to work at EnviroSpec, that's just how it is," says John with a smile. "You work 8:00 until 10:00 at the shelter and then at the plant. We pay our people well, so no one complains."
Robotics can be thanked, in part, for the existence of the shelter. Twenty years ago, EnviroSpec had a staff of about 20. Now, with more computerized and automated processes in the manufacturing area, combined with the functionality of a website to handle sales and education, the company is able to operate with fewer employees, ensuring that more profits are directed to community projects.
From Rescues to Research
Sadly, the old saying 'if you build it, they will come' did not hold true for Suzie's Friends shelter. The locals come—to drop off unwanted animals—but very seldom does anyone ask about adoptions. Suzie's Friends had become a warehouse for animals that no one wanted. As a no-kill facility, they had to hang out the 'no vacancy' sign. In March 2015, they made a last-ditch effort to see if SPCAs and animal shelters out of state could help. The idea for 'Freedom Riders' was conceived.
"At first, I was pessimistic," says John. "I kept asking myself 'who in their right mind would want us to drop off our problems on their doorsteps?' I was quite surprised when I found out that there were people who were willing to help us find homes for our animals.
"We bought and outfitted a transport vehicle, and in May 2015, we took our first load of 12 dogs that no one in our community wanted to a Humane Society out of state. Within a few days, they found loving homes for all of them. Our next transport was in July to a Humane Society in Virginia. They took 27 animals and found homes for all within a few days."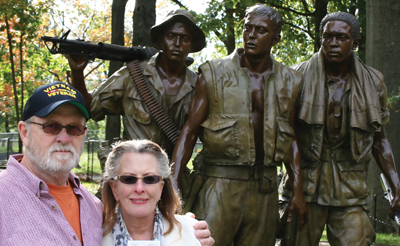 The first year of the Freedom Riders Project saw more than 1,000 dogs from the ditches of South Georgia and local animal shelters transported to the safety of loving homes from Florida to Connecticut. Considering that they were doing all of this with their employees (without any volunteers) EnviroSpec saw the benefit of partnering with Nancy and Rick Allmon (Allmons All About Animals) and Karen Talbott (MOMS/Animal Aid USA) in the spring of 2016. With their vast infrastructure and the Freedom Riders transport vehicles, the Allisons felt they would now be able to help save as many as 400 dogs per month. Over the last 18 months, they have donated more than $375,000 to ensure the ongoing success of this project.
The Allisons have also just completed a two-year research project in cooperation with National Geographic, PBS, and the University of Georgia.
"The study involved our cat colonies on Jekyll Island, where we live," explains John. "Twelve years ago, when we moved to the Island, there were approximately 500 feral, sick, and reproducing cats here. Shelley and I started trapping, vetting, neutering, and adopting the cats until we got those numbers down to approximately 75. The study focused on what happens to a feral cat population once colonized, and their impact on the environment. The final drafts of the study are now being prepared by the University."
Looking To The Future
The Allison's humanitarian hearts extend compassion to people, as well. Both John and Shelley are veterans themselves, and they have been involved with the Vietnam Veterans Memorial Fund, and K-9s for Warriors in Florida, and they have provided business start-up equipment and chemical packages for veterans wanting to get involved in the power washing industry through their Washin' Warriors Project. They also donate generously to the Shriners Hospitals for Children and a myriad of other agencies.
"EnviroSpec may be a successful power washing equipment and supply company, but our purpose is to provide hope for those who need a little help to get them through the day," concludes John. "One hundred percent of all our after-tax profits are directed to charity.
"About a year ago, Shelley and I realized that we needed to consider what direction our company should take in the future. We have established a trust and have left that trust under the direction of our employees so that they can continue the non-profit work that we do in the community. The message that we want to get out to people is: 'Do not buy from us because of what we sell. Give us a little bit of your business because of what we do with your money.'  All profits from EnvrioSpec will help a veteran, an animal, or a child somewhere, today and in the years to come. Long after Shelley and I are both gone, EnviroSpec's primary purpose will be giving back."
Learn More About:
• Video of Suzie's Friends Shelter: youtube/EvPA7Go-JH4
• Freedom Riders:  freedomridersproject.org
https://youtube/enj_saRFjro
• Jekyll Island Feral Cat Research: video.nationalgeographic.com/video/news/150901-stray-cats-birds-jekyll-vin
About Envirospec
Forty years ago, John Allison was a pressure washing contractor who realized that the harsh and ineffective chemicals that he was buying were compounded by chemists who never actually had to clean anything for a living. John began to experiment in his small lab, testing his detergent formulas on the job, tweaking, and testing again. Eventually, he developed a superior line of environmentally-friendly products for cleaning everything from vinyl siding to cement mixers.
With the success of his cleaning products, his catalog kept growing. He designed and built his powerful Allison Iron Horse equipment, a popular addition to the product line. From its headquarters in Georgia, EnviroSpec has now brought more cleaning items to the industry than all other suppliers combined.
Today, the purchases of more than 3,000 customers create a community partnership with the Allisons and EnviroSpec to help make miracles happen. For more information, visit www.envirospec.com.