Giving Back to Industry and Community
Tim and Karen Layden Believe that Being 'Better' in Business Is the Key to Growing Bigger
By Terri Perrin / Published February 2018

The announcement of the recipient of the Lifetime Achievement Award from the Cleaning Equipment Trade Association (CETA) is supposed to be kept secret until the presentation is made at the annual convention and trade show each year. Debbie Murray, CETA's Managing Director, tried hard to ensure that protocol was followed for the 2017 presentation, but it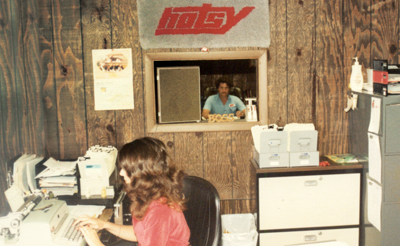 was a challenge. Tim and Karen Layden, the founders of High PSI, a pressure washing distribution company in Chicagoland, were 'the chosen ones,' and they are so heavily involved with the organization that it was hard to keep the news from them!
"I have been a CETA member for 27 years and have worked as a CETA employee for the past four years," explains Murray. "I have known Tim and Karen for most of this time and always found them to be very influential, honest, and caring. In the last couple of years as they consider retirement, they have turned over much of the day-to-day operation of the business to their daughter, Kim Micha, but the impact of their efforts continues to influence the pressure cleaning industry, making them highly deserving of this honor."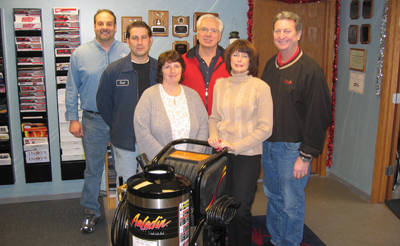 To fully comprehend how much the Laydens have contributed to both the industry and their community, one needs to go back in time to 1976, when they opened a new business that they named "High PSI." The business was started out of their garage, just days after they were married. (Not most couple's idea of a honeymoon, but it worked for them!)
Having previously worked with pressure washers on the family farm and seen the need, they tapped into what was then a new market "competing with the mop and the broom," said Tim, who is a Vietnam veteran who served 14 months. They both took a huge risk, quitting full-time jobs and putting all of their time, energy, and assets into this new venture.
"I had been selling insurance exams and doing secretarial work," recalls Karen. "This experience gave me a solid foundation in how to run a business. Tim had been selling industrial pipe valves and fittings in Chicago. When the business was sold, and a big company took over, the structure of the organization changed and there was a mass exodus of employees. Tim was one of the people who left."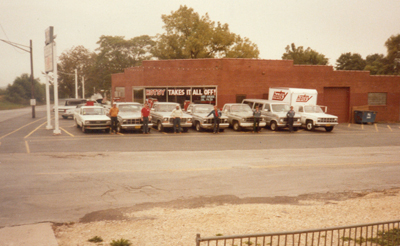 "My older brother Dan had been working as a Hotsy salesman downstate at the time, and he now runs a business in Maryland and makes a lot of his own power washing equipment," adds Tim. "So, I knew about the product and the industry. I did my due diligence by making sales calls to anyone and everyone I could, while Karen managed the accounting and marketing from our home. Within a year, High PSI had outgrown our garage, and we rented a rickety old shack to house equipment."
Fast forward a few years, and the Laydens were able to hire their first employees and rent office and warehouse space. With time came experience and expertise, and High PSI became Chicago's leading source for all things pressure washing. Through the years, they have built up their team and their space. High PSI now has 14 employees, seven service and sales trucks, and an 18,000-square-foot building.
"We started out in a shack and used to have to take the cardboard from the shipping packages to put on the walls because there was no insulation to keep us warm," states Karen. "Today, we are proud of the fact that everything we own is paid for."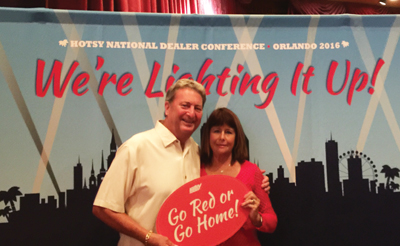 A big part of the Layden's success was (and still is) their commitment to communication between industry distributors, suppliers, and manufacturers. "I realized that many people knew more than we did," declares Tim. "We concentrated on picking their brains and learning from them."
In 1990, this focus on collaboration led them, along with 10 other industry partners, to band together to form CETA. The new organization was an amalgamation of what was then the Cleaning Equipment Manufacturers Association (CEMA) and the Association of Pressure Washer Distributors (APD).
Tim served in various positions on the CETA Board of Directors for its first 15 years. He says that he is most proud of his work with the scholarship committee and how CETA has raised the annual scholarships from $1,000 to $4,500. He was also the master of ceremonies of the annual CETA banquet five times—that was fun, he says—and he has been on the education committee. In addition to his volunteer work with CETA, Tim has served on both the AaLadin and Kärcher Distributor Councils.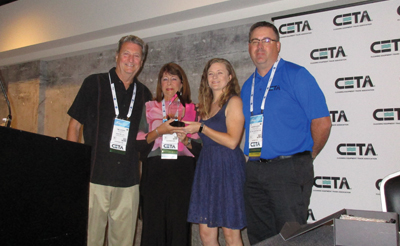 "Just about anything that needed to be done, we did," says Tim with a smile. "In those early years, we didn't have a full-time secretary and assistant, so it was mostly volunteers. Karen assisted with the behind-the-scenes work like typing and sending letters."
While they grew their business, the Laydens also expanded their family. They have two daughters, Pamela Layden and Kim Micha, who is a CPA and is now the Chief Financial Officer of High PSI.
"It was great to have my parents in this industry because, once their business was successful, they were able to create their own hours and be there for my sister and me," remarks Kim. "My parents were good about working hard but also enjoying their life. They set a good example. They don't just talk about doing stuff, they do it! This has had a significant influence on me.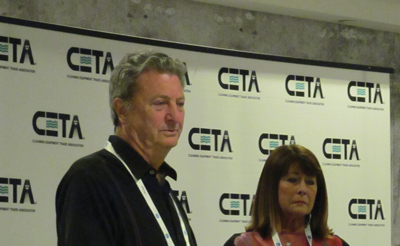 "As a kid, you don't think about things like that, but I now see how they helped shape who I am today. A testament to their integrity is that many of the employees I knew as a child are still with the company today. I grew up with them. Mom and Dad always tried to be compassionate and fair with employees, to ensure that everyone was happy. It worked."
Kim was on the CETA board when Tim and Karen were nominated for the Lifetime Achievement Award, and she was honored to be able to give the presentation speech for them.      
"My parents are well-rounded role models who show that you can't focus on just one aspect of your life or your business," adds Kim. "You have to be aware of employees, customers, and the community. Yes, there will be ups and downs, but if you keep being fair, everything will be okay. They are such positive and optimistic people."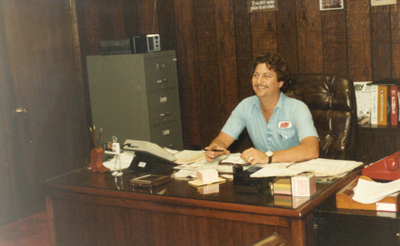 "It has been very rewarding for us to see our daughter come in and successfully run the business," report Tim and Karen with obvious pride. "We now spend seven months a year in Florida. It was a big move for us to walk away [from the day-to-day operation of High PSI], but we have full confidence in Kim and our staff. In the summer, I am still involved in the business because I enjoy interacting with our employees, customers, and suppliers. It keeps me going. I need to stay active."
While the focus of the CETA award was for their contributions to the industry, it is important to note that life is not 'all work and no play' for the Laydens; they also give back to their community in a big way. Karen has helped the Village of Roselle, IL, on the scholarship committee for more than 15 years; she has been on the board of the University women's club; and she has been in charge of the local Arts Fair.
Tim's list of community accomplishments is equally impressive. He has volunteered with the local Chamber of Commerce, has participated in the American Cancer Society Bike-a-Thon, and has been on the board for the local chapter of the Special Olympics for 25 years, helping to raise more than a million dollars for the organization. In 1987, he was named the Village of Roselle's 'Business Person of the Year.'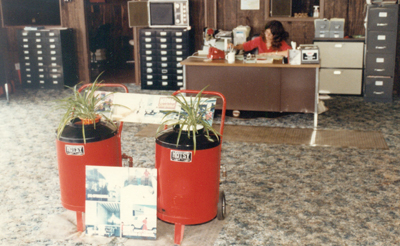 Karen remarks, "I guess because we have been fortunate in life, we just want to try to help out however we can."
"We both grew up in families who give back," adds Tim. "We feel very fortunate that most of the people we know are happy and healthy. I think that giving back has helped us grow as a business and as individuals. Every time you do something for others, you meet people who will help you in life [because you are helping them]. The more people you know and the more you give back, the better off you are."
"Today, CETA remains a key link and support tool for distributors and manufacturers alike, helping the pressure washer industry continue to grow," concludes Murray." When we look back at the people like Tim who helped found this incredible organization, we have to wonder what the industry would have been like without them."