Giving Back
COVID-19 Inspires a "Pressure-Wash-a-Thon" to Support a Special Camp for Kids
By Terri Perrin / Published April 2022

A relative newcomer to the power washing industry, Leslie Wall lives in Lawrenceville, GA, a suburb 30 miles northeast of Atlanta's downtown core. A single father raising two children in this town of about 30,000 people, Wall launched A Man Under Pressure Power Washing in 2016. His children, he says, were the inspiration to get into this business.
     "In 2003 I was doing landscape maintenance in the county parks when I learned that I was going to be a father," recalls Wall. Daughter Skylar's birth was followed two years later by his son, Kaden.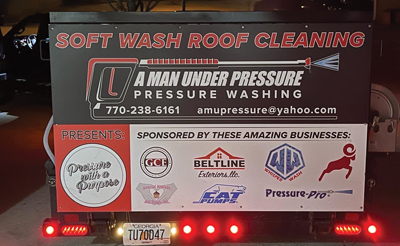 In 2012 Wall felt that he needed better job security to support his children, so he started working at the U.S. Postal Service. Four years later, he went back to landscaping but this time as an entrepreneur, starting a new business called The Back 40.
     "One day I saw a man pressure washing, and I thought, 'I could do that!'" explains Wall. "The next week I sold my lawn equipment and began power washing. As a new start-up and a single dad, I couldn't afford formal training, but I discovered that others in the industry were willing to help me, and the folks at Georgia Chemical Equipment Co. Inc. provided a wealth of information. I learned the old-fashioned way …. by working hard, networking, and asking questions."
     A few months into the adventure, Wall's newly retired father came to Georgia for a visit, and he decided to start a small power washing business as well. Leslie's mother suggested that he name the company "A Man Under Pressure." "No way Dad's getting that business name!" exclaimed Wall. "I want it!"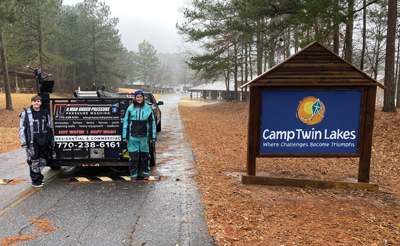 So, Wall and his kids started handing out business cards with the new business name. His first big contract to clean a school stadium led to more contracts, and the business grew. He now specializes in residential and commercial flat surface and roof soft washing.
     "After school and weekends, Skylar and Kaden tagged along and started to work alongside me or quietly sat to read, do homework, or play while I worked," says Wall. "As they got older, they began to help with more and more age-appropriate tasks. Everything was going great! And then, along came COVID-19.
     "I felt like the world was in shambles," recalled Wall. "There was a lot of uncertainty felt by everyone. It was distressing … and not how I wanted my children to remember this part of their lives. We sat down as a family to discuss how we could make a difference in our community."
     They came up with "Pressure with a Purpose." Their original idea was to provide power washing services for families who had lost someone to COVID-19. That was hard to do, considering privacy issues and not wanting to approach the bereaved. So, they started offering free power washing to support first responders and volunteered to clean police stations. When Wall told Michael Brown at Georgia Chemical and Equipment what they were doing, they became his first sponsor, covering the costs of the chemicals used and helping with equipment issues to perform these good deeds.
Power Washers Go To Camp In 2020
     A few weeks later, Wall was chatting again with Brown, pondering what further direction this initiative could take. Brown asked if he had ever heard of Camp Twin Lakes.
     "My heart sank," says Wall. "Camp Twin Lakes is a medically supportive, therapeutic, and recreational camp for kids and young adults with serious illnesses, disabilities, and other life challenges. It is super special to me because Skylar had attended this camp in the past. She was born with 22q11. 2 deletion syndrome (DiGeorge syndrome)—a disorder caused when a small part of chromosome 22 is missing. This deletion results in the poor development of several body systems, and she has a craniofacial disorder. I was on the phone to the volunteer coordinator, Ashley Henderson, 10 minutes later."
     Established in 1993, Camp Twin Lakes provides year-round, fully adaptive, and deeply impactful camp experiences to nearly 10,000 of Georgia's children and young adults annually. This camp was built for people with disabilities. They are supported on their two campuses by 3,500 volunteers each year.
     "We were thrilled and couldn't believe what Leslie was offering," declares Henderson. "As a non-
profit, we have a very small staff, so a lot of projects get pushed to the back burner. The Wall family's efforts to give the camps a facelift helped us complete some exterior projects that we just couldn't get to. Leslie's enthusiasm is amazing, and we wholeheartedly appreciated his offer."

     In their spare time, over the last few months of 2020, the Wall family power washed the Will-A-Way campus. The two kids alone spent over 250 hours at the camp, finishing on New Year's Eve. Wall says that he is extremely proud of his kids and how they have embraced this idea. "Their willingness to 'give back' is amazing, and I look forward to seeing what they do in the future," he adds.
     After finishing at Will-A-Way, Wall went to the Rutledge campus and recognized the project was bigger than imagined. "I wanted to clean this second campus but realized that I was in over my head," laments Wall. "I needed a new plan—and more help—for 2021."
     He contacted James Baltz at Whisper Wash and explained what he was doing and that he needed a bigger flat surface cleaner. They delivered a 36-inch Maxima unit to him at no charge. Inspired, he came up with the idea to enlist fellow power washers in Atlanta to come together during these challenging times and work in a spirit of community collaboration. The idea for a Pressure-Wash-a-Thon was born.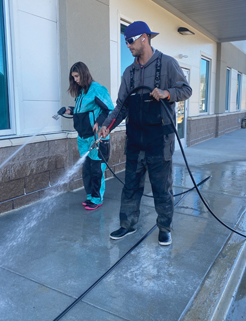 February 2021: 1st Annual Pressure-Wash-A-Thon At Camp Twin Lakes' Rutledge Campus
     When other industry professionals heard about the Pressure-Wash-a-Thon at Camp Twin Lakes, offers for support came pouring in. Georgia Chemical Equipment Co. was, of course, still on board. Dyne Power Packs, Cat Pumps, and Pressure-Pro. Inc. also all contributed equipment and/or services with a total value of almost $10,000. This, says Wall, was a Godsend. Synergy Equipment donated the use of light standards so work could continue after dark.
     Six other Atlanta-area power washing contractors participated, including Georgia Chemical, Sunbrite Services, Affordable Painting and Powerwashing, Ross Property Services, Blast Pressure Washing, and Mayhem Pressure Washing. Brett Hazel, Wall's best friend, helped run Wall's equipment.
     If they couldn't supply power washing products or services, businesses supported the volunteers. Ram Tool Construction Supply Co., for example, provided meals. Special Kneads and Treats Inc., a local bakery that employs people with disabilities, donated cupcakes.
     The team cleaned the roofs and siding of 30 cabins, numerous buildings, a treehouse, docks, climbing walls, boardwalks, decks, sidewalks, and more. There was music playing and people laughing. The event was a hit—all while following CDC-mandated COVID–19 safety protocols.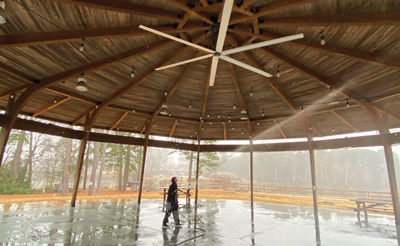 2nd Annual Pressure-Wash-A-Thon May 21, 2022
     This year, Camp Twin Lakes celebrates its 30th anniversary. By moving the Pressure-Wash-a-Thon to spring, their facilities will be in top form for the opening of the summer camp season. With the anticipated relaxation of COVID-19 restrictions, it is hoped that a big party for all Pressure-Wash-a-Thon volunteers, camp staff, and their families can be held. Entertainment will include food, stilt walkers, a DJ, fireworks, and more.
     All of last year's sponsors and power washing contractors are on board, and this year 15-plus contractors are expected to participate. Fin Print Apparel (a Canadian-based company) is producing banners and t-shirts for the event. More sponsors are coming on board as the date draws near and are too numerous to mention.
     One new (and unexpected) development that Wall is super excited about is how the ska-punk music community—Wall's favorite kind of music—has stepped up to support the event by fundraising. It all started when Peter "JR" Wasilewski, a saxophone player with the band Less Than Jake, heard
about the Pressure-Wash-a-Thon and wanted to help because it is their 30th anniversary year as well. Wall then reached out to musicians Tobin Bawinkel of Flatfoot 56 and Angelo Moore (Dr. Madd Vibe of Fishbone), whose father was a speech pathologist so this cause really resonated with him. They were also instantly on board, and Wall continues to reach out to more musicians for their support.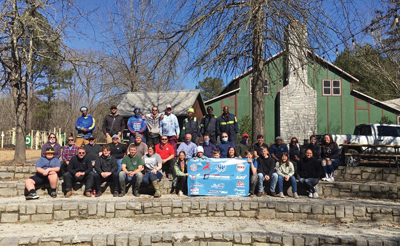 "The bands are being super creative in their fundraising efforts," exclaims Wall. "They are auctioning off band memorabilia, backstage passes, VIP tickets to concerts, and meet and greets and also providing straight-up cash donations," exclaims Wall. "While the fundraising efforts are a remarkable and most welcome development, what's really fabulous is that they are creating community awareness about Camp Twin Lakes."
     Wall estimates that the value of pressure washing services provided at this second event will be about $50,000. That, says Henderson, is absolutely incredible! With the cost of a child attending camp running about $550 each, this gift-in-kind is equal to the cost of hosting 91 kids.
    Why go to all of this effort to give back? Wall concludes by saying, "With all the chaos in the world today, my goal is to show my children that we can all do our part to make the world a better place and to affect people with a positive mental attitude." 
     Mission accomplished.
     Learn more at www.camptwinlakes.org.