Giving Back
Charity Begins at Home—Generosity Is Part of the Corporate DNA at Badgerland Pressure Cleaning
By Terri Perrin / Published August 2017

Life for Jeff and Laura Otto was fantastic. They owned a highly successful company that built equipment for the printing industry and sold to a worldwide market. And then, 9/11 happened; and for them, as for most Americans, the world as they knew it changed dramatically.
"Considering how the events of that day impacted capital purchases and global markets, I decided I didn't want to be in the printing equipment industry any longer," recalls Jeff Otto. "My heart just wasn't in it. We sold the company, and I moved on. I worked in the construction industry for a while and spent some time working with Caterpillar Inc. Working with Caterpillar was great, but I wanted to do something on my own. I had a high entrepreneurial drive and wanted to not only run a business but to make a difference. I was considering starting a pressure washing company, so I went to work learning as much as I could about this industry and my community. My vision was to raise the bar concerning professionalism, appearance, and service levels, as well as community engagement."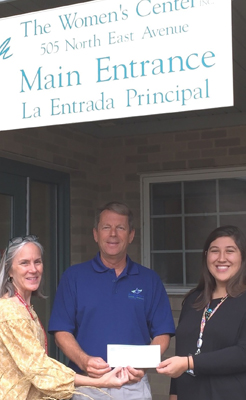 In search of knowledge and inspiration, Otto attended a couple of Power Washers of North America (PWNA) conventions. He liked what he learned, talked to a lot of people, and went back to his hometown of Delafield, WI, full of enthusiasm. He then met with the Hotsy pressure washer distributor
and asked if there was a market for another pressure cleaning company in his area. They said yes.
Committed to building a company based on a steadfast commitment to excellence, Otto became a member of the Pressure Washing Resource Association (PWRA) and the PWNA, earning certification for environmental practices, flatwork cleaning, house washing, roof cleaning, and commercial cleaning. He created a written guarantee that optimistically stated, "We will have never had a dissatisfied customer, and we will do everything possible to ensure that we never will." (Thus far, he has delivered on that promise!)
The Ottos decided to name their company "Badgerland Pressure Cleaning" after the Wisconsin state animal, the badger. In the early days, Wisconsin miners lived in temporary caves cut into the hillsides rather than in houses. These caves were described as badger dens, and the miners who lived in them, like badgers. This nickname stuck and was adopted as Wisconsin's state animal in 1957.
Badgerland Pressure Cleaning incorporated in August 2015 doing cleaning part time and opened for business full time on March 1, 2016. Finally, with a name, a purpose, and fueled with enthusiasm, Otto started networking with some of his past customers, one of whom was Michael A. Crowley, Vice President of Midland Plastics and head of the local Juvenile Diabetes Research Foundation.
"I had always looked up to Mike because he is so full of energy and very involved in Waukesha County," adds Otto. "When I left his office, I was highly motivated and inspired, not just to start my business but to support my community! I asked myself, 'What can I do to be as committed as Mike?' and that's how I came up with the idea to make a monthly donation to different charities. The Juvenile Diabetes Research Foundation was my first pick, and it was a great pleasure to write and present that first check."
From there, Otto has selected charities based on customer and employee suggestions, as well as careful research into what charitable work is quietly being carried out in his community. If a customer offers a tip for a job well done, he advises them that the money will go to charity, and he encourages them to visit his website to discover what charity is being supported that month. Donations have been made to causes that support everything from women, children, and veterans, to building homes, helping the homeless, wildlife rehabilitation, and the humane treatment of animals. Best of all, he does it all as a surprise. He just shows up at the non-profit's office to make a donation. In addition to a tax receipt, he gets lots of hugs from grateful people.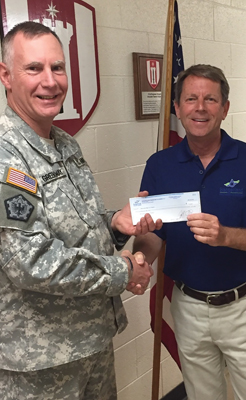 "I didn't even know that some of these organizations existed," explains Otto. "It has been a real eye-opener for me! Some are genuinely struggling and continuing to work in less than desirable conditions. They are the true safety networks in our community. I am humbled by the tireless work that they do. It puts life into perspective for me. And it's fun! I meet new people. I hear their stories and promote them on social media, and I challenge everybody in my network to make donations, too. No matter where I go, I walk out feeling better and energized to do more work. For business people, the number one goal is, 'How to make more money?' For non-profits, the priority is, 'How can we help others?'
"The power of social media enables me to highlight what these various charities do," adds Otto. "Some of them are not well-known, and the work that they do is so needed and under appreciated in our community. The people I meet are amazing individuals who do it for the love of the charity that they are involved with, whether it is taking care of animals, people, or the earth."
Otto's generosity doesn't end with the presentation of a check and promotion on social media. When there is a need, he and his team of five employees also help out with pressure cleaning. He has volunteered to power wash aviaries at the wildlife center and the local food pantry's warehouse.
As of June 2017, Otto has had the pleasure of presenting thousands of dollars in random donations to a total of 16 charities. Despite the challenges of starting and running a new business, he has never skipped a month and missed an opportunity to engage with his community. The list of non-profits that have benefited from his generosity is posted on his website and promoted on social media for both his company and the PWNA pages. His efforts have not gone unnoticed by industry peers.
At the 2016 PWNA National Convention in Charleston, South Carolina, Badgerland Pressure Cleaning was presented with a humanitarian award from this national organization. In summary, Otto says, "Charitable giving has become part of my company's DNA. I wish other companies would get together to encourage charitable giving. Together, we can make a difference." 
Charities of Choice

From March 2016 to June 2017, Badgerland Pressure Cleaning has donated several thousand dollars to the following organizations:

American Cancer Society
American Red Cross
Elmbrook Humane Society
Habitat for Humanity of Waukesha County
Humane Animal Welfare Society
Hebron House of Hospitality: Home, Help, Hope
Hope Centre: Helping Hands Building Hope
Juvenile Diabetes Research Foundation
Make A Wish Foundation
Ronald McDonald House
Oconomowoc Food Pantry
The Fisher House: Helping Military Families
The Women's Centre
Waukesha Food Pantry
Wildlife in Need Centre
Wounded Warrior Project

Learn more about Badgerland Pressure Cleaning at www.badgerlandpressurecleaning.com.

Do You Do Good Things?

Please share your story of how you and your company 'Give Back' to your community in a future issue of Cleaner Times. Your efforts do not have to be related to the power washing industry and could be related to service organizations, like Rotary International, faith-based work, or helping animals, people, or the environment. Not a writer? Don't worry! You and your team can do the good deeds, and our feature writer will contact you for a phone interview and write the story for you. E-mail TerriPerrinWriter@gmail.com.