Giving Back
In Memory of Grandma Mamie—CTS Cleaning Systems Inc. is having fun and raising funds to honor one of their own
By Terri Perrin / Published April 2017

This Cleaner Times magazine feature on people who are 'giving back' in the pressure cleaning industry goes back about 100 years. Our story started in 1917 when a young North Carolina woman named Mamie Delulia Barefoot met and married Arthur Thomas Adkins. The young couple went about doing what everyone else did back in the good old days—working hard and having children. Eventually, Mamie found herself a single mom of seven kids. According to her grandson, Rodney Adkins, she scratched and clawed and did whatever was needed to provide for her children. She worked on the farm and held a job at Fort Bragg. She cooked, she cleaned, and she prayed.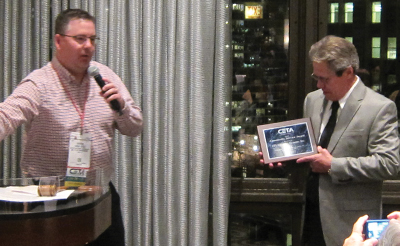 For more than 40 years, the Tabernacle Baptist Church in Rockfish, NC (a township in the City of Fayetteville), is where Mamie Adkins sought solace and fellowship. It was a standing joke in the community that, if the church doors were open, Mamie could be found praying in the third pew!
As her children got married and had children of their own, the ever-expanding family grew too large to meet at her home. They started hosting family reunions in the Fellowship Hall at her church. When Mamie passed away in 1996, the extended family that now numbered more than 150 continued gathering in her honor. They are always together in August, around the time of Mamie's birthday.
Grandson Rodney Adkins laughs when he recalls how, in about 2003, family dynamics and politics sparked a debate about how they should be making a donation to the church for the use of the Fellowship Hall. From that discussion, the idea of establishing an education fund in Mamie's honor was conceived. She had loved her church, placed significant value on education, and endeavored to see those around her better themselves. The Fund is administered by the Tabernacle Baptist Church and provides assistance with the financial burden associated with higher education and, in some small way, attempts to evoke the philosophy of the Adkins family matriarch.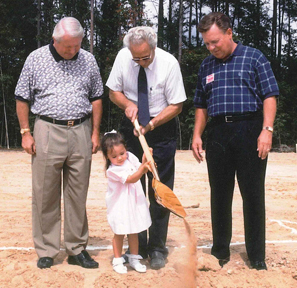 The following year, they held an impromptu golf tournament with several family members playing in the hot North Carolina sun. Three of them had never played golf before, and the heat and humidity proved to be too much for them. Only four players finished the back nine of the tournament. "My nephew, Freddy Adkins III, and I wore down our cousins, Charles Ragan and Jerry Axe, to become the first bragging right's champions," Rodney notes.
That inaugural year was mostly just for fun, but the long-term goal was to make it a fundraiser. "We had half-heartedly sold some hole sponsorships," says Rodney. "To be honest, we had no idea whatsoever about how to run a golf tournament."
Over the years, the golf tournament and the amount of money raised for the Mamie Adkins Education Fund have both grown substantially. Since 2004, $41,000 has been raised, and many students have benefited from receiving scholarships throughout their college career. If an applicant meets the church's criteria every year, he or she is awarded the scholarship annually. It has made a significant impact on many lives.
In 2012, Mamie's son and CTS Cleaning Systems' company founder Fred R. Adkins passed away. It was just three weeks after his retirement and only a few months before the next family reunion/golf tournament. His son Rodney says that this was a huge loss to the entire family and everyone took it hard. Thank-fully, he says, CTS employees Amanda Brewer and Amanda Williams pulled them through to help keep the tournament going.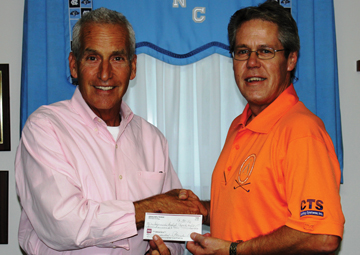 Fast forward to the summer of 2016, and the Adkins family and the staff at CTS Cleaning Systems were "all in" working on the 12th Annual Mamie Adkins Golf Tournament. Whether it's through soliciting sponsors or recruiting players, the employees of CTS dedicate their time and energy to making the Mamie Adkins Golf Tournament a success. Employees also participate in the tournament every year either as players or as volunteers. They willingly volunteer their time to benefit this worthy cause.
"We all work for months on the organization and wrap-up of the event," explains Rodney with pride. "CTS Cleaning Systems and Adam Hall CPA were the presenting sponsors in 2016. With 25 other sponsors of various levels, we had a range of prizes and a whole lot of fun. Amanda Brewer continues to keep the whole thing on track, and Adam Hall CPA employee Anna Popilock volunteered to provide lunch for everyone for the 2016 tournament. It was awesome! We had 40 golfers on 10 teams, so we still have room to grow next year. Staff, family members, and other volunteers work very hard to stage the golf tournament. Their only reward is a free T-shirt, bottled water, and a big hug."
The Annual Mamie Adkins Golf Tournament may be the biggest fundraising event hosted by the Adkins family and CTS, but they do much more for their community as a whole.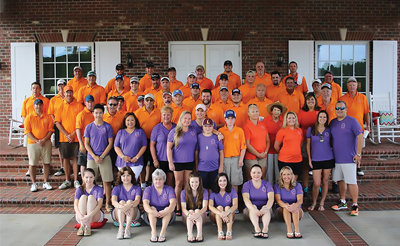 "We sponsor several local sports teams and participate in fundraisers for other organizations, too," adds Rodney. "My wife and daughter have chaired the American Girl Fashion Show in support of the Child's Advocacy Center for many years. Members of our team often volunteer to help with decorations and event planning for that as well. After a recent hurricane in our area, many people were devastated by flooding. We reached out to FEMA and other local disaster relief organizations and asked how we could help. CTS offered free pressure washer rentals to people who needed them."
The Adkins family is proud of the legacy that has been created to honor their matriarch, but they are also very proud of the people who have been awarded scholarships in her honor. Brittany Leigh Wilson, for example, graduated magna cum laude from her class and now works with DAK Americas LLC as an engineer.
In recognition for their on-going efforts to "give back," CTS was awarded the 2016 CETA Community Service Award at the annual convention in October.
"Quite honestly, for me, if any of these scholarship recipients can identify with and know a little bit about who my grandmother was, how she lived her life, and the struggles she went through, I think that is the best reward," concludes Rodney. "It feels great to be giving to people in need. This is a very small country church, and for these college students, the availability of the scholarship funds may make the difference as to whether or not they can attend college. I think Grandma would be proud."
Read the full story about Mamie Adkins and the golf tournament created in her honor: magt.co/history-when-why-how-about.
Follow the Annual Mamie Adkins Charity Golf Tournament on Facebook: www.facebook.com/MamieAdkinsGolfTournament.
About CTS Cleaning Systems
Commercial Trucking Service (CTS) was founded in 1967 by Fred R. Adkins. The company initially focused on preventative maintenance services for truck fleets but soon expanded into fleet washing. In 1969, Adkins purchased his first pressure washer from Chemex Dual Chemical and, realizing that he had found a market niche, he quickly transitioned into a being a distributor. In 1972, the truck maintenance division of the business was sold to his brother, but Fred decided to keep the CTS name because it had built such a solid reputation.
With a customer service-oriented approach, CTS has continued to grow over the years. In February of 1999, they constructed a 9,600-square-foot facility just off Hwy 24W in Fayetteville, NC, where they continue to operate to this day. They have seven full-time employees, and at any given time will have an inventory of more than $750,000 of industrial cleaning systems, equipment, and products representing some of the most well-respected suppliers, such as Aaladin, Mi-T-M, and others. CTS also provides custom design and specialty-built cleaning equipment systems for their clients.
Learn more about CTS at www.CTSClean.com.