Giving Back: Pride and Accomplishment
in Johnstown, PA
Published March 2017

Johnstown, PA, is located about 70 miles east of Pittsburgh. Nicknamed 'Flood City' as a result of massive flooding that devastated the area in 1889, 1936, and 1977, it is a city that has gained a reputation for resilience. Each time the floodwaters came, its residents honored their dead, rolled up their sleeves, and rebuilt their homes and businesses. It has been a canal port, a railroad center, a steelmaking center, and a coal-mining town. Yes, Johnstown has not only survived, but it has thrived through good times and bad. Mark Rager, president of East Hills Power Wash, is proud to call Johnstown home.
"You have to understand that we are not just famous because of the historic floods," says Rager with a smile, "but we are also renowned for our sports teams. Johnstown was the winner of the 2015 Kraft Hockeyville USA award. We have great hockey and baseball teams here, as well as a vibrant arts community and so much more."
Similar to many urban centers in the USA, this city of almost 24,000 also has a relatively high crime rate and a problem with gang violence. This is evidenced not only by crime statistics, but by the unsightly graffiti that randomly appears on underpasses and other public structures. It is this ugly side of Johnstown that brings out the best in Rager and his team of eight full-time and 10 part-time employees at East Hills Power Wash.
East Hills' motto is "We clean everything!" and they have built a solid reputation as one of the best state-certified pressure cleaning companies in their region. Sometimes, they even clean things for free as their way of giving back to a community that has been good to them.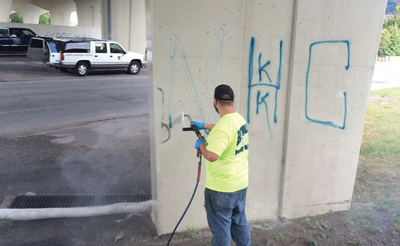 A recent example of this occurred this past spring when a school resource officer from the Johnstown Police Department, Officer Chad Miller, asked the East Hills' crew if they would work with him to tackle a graffiti clean-up project on a local underpass. Located on a street that was not only a gateway to the city but also the main route taken by the Greater Johnstown High School students as they travel to and from school, it was an eye-sore that Miller just couldn't bear to look at any longer.
Rager readily agreed that East Hills would supply the manpower and the equipment at no charge. He contacted his product supplier, Shore Chemicals, and they agreed to donate the cleaning agents to remove the graffiti.
In May, a team of seven East Hills employees and Officer Miller spent a morning hand brushing a solvent onto the unsightly black spray paint on the concrete walls of the underpass, followed by a thorough rinse with a pressure washer. A wastewater containment and recovery system was set up due to the proximity of a river, and to ensure the workers' safety, police officers were on hand to control traffic. The work was done in half the time originally anticipated, thanks to the efficacy and ease of use of the Shore Chemicals products, says Rager.
"When we identify a community project, we invite all of the staff, not just field workers, to come forward to volunteer to help with the pressure cleaning," explains Rager. "If they can't help, it is usually because of other commitments, not because they are unwilling to participate. They willingly give up a few hours without pay on a weekend to help their community. There are times we do projects during a regular business day, and they volunteer for that as well. I always give people a choice. These volunteer work bees are great for team building. Yes, it is work, but we do our best to make it fun. I buy everyone lunch. We take breaks and talk. The girls in the office come and help as well; they love having a chance to get out of the office."
In addition to graffiti removal, East Hills' employees have volunteered to clean historical monuments in Johnstown's Central Park, a women's help center, too many sidewalks to mention, and more. They also help the community in other ways, such as supporting a local hockey team and supplying beverages for a special event at the nearby fire hall, to name a few. Remember, just because this is the business they are in, good deeds don't always have to involve a pressure washer!
"It doesn't matter whether you notice potential clean-up projects when you are going about your daily business or if someone approaches you with a request; it feels good to see that the mess is gone, and it looks so good after the clean-up. You feel a great sense of pride and accomplishment," concludes Rager. "I think everyone should help their community. If you are a small company, do something small. Even if it is only an hour's work, it will make a difference."
About East Hills Power Wash and Supply
Mark Rager's interest in the pressure cleaning industry dates back to 1993, when he purchased a single pressure washer and began doing contract work out of his home garage. His hard work and commitment to learning how to run a professional operation paid off. It wasn't long before he was able to lease commercial space, moving to larger and larger premises as the years went on and his company grew.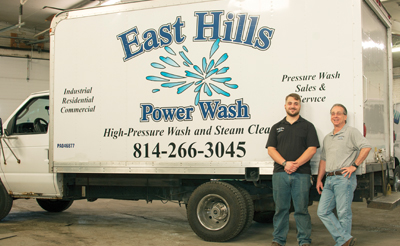 In 2013, he purchased a 9,000-square-foot building with a huge garage. Fourteen-foot-high garage doors and a drive-through design facilitate quick and easy servicing and loading of company vehicles. There is enough room to park all of his equipment, which includes eight vehicles and two trailers, all equipped with an assortment of pressure cleaning equipment.
Today, East Hills Power Wash and Supply is an energetic and innovative company whose purpose is to provide professional high-pressure wash and steam cleaning services to industrial, residential, and commercial customers at reasonable and competitive prices. It is a family-run operation. Mark's wife, Mary, is vice president. His son Adam, who recently graduated from college with a degree in political science, has worked at East Hills since the age of 13 and aspires to be the future president. Daughter-in-law Ashley has worked at the company for five years and is the office manager. (Adam and Ashley were married in September.)
Their corporate mission statement says, "We view ourselves as partners with our customers, our employees, our community, and our environment. We aim to become a regionally recognized brand name in our industry. Our goal is moderate growth and annual profitability while maintaining our sanity and sense of humor."
East Hills Power Wash has been a member of the Power Washers of North America since 2010.
For more information, visit www.easthillspowerwash.com. 
Are You Giving Back To Your Community?

Have you done something special in your community that you would like to celebrate? Giving Back will be a regular monthly feature in Cleaner Times magazine, and we invite you to submit your story ideas. Let us know what good deeds you and your company have completed, and they could be featured in an upcoming issue. Planning a community project in the future? Be sure to take some high-resolution before and after photos for publication consideration. A picture really does say a thousand words.

Not a writer? Don't worry! You and your team can do the pressure cleaning work, and our feature writer will contact you for an interview by phone and write the story for you. E-mail: TerriPerrinWriter@gmail.com.