Giant Industries Celebrates 50 Years:
Success, They Say, Is Not Just About Their Products… It's Because of Their People
By Terri Perrin / Published March 2022

Not many people can look at an industrial towel vending machine at a car wash and come up with a business idea that would grow to become an industry giant. But Ray Simon did!
     In the mid-1960s, Ray worked for a car wash company in Iowa called Gail Industries that manufactured and sold a line of vended industrial towels. However, these disposable towels were small, and Ray felt that a bigger towel would sell better. In 1972 he and some investors built a machine to make larger towels and based a manufacturing facility in Wisconsin. Ray moved back to his hometown of Toledo, OH, and set up a distribution center in a rented 1,500-square-foot building. They branded their new product as "Giant Towels." Fifty years later, Giant Towels are still sold throughout North America, and that original manufacturing equipment is still in use, although it was moved from Wisconsin to Toledo 30 years ago.
     Those who knew Ray were not surprised at his success. He was an entrepreneur who founded multiple companies throughout his career. After his first job at Gail Industries, he spent about five years with Cat Pumps as an independent sales representative for the East Coast region.
Expanding Product Lines
     Soon after starting Giant Towels, Ray was approached at an industry trade show by a representative from the German pump manufacturer Speck-Kolbenpumpenfabrik—which loosely translates to "Speck Piston Pumps Manufacturing." Speck produced a unique line of pumps and accessories for the pressure wash, car wash, and sewer cleaning markets, and they were looking to expand across North America. The high-quality German pump products were also becoming popular in many industrial applications. Ray's answer? Positively, yes! He was definitely interested in working with them, and a partnership was established.
     To reflect their newly expanded product line, the company name was changed from "Giant Towels" to "Giant Industries." The new products manufactured and assembled in an expanded Toledo facility carried the "Giant" brand name.
     Ray started working with the German company initially as a distributor and then began making some of the accessories in Ohio. These products were based on what had been made in Germany but were modified for the North American market. Giant's manufacturing focus grew significantly, and they continued to expand their facilities. It was a huge shift from manufacturing and distributing only towels!
     In the mid-80s they began to modify the German pumps, making smaller pump and motor units for the power washing industry. It was, Ray believed, the only way to control their own destiny.
     To complement the German-made products and to address some unique requirements for the North American market, Giant started to build their own line of American-made accessories, including shut-off guns, accumulators, and unloaders.
     At the same time, Giant started to make more axial pumps, which required further expansion and another facility. They acquired additional Computer Numerical Controls (CNC) machining centers and production lines to meet market demands.
     They moved to their current 85,000-square foot location on 11 acres in 1986. Here, they now manufacture their axial and plunger pumps, pump systems, and line of towel products. As they continued to grow their manufacturing base, they also started to pursue existing markets in a more vertical manner. This has meant that they now provide pump systems for a variety of industries. These custom units help their customers concentrate on what makes them profitable. Currently, Giant provides pumps and pump systems that require more than 1000 HP to drive the pumps.
     From the original axial design to the standard triplex plunger pump, Giant caters to a variety of markets. Utilizing German and American engineering as well as home-grown ingenuity, Giant produces the GX, P200, and P300 pumps, which are made to adapt to belt-drive or various direct-drive applications.
     In the late '90s and early 2000s, Giant was involved in the consumer pressure washing industry, and they had some facilities in Taiwan.
     The company has evolved as they have seen markets shift. Recognizing that it is difficult to compete with products from Asia, they focused on their strengths in more commercial and industrial higher-end markets and being American-made.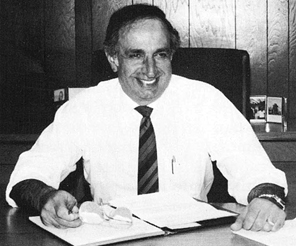 A Change in Leadership
     Ray Simon's son, Ed Simon, has been in the role of president of the company since about 2001. Ed had worked on and off at Giant since he was a teenager. He took some time to test his proverbial wings before landing back at the enterprise that his father had built.
     Ray's retirement was more like a change of roles. While he wasn't involved with the daily operations of Giant, he always had a place to come and discuss ideas. This allowed him time to spend on leisure activities, flying, and other businesses. 
     "My brother and I had started a company on our own after college … but it was failing," recalls Ed. "I needed a job again. I had experience at Giant, and I had always liked the people there, so I came back. I took on a marketing role and eventually moved into sales. I soon realized that this was the right place for me. I wanted to stay in Toledo, so I worked my butt off to learn the business. When given the opportunity to purchase shares, I did so, and eventually bought the company from my father." Sadly, Ray Simon passed away in September 2020. (See sidebar.)
In Memoriam-Ray Simon 1937-2020

An Entrepreneur with an Infectious Smile Who Made Friends Everywhere He Went

Giant Industries founder and CEO, Ray Simon, passed away peacefully on September 18, 2020, at the age of 83. He was born in 1937 in Toledo, OH, and graduated from DeVilbiss High School in 1954. He then obtained his bachelor's degree from the University of Toledo in 1959.

During an illustrious career that spanned six decades, Ray ventured into many aspects of the car wash market. He worked alongside the leaders of International Touchless (later Southern Pride) and other leaders in the car wash industry. At Giant Industries, he will be forever remembered for his joy for life.

In his free time, Ray's biggest passion was flying airplanes. He also enjoyed fishing and was an avid tennis and pickleball player. Ray loved spending time with his family and grandchildren.
A Legacy Built on Respect
     "My father always treated his staff as individuals," adds Ed. "They were never just 'employees.' He respected their opinions, tried to understand what was going on in their lives, and treated them as fairly as possible. I believe this is what garnered such loyalty to both him and the company. Many of our employees have been with us for decades. I aim to follow his example."
    Ed says that one of the key individuals who helped make Giant what it is today was Phil Terisigni. Phil came with unique capabilities and a zest for life, and he brought a passion for all he did to Giant and his customers. Phil, Ray, and their team helped Giant grow and become a leading company in the pressure washing, car wash, sewer cleaning markets, and more. He was vice president of sales when he retired in 1998 after 22 years with Giant.
     In December 2019, Giant announced the retirement of one of their longest employed team members, Dave VanDyke. He had been with the company for just shy of 40 years.
     "Dave started out in the shipping department," recalls Ed. "He moved around until he finally settled into the warranty department. There he became the backbone of the department and the 'go-to' person if anyone had a question about what a part was or how a product was put back together. He even trained me."
The Future For Giant
     "Looking to the future, we will continue to listen to our customers' needs and how they want to partner with us," adds Ed. "It's not just about Giant Industries—never has been—and we do our part to help the people we come into contact with become better at what they are doing. From an industry standpoint, people see us fitting in with them. We make custom units to help them achieve their goals.
     "In the beginning, car washes and power washing were our mainstays. This has now expanded to sewer cleaning, oilfield services, carpet cleaning, steel mills, reverse osmosis, agricultural, and many other heavy-duty industrial applications and specialty fields. This breadth of industries is what encouraged us in the mid-1980s to bring in another large pump line from Germany called Kamat. These pumps go up to 2000 HP units.
     "With our employees, our great suppliers, customers, and a supportive community, and based on my dad's vision, Giant Industries has had a fantastic first 50 years. We have been able to weather a lot of storms. I look forward to what the next 50 years will bring. I do believe that there will always be a place for the type of products we manufacture and sell, even in such a high-tech world, because there is always a need for using high-pressure liquids for cleaning and other industrial purposes.
     "Without a doubt, Giant's success is a tribute to the people who have dedicated countless hours of their lives to our company and our customers," concludes Simon. "From marketing and accounting to machining, production, sales, and engineering, our motivated staff bring years of experience and caring to our workplace. With their support and that of our suppliers and customers, Giant plans to continue to grow its product offerings and expand to meet future market needs for our pump and accessory products."
     Learn more about Giant Industries at www.giantpumps.com. For updates on their 50th Anniversary celebrations, check the Events and News sections under the "About Us" tab.