Full Steam Ahead—Ice Dam Removal
By Diane M. Calabrese / Published November 2020

Desperate homeowners with an inordinate amount of snow on their roof may be lured to drastic action. Some may risk limb and neck by climbing a poorly secured ladder to try to pull snow off the roof with a shovel.
     It's not just the weight of the snow that causes owners worry but also the knowledge that warm air seeping through the roof or eaves may yield just enough melt to produce an ice dam [a ridge of ice at the edge preventing runoff]. If they are too late with a shovel, owners may begin to chop away at the ice with a hatchet or ax or any implement that has an impact.
     So, in fact, frantic homeowners can manage to injure themselves and damage their roof all at the same time. It need not be so.
     Jesse Lofgren, the owner of Absolutely Clean Window Washing LLC in Minneapolis, MN, is one of many contractors who use the safest approach possible to remove snow—and ice dams, should they form—from roofs. He was a roofer before he launched his current company.
     Lofgren is candid about the risky business of ice dam removal. "It's very, very dangerous," he says. "Roofing danger on a scale of one to 10 is a two. Ice dam removal danger is a 10."
     The safest solution for the home-owner is two-fold. One, do not try a do-it-yourself effort. Two, call an expert who uses the correct approach.
     "Steam is the only way to remove ice from the roof and gutters," says Lofgren. He has produced numerous YouTube videos on the subject.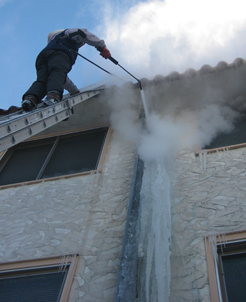 Lofgren also founded the Ice Dam Steaming Association for Education (IDSAFE), which verifies that companies displaying its logo use the correct equipment. He uses only steamers sold by American Pressure Inc. in Robbinsdale, MN. "We truly believe they have the best equipment," he says.
     The decision to add ice dam removal must be made with care. "It's more than seasonal, it's cyclical across many years," explains Lofgren. "A lot of companies come and go," says Lofgren. "Sometimes two or three years pass without any ice dams at all." During the lull very expensive and technical equipment is just sitting.
     Vagaries of weather ultimately determine where and when ice dams will form. The winter of 2019–2020 was marked by a few snowflakes in the Washington, D.C., metropolitan area. In contrast, the 12-day period that ended February 10, 2010, brought on an average three feet of snow to the same region, and many places received more than 50 inches.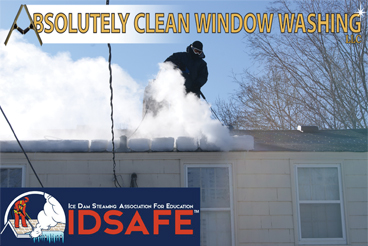 Those who had the foresight to take a snow shovel inside the house were able to get out their door after the worst night of the interval, when more than 17 inches fell and drifted. Some had to be shoveled out by neighbors.
     The compression of the snow on roofs contributed to melt. So did heat escaping from homes. Ice dams were forming everywhere. (Plenty of roofs just caved in, making ice dams seem the lesser evil.)
     For contractors, being ready for an infrequent event—the previous record snowfall in the D.C. metropolitan area was recorded in 1899—is difficult. In some regions, such as the Upper Midwest, conditions that contribute to ice dams happen at shorter intervals. Yet even there, preparation demands a realistic outlook.
     "We've been doing ice dam removal since 1998," says Mike Hilborn, president of Roof-to-Deck Restoration in St. Paul, MN. "Most years we don't do any removal at all."
     Even in one of the coldest regions of the country, where Hilborn's company operates, weather varies enough to make ice dams other than a regular winter phenomenon.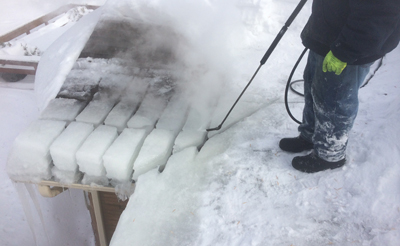 "Ice dams require a tremendous amount of snowfall and extremely cold temperatures," explains Hilborn. "This seems to happen in Minnesota about once every five years. However, you can never plan on ice dams. When they happen, we are prepared."
     Readiness requires anticipating challenges. "Ice dams hit fast," says Hilborn. "You need to hire people quickly and get them trained within a day. An ice dam season may last a week up to about a month. You have to move quickly to take advantage of the opportunity."
     For those interested in offering ice dam removal service, Hilborn's advice is to prepare. "When a huge snowstorm hits, there is little time to ramp up."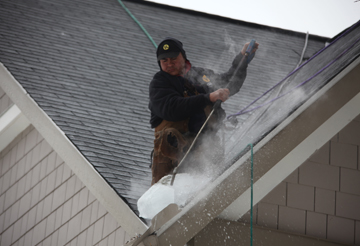 Is there a chance that homeowners will try to assign damage caused by ice dams to the contractor removing the dams? "Damage from removing ice dams is obvious," says Hilborn. "It will have been from using too much pressure to melt the ice. The type of shingle damage that results is obvious to everyone."
     Trained personnel and proper tools get things started. Then, it's a matter of following good practices.
     "Be careful," says Hilborn. "Stay off the roof and stay away from power lines."
Twenty-Two Years On
     Steve Kuhl, owner of The Ice Dam Company in Hopkins, MN, founded his company in 1998. It became "the first large-scale ice dam removal company in North America," he explains.
     Kuhl's goal was to establish a company that would set the standard for ice dam removal. Having owned a residential roofing company since 1987, he was well-positioned to assess the needs of frantic homeowners and provide them a solution.
     "Before I started my company, contractors around the country dabbled reluctantly in ice dam removal," says Kuhl. "It was seen as a headache, something roofing contractors did to keep their clients happy but not a way of generating meaningful revenue."
     Kuhl's company has been a success. "We have done millions in ice dam removal business," he explains.

     Yet so many service providers have entered the ice dam removal niche that prices that can be charged have fallen. Adding a tandem service is one solution to maximizing net profit from each project. Heat cable installation is something contractors should consider, says Kuhl, noting it has doubled his revenue over the last nine years.
     "Homeowners who just dropped a few thousand dollars on steaming ice are extremely motivated to avoid that pain again," says Kuhl. "When we present ice dam prevention options at the end of each job, they are all ears. Now we generate more revenue from heat cable installations than ice dam removal itself, and because almost none of our competitors are doing it, we crush them any time we go head to head on projects."
     Any contractor considering the addition of ice dam removal service can get a quick grounding in what is involved by reading the primer Kuhl provides us. The primer covers the topics of ice dam formation, niche entry timing, equipment needed, work itself, and administration.
Ice Dam Removal, Knowing the Basics
by Steve Kuhl
     Formation—Ice dams can develop over a one-week timeframe, and the variables involved in their formation are still not well understood to this day. The basics are clear. We need lots of snow and temperatures ranging between 5 and 20 degrees at night
and 20 to 30 degrees in the day. Architecture plays another critical role, with factors such as insulation, ventilation, and the age of the home playing a big part.
     Service Niche Entrance—Things can progress quickly from "Oh, look at the pretty icicles" to "Oh no! My house is leaking." Therefore, the worst time to start an ice dam division in a company is when ice dams are happening. Commit in the summer and prepare plans for operations in the field and the office. Develop a website or add the appropriate information to an existing site so homeowners can find you. Be sure to introduce the option of installing heat cables.

     Equipment—Steam is the only safe way to remove ice. As a veteran in the roofing industry, I can tell you in no uncertain terms that using anything except a true steamer will cause damage to asphalt shingles. The damage is not immediately evident. The damage manifests years after the ice dam has been removed, along with a significant amount of the granules that cover asphalt shingles. If you would like to minimize the likelihood of getting sued, do not use high-temperature pressure washing equipment.
     Work Itself—I have helped many guys around the country get their ice dam removal operation off the ground. It is not rocket science if you invest in a good steamer and have one or two capable workers. Because we are roofers, we are naturally suited for this work. That said, just about anyone comfortable on a ladder can remove ice dams with steam.
     Administration—We use a critical path method scheduling platform that allows us to track all crews. This degree of sophistication isn't necessary for a small operation with a couple of steamers. The most important thing is to communicate well, just like in any other arm of the service industry. Most of our projects take two to three hours from the time we show up to when we leave. Average billing rates are $300 to $600 per hour depending on variables such as local competition and demand. Normally each crew will complete at least three jobs a day.