FNA Group: Passionate About Their Undertakings
Published February 2017

Forward. Could there be a more fitting motto for Wisconsin? Carved out of a region defined by industrious peoples—from the prehistoric mound builders to miners who called themselves badgers—the Badger State exemplifies the way that effort has a way of bringing results.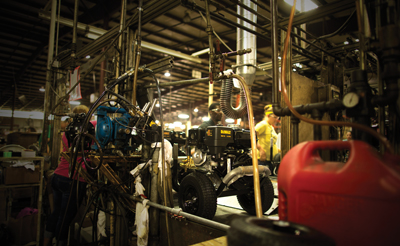 Fittingly enough, the FNA Group, which was established by Gus Alexander in 1988, makes its home in Pleasant Prairie, WI. Pleasant Prairie ranks fifth among the biggest manufacturing centers in the state.
A growing company with more than 450 employees, FNA Group contributes substantially to economic activity in Pleasant Prairie. Hiring talented individuals willing to fully commit to the team is an ongoing process at the company.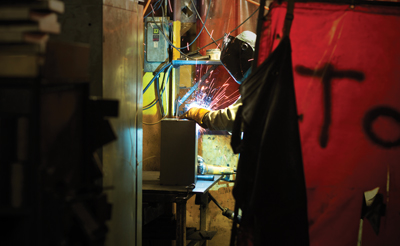 Members of the FNA Group team share a special vision of innovation, one that focuses on function. The aim of functional innovation is to provide customers with the machines and accessories they need to get results.
Founder Gus Alexander established FNA Group because he wanted to build the highest quality, highest-performing units possible. His immersion in the industry through previous endeavors at KEW and Kärcher North America enabled him to make an exacting assessment of what customers wanted.
Customers were looking for products that were innovative, technologically advanced, and efficient. Gus Alexander was certain he could deliver just that combination.
Today, teams and departments at FNA Group encompass corporate, research and development, engineering, product, marketing, sales, and customer service. To better serve customers, some team members are deployed from places well beyond Pleasant Prairie.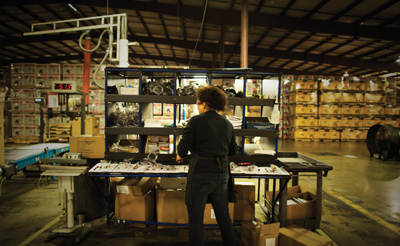 Situated approximately midway between Chicago and Milwaukee, Pleasant Prairie, a village of 20,000 residents in Kenosha County, allows great access to all geographic regions and to a rich pool of talent. FNA Group employees have many opportunities to work hard and play hard, and they do.
"But it's more than that," says William Alexander, executive vice president, sales and marketing. "At FNA Group our philosophy is centered on our company culture. The leadership team encourages the employees to immerse themselves in our industry, our customers' industries, and our partners' industries."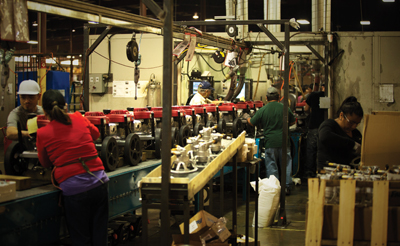 It's important that employees have opportunities to grow professionally and personally, says Alexander. And at FNA Group, they have those opportunities. By interacting with customers, members of the team also get a close-up view of customers' needs. A thorough understanding of customer requirements informs design and ultimately gets built into new equipment.
"One of the newest and most intriguing products is the Delco Eliminator," says Alexander. The innovation of the Axialign™ Adjust-ment System allows the alignment and maintenance of the high pressure pump to be easily maintained with a single bolt adjustment system, slide down doors, and roll-out trays.
The Eliminator Series of stationary pressure washers offers versatility in fuel source (natural gas, liquefied petroleum, or diesel) for heating pressurized water. The hot water provides a significant boost to the process of removing grease, oil, and dirt. Choices in Eliminator models are many and encompass a span ranging from 2,000 psi and 4 gpm to 3,000 psi and 8 gpm.
Fundamentals
It is always the customer first at FNA Group. "It is of extreme importance to us to understand our customers, their needs, and their wants, which have specifically changed over the last decade," says Alexander. "Members of FNA Group interact with end users of equipment through various methods, including visiting job sites, attending conferences, exhibiting at trade shows, guest speaking at events, and responding on social media. We have done a great job at interacting with our end users. We love it."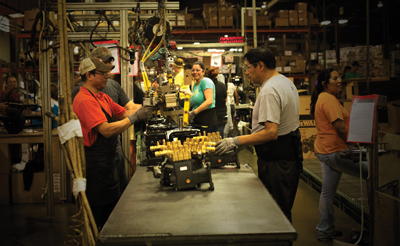 One important trade show is the Cleaning Equipment Trade Association. "We are members of CETA and value the organization from a viewpoint of benchmarking," says Alexander. "CETA has done a great job at unifying members within the organization and as a group."
FNA Group and its customers have a unified perspective. "We feel we share many commonalities with our customers and their companies," says Alexander. "They want to sell quality outdoor power equipment that is innovative, reliable, and durable to their customers."
High industry standards benefit all industry members. It's synergistic to do one's best. "We ensure we use high quality materials and test our units prior to shipment to ensure reliability and durability," says Alexander.
FNA Group strives to be exceptional, of course. And in that quest it has deployed some forward-looking strategies. "We are one of the most vertically integrated pressure washer manufacturers in North America," says Alexander. "We are our own supply chain, which allows for more quality control, reduced end-user costs, and on-time delivery."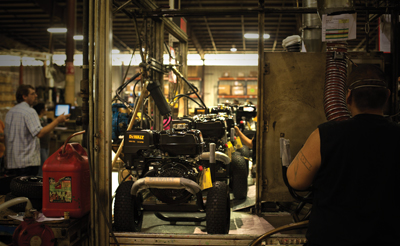 Since its inception, FNA Group has undergone some big changes. They include the expansion of its product portfolio, brand expansion, and market share growth along with expansion of its engineering and manufacturing capabilities.
"We are more than just a manufacturer," says Alexander. "We care about the products we produce, how we produce our products, our customers, and the education needed to operate their piece of equipment." Serving customers is the goal. "Most importantly, we have fun while doing it."
To be sure, FNA Group reflects the industrious heritage of Wisconsin. It is part of a legacy of creative types that were active long, long before statehood in 1848.
Although we are not entirely certain what the mound builders were doing—pottery, burial grounds, and more no doubt—the remnants of their activity indicates that they, too, loved what they were doing.
And isn't that the hallmark of industry? To have a passion for what one undertakes. The team at FNA Group does. (See the sidebars for some of their reflections.)