Fleet/Truck Washing: Every Job Is Different
Contributor: Michael Hinderliter, President, Steamaway, Inc., Fort Worth, TX / Published March 2015

Editor's Note: This entry contains some information from a chapter in the 2002 Power Washer's Guide-book, "Truck Washing," which was written by Roy Carey of Carey Mobile Power Wash and Doug Latimer of Environmental Cleaning Systems.
Geographical Considerations
All areas of the country will have an opportunity for fleet washing. The areas with the most work will be those with higher industrial activity that requires the use of fleet transportation. It will also be easier to provide services in the southern regions of the United States because of the warmer climate.
Typical Job
Every job is different and needs to be assessed prior to cleaning. Here are a few items that will need to be reviewed: type of equipment, quantity of equipment, frequency of cleaning, availability of water, need for wash water recovery, type or degree of cleaning required, when the fleet is available for cleaning, etc.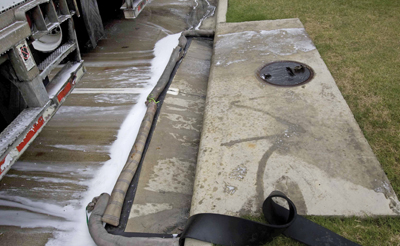 • In this industry, it is likely 50–70 percent of the fleet will only be available during the weekend. So making arrangements to gain access during off hours is the first step.
• Since most fleet washing jobs will be for larger accounts, the need for an ample supply of water is important. Once arriving at a job site, a connection to a water source is the first priority. This can be accomplished via an outside faucet or with a meter that allows the contractor to connect to a fire hydrant.
Do a walkthrough of the fleet to see what issues there may be with the fleet, such as windows left down, oil leaks that have blown oil all over the truck and/or trailer, and pre-existing damage to the equipment.
Techniques that Work Best
For us, a single-step approach works the best 85 percent of the time. This single step is applying soap under high pressure and heat followed by a rinse.
Exceptions
Aluminum brightening requires a two-step process whereby an acid or aluminum brightener is applied first and that is followed by a soap. A neglected fleet that has an excessive amount of grime, diesel soot, and faded aluminum will also need to be two-stepped.
Customers that require that only specified soaps be used may request soaps that do not cut road film. If the road film is not cut by the soap, the job will require hand brushing with the soap followed by a rinse.
Equipment and Supplies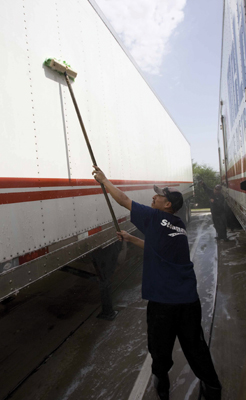 Fleet and truck washing equipment and systems are often custom designed and built. The basic pressure washer needed is a hot water machine (140 F minimum) that is capable of four to six gpm at 2000 to 3000 psi. A typical system design provides five gpm at 2500 to 3000 psi and heats water to 200 F.
Useful hand tools include: six-ft. or longer wand with a ball valve shutoff (largely because a trigger may result in hand fatigue and may be less easy to maneuver), shorter wands for difficult-to-reach areas, 40-degree nozzle, 25-degree nozzle, down-stream injection system for soap and brightener, flow control, and a low pressure sprayer (for concentrated chemicals).
Selection of chemicals and the site for washing must be made with a firm understanding of local environmental regulations, including those governing disposal via sewers. A contractor that is serious about truck washing will have to be prepared to collect wastewater and dispose of it according to local rules.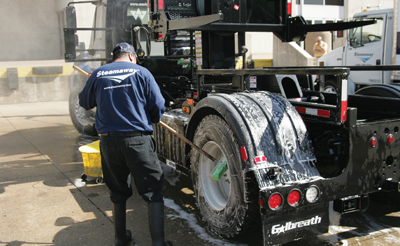 Although a power washing contractor may be able to wash trucks from time to time by relying on wash pads to capture wastewater (and discharge of that wash water to a sanitary sewer or transfer to collection tanks that can be used to convey to a discharge site), a serious entry into fleet washing will require investment in a facility with wash bays and direct connections to sanitary sewers.
In some parts of the country, disposal of wash water to an earthen substrate sufficiently above groundwater level for the water to percolate through (and more or less cleanse itself of hydrocarbons) is still permissible. Yet such a disposal method is becoming a less and less common option.
How to Bill
Fleet owners will bid out work periodically. There are opportunities to wash trucks for small companies that have just a few vehicles. Try to negotiate a regular schedule of twice monthly (or other) washing. Vehicles that are washed more frequently are generally easier to clean and a price can be set accordingly.
Accurately factor in the cost of detergents. Do not underestimate their cost. Try to keep the cost no higher than four percent of gross revenue. And build into the price for the job the cost of a quality soap because such soap results in a quality outcome with less labor.
Ancillaries
Cleaning truck interior spaces of tractors (mats, dash, seats, etc.) may be a possibility for an add-on. Simple vacuuming or hand washing of the cab interior may be a service some truck owners would welcome.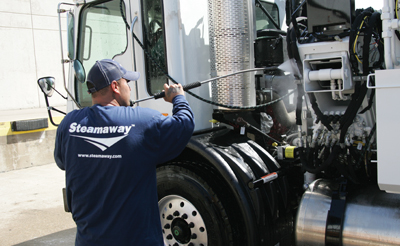 If the trailer is used only for carrying dry goods in boxes, cleaning out the trailer—by sweeping out debris (and collecting it for proper disposal) may be a viable ancillary.
Often, cleaning the interior of en-closed trailers takes a contractor into the realm of cleaning in enclosed spaces, and it is more aligned with tank cleaning in terms of regulatory requirements that must be met. Also, if the interior had been used to move fresh food or chemicals or anything perishable, regulations for cleaning it mount.
Problem Areas to Avoid
The importance of complying with environmental regulations cannot be overstated. Be sure to have a space at the contractor's site or the truck owner's site where wastewater can be collected and prevented from going into a storm drain.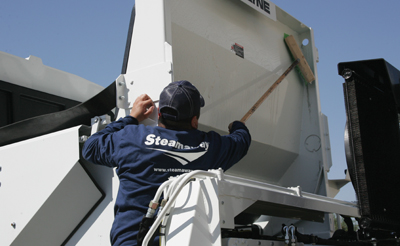 Use care around windshields and mirror glass to avoid damaging them with acid or scratches. Thoroughly understand and follow the manufacturer's instructions for any chemical used, including strict adherence to the specified dwell time.
Contractors not experienced with using brighteners on trucks might benefit by practicing on their own vehicles to get the timing right (and avoid damage to a customer's truck).
How to Fix Mistakes
If the day is cool and cloudy and soap did not penetrate as quickly as expected, apply again and re-do the wash.
Be sure to have a prior understanding with the client about who bears financial responsibility for any damage to the vehicle that occurs, however minor.
Michael Hinderliter started fleet washing in January of 1985. He graduated from the University of Texas in Arlington with a degree in accounting in 1991. He has served on the board of the PWNA for a collective number of 15 years and as the organization's president for two years. He employs more than 80 people across his companies.