Financial Security: Protect Your Customers and Your Business
By Diane M. Calabrese / Published August 2016

Deliberate deception is fraud. Intentional and unlawful, a fraudulent act takes something—property, money, identity—away from another individual. So widespread is fraud in 2016 that maintaining the financial security of a business, including its customers, requires an owner to take extensive countermeasures. "Protecting a business from fraud starts with protecting its customers," says Edward Marchiselli, founder and CEO of AsktheSeal.com, a firm engaged in security and background checks based in Tampa, FL.
"A company's customers are its business," says Marchiselli. "There is no faster way for a business to fail in today's information age than to disappoint or cause harm to its customers." Marchiselli explains that though a company may experience as "painful" fraud committed directly against it, it can often overcome the pain and keep the matter private. Customer involvement changes everything, however, as the customer can share the experience via the Internet, bringing long-lasting effects to the company.
Avoiding fraud begins with the basics. Be as certain as possible that all employees can be trusted. "Predicting human behavior can be one of  the hardest things to do, with one exception," says Marchiselli. "The best predictor of future behavior is past behavior. A proper, nationwide criminal background check on employees is essential to protecting a business, its customers, and other employees."
Do follow through after telling a prospective employee that a background check will be run, says Marchiselli. Some employers think they "have radar" that can detect honesty by the reaction to the notice a check will be completed, but there is no such radar, he explains.
By a "proper" background check, Marchiselli means one with third-party validation. It's an expense, but it is cost-effective because it greatly lowers the risk of fraud perpetrated by employees. After employees are in place, continue to be proactive. [See sidebar on page 42 for seven great tips from Marchiselli.]
Engagement
Know your employees. It's easier to do so at a small company, yet even a large company with a good management team can achieve the sort of connection to each employee that makes it very unlikely any employee will be able to operate outside appropriate parameters.
Jake Clark, owner of Armstrong-Clark Company in Sonora, CA, says that he did have inventory disappear one time in the past, and an employee was involved. In general, though, the emphasis that he places on teamwork works against such an incident. "Everybody loves this as a place to work," says Clark. "There's good energy here. We promote a healthy atmosphere. With profit sharing, em-ployees have some skin in the game." Every Friday, the team gets together for lunch, which is Clark's treat. It's a way for everyone to be connected.
Knowing employees and getting to know customers is a good way to establish and ensure trust, explains Clark, who acknowledges that larger companies cannot have as much one-to-one interaction with employees. Even with the trust level high, verification is a must, if only to avoid errors.
In fact, it's a matter of informal checks and balances every day at any business that keeps everything running smoothly. Typically, at Clark's company, responsibilities along the line are subdivided, but each employee can also cross over in duties as needed. In essence, the employees are reviewing one another's work when they make that crossover.
Engagement also applies to the owner. The owner should review all bills, for example, says Clark, who also works closely with his outside accounting service to make certain that all parts of the financials are aligned.
"The best step to reduce the chance of misappropriated funds is to know your financials and be vigilant about your cash flow," says Jim O'Connell, president of Hotsy Pacific in Modesto, CA. "You should also do an analysis and audit of your vendors occasionally to be sure they are legitimate…" Think of the vendor review as a dimension of engagement.
"With the advent of the Internet and products that are available from cheaper suppliers, those orders will leave you open for some possible fraud," says O'Connell. "Also, as the owner, I sign all outgoing checks and verify payables with my bookkeeper to ensure there is not any issue."
Education and Awareness
Data breaches stand as a constant threat to all. They become a greater threat if questionable websites are accessed or suspicious e-mails are opened, explains O'Connell.
"The biggest challenge is to be constantly aware and to educate employees in the way to handle themselves in regard to the Internet and mail providers," says O'Connell. "We let our employees know anytime we receive e-mails soliciting our services online for parts and equipment remember, if it seems too good to be true, it probably is."
Even in the bricks-and-mortar setting, vigilance is essential. Part of that awareness is knowing customers to the extent possible. "A lot of times, the sale just doesn't feel right—the customer is in a rush, doesn't ask about a price, etc., so pay attention to your instincts and the instincts of your employees," says O'Connell.
He recounts that once an employee had a bad feeling about a cashier's check that came over the counter. So, after calling the bank, they took the check to the bank—all prior to releasing the equipment. "Sure enough, it was a fake check," says O'Connell. Procedures to thwart such fraud are now in place. "If we suspect an issue with payment, we will also get the license number of the vehicle and a description," explains O'Connell. "We rarely accept a credit card over the phone from someone we do not know."
Also, monitor company credit card use. With online hackers and skimmers at places like gas station pumps, there are weak links everywhere. After having a credit card number stolen more than once, O'Connell put Lifelock® on the accounts, and it has stopped repeats of the issue. "Be diligent about checking bank and credit card statements," says O'Connell. That includes spot checking the accounts of vendors and  customers to make certain they are active and legitimate, he explains.
Participation
This is the digital age, with many benefits and a number of risks. Accept it for what it is and participate fully, but be cautious. "It is imperative that you be sure your business server and local desktops have consistently updated, top antivirus programs in place," says Ken Sunden, administration/sales at High PSI Ltd. in Glendale Heights, IL. "Be certain your Internet provider has top-notch firewalls and your website and e-mail host has high security in place."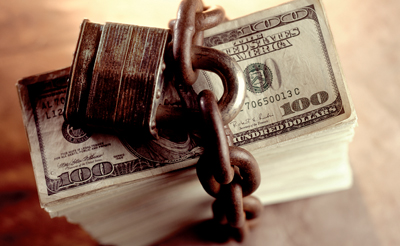 Scrutinize e-mail. "We get several fraudulent e-mails a week from alleged prospects looking to purchase equipment," says Sunden. Actually, the scammers are trying to retrieve bank information from the company they've approached.
Protect your customer and your business. "How you are storing customers' credit card information is very crucial to prevent fraudulent charges on their card—case in point, the big Target breach," he explains. "All the firewalls, Web hosting security, and local security in the world can't guarantee your system will never be breached."
Don't store customer data on the company's computer system. "The most secure place may be an unassuming hard file in a locked cabinet or safe," says Sunden. "Any one-time use credit card information written down anywhere should always be immediately destroyed after the transaction has been completed."
Let technology do as much of the lifting as possible. "When accepting checks, invest in a scanner that immediately scans, then deposits the funds into your account—to prevent bounced checks," says Sunden. "When you scan a customer's check before they even leave your facility, you can ensure they have the funds to cover the amount of the check."
Be prepared to do some of the lifting. To the fullest extent possible, have a customer's credit card in hand, and check it against the customer's driver's license, says Sunden. For over-the-phone acceptance of credit cards, work with a credit-card processing firm that is diligent in their security practices. Sunden cautions such firms will expect more of the business in terms of intake information from the customer, but in the end, the level of security provided is worth the investment of time.
Another component of engagement is updating. Inertia does not promote security. "Internal security programs should be monitored and revised on a regular basis to ensure they are working effectively," says Sunden. "A program left unrevised for too long runs a higher risk of failing."
Finally, keep a sense of humor about the watchfulness required in the contemporary world. Recall Inspector Clouseau (played by Peter Sellers) in A Shot in the Dark (1954), who says, "I suspect everyone. I suspect no one." It's the equilibrium point at which we must live now. Yet let's hope "no one" wins out down the road. 
Tips To Prevent Fraud

Edward Marchiselli of AsktheSeal.com recommends seven steps to reduce the chance funds will be misappropriated:

1. Trust but verify.

2. Does the person you are trusting have a record of theft?

3. If someone else keeps your books, make sure your accounting package has an audit trail (i.e., things cannot be deleted).

4. Have your books audited by a CPA.

5. Track inventory and associate it with each job and make it known that you do. (Shortcuts will leave you open to fraud.)

6. Be involved in day-to-day operations and be unpredictable. Show up on jobs and at desks unannounced.

7. Listen to your gut when some- thing doesn't feel right.