Last Minute Tax Savings and Potential Pitfalls
By Mark E. Battersby / Published February 2017

Although tax planning should be a year-round strategy with year-end planning a good backup, even with the tax filing deadline fast approaching it is not too late to reap tax savings. Regardless of when, the goal with any planning is to keep the tax bill at a legal minimum, year after year.
Keeping in mind that a pressure cleaning business owner or manager's obligation is to pay their fair share of taxes and not a dollar more, here are a few last-minute tax savings tips, such as those for treatment of the cost of equipment and the new technology that plays such an important role in every pressure washing operation.
Don't Overlook Depreciation—And Alternatives
Depreciation is the income tax deduction that allows a pressure washing business to recover the cost or other basis of equipment and property. It is an annual allowance for the wear and tear, deterioration, or obsolescence of business property such as buildings, vehicles, furniture, and equipment.
The "extenders" bill passed late in 2015 permanently set the Section 179 first-year expensing write-off at $500,000 with a $2 million overall investment limit before phase-out. While there is no increase in the dollar amount of asset purchases that qualify, thanks to the inflation adjustment, the investment limit for 2016 increases to $2,010,000 before phase-out begins.
The same extenders bill also extended the 50-percent "bonus" depreciation write-off for equipment placed in service between 2015 and 2017, with a lower percentage kicking in for an additional two years. That means a write-off of 50-percent of the purchase price in the first year plus the regular depreciation rate on the remaining 50-percent.
Although depreciation can only be claimed for assets placed in service prior to the end of the tax year, strategies for claiming or ignoring depreciation write-offs should be given some thought. For instance, while taking the bonus depreciation write-off is the rule, a pressure cleaning business can elect out for all property within a "class." Thus, if the operation purchases five trucks (5-year property) and $65,000 in office furniture (7-year property), the choice can be made to not take bonus depreciation on the trucks or the furniture, or both, but selecting which trucks to use the election on is a no-no.
The Correct Write-Off
While timing is all-important for the depreciation write-off, often overlooked is the so-called "convention" factor. The depreciation rules include "conventions," or rules for figuring out how many months of depreciation can be claimed. Selecting the correct convention is often overlooked, with the half-year convention selected regardless of whether the property was placed in service at the mid-point of the year and regardless of whether it is the best route to follow.
The mid-quarter convention is mandatory if the cost of assets placed in service during the last three months of the tax year was more than 40 percent of the total cost of all property placed in service for the entire year. If the mid-quarter convention applies, the half-year rule does not apply, and all equipment placed in service during the year is treated as if it were placed in service at the midpoint of the quarter in which use began.
Calculating Business Expense Records
Just as all income should be reported to keep the tax folks at bay, all of the pressure cleaning operation's expenses should be reported in order to keep the tax bill low. That is, the expenses should be claimed unless the rules permit postponing them to a more profitable tax year.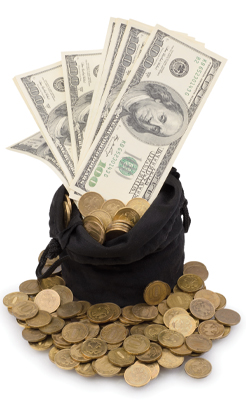 Finding and documenting all of the pressure cleaning operation's business expenses is often the biggest part of the income tax return filing process. The IRS doesn't usually require receipts for expenditures of less than $75, but most of our tax rules do require many of the operation's expenses be documented—a chore that can also help find potential tax deductions or write-offs that might otherwise be overlooked.
Not too surprisingly, some of the most lucrative small business tax deductions are also some of the most complicated. The home office deduction, for instance, requires compiling multiple expenses and calculating percentages, while the deduction for auto expenses requires extensive recordkeeping that should have begun at the beginning of the year. There are other often-overlooked, neglected, or misunderstood deductions:
Travel, Entertainment, and Gifts—For those traveling on business, whether to distant job sites or attending trade shows, conventions, or meetings, the expense of staying in a nice hotel is tax-deductible. Likewise, the cost of travel—air, rail, or auto—is also 100-percent deductible, as are costs associated with life away from home (dry cleaning, car rentals, and even tips). The only exception is dining, where only 50 percent of meal costs are tax deductible.
Of course, once home, on-the-job meals aren't deductible—unless, of course, a customer or client is along to talk business. The 50-percent deduction limit also applies to most other entertainment expenses, although a direct gift to a customer, client, or employee is 100-percent deductible—up to $25 per person per year.
Repairs—Whenever possible, repairs and maintenance expenses should be deducted immediately, rather than capitalized and depreciated. However, several changes to the repair guidelines will impact all pressure washing contractors and other "asset heavy" businesses.
Small businesses lacking so-called "applicable financial statements" (AFS) should remember they can take advantage of a new de minimis safe harbor by electing to deduct smaller purchases ($500 or less per purchase or per invoice). Businesses with an AFS can deduct as repairs up to $5,000 per purchase or invoice. Small businesses with gross receipts of $10 million or less can also take advantage of a safe harbor for repairs, maintenance, and improvements to eligible buildings.
Software—As a general rule, software bought for the pressure cleaning business must be depreciated over a 36-month period, but there are some important exceptions. When, for instance, software comes with a computer, and its cost is not separately stated, it's treated as part of the hardware and is depreciated over five years. However, under Section 179, you can write off a whole computer system (including bundled software) in the first year if the total cost is within the Section 179 annual deduction.
Advertising & Promotion—The cost of advertising the pressure cleaning operation's goods or services—business cards, Yellow Pages ads, and so on—is deductible as a current expense. Promotional costs that create business goodwill, such as sponsoring a peewee football team, are also deductible as long as there is a clear connection between the sponsorship and the pressure washing business.
Keeping It Real
The way the IRS views "reasonable compensation" has changed significantly over the years. With S corporations, the IRS's goal was and continues to be preventing owners from exploiting a payroll tax loophole. As a result, when the IRS examines the tax returns of S corporations, the focus is usually on determining whether the compensation paid to the S corporation owner was "reasonable" based on the services provided.
In a number of revenue rulings regarding S corporations—the most common entity in the United States today—the IRS and the U.S. Treasury Department have determined that to the extent the owners of S corporations perform services for their business, the business should pay that owner a reasonable salary as compensation for those services. In addition—and crucially—that reasonable salary is subject to self-employment tax.
Overlooked State and Local Tax Obligations
Don't forget that state and local governments impose their own filing and payment responsibilities with various income, sales, and property taxes. Recently, states have become more aggressive in taxing corporations that are not physically present in their states but have significant sales to customers in those states. While there may be exceptions for limited business activities in particular states, it is wise to check on the activities of your salespeople who often travel to different states to ensure you are filing all state corporate tax returns as needed.
Extending The Pain If Not The Payment
Anyone who has tried but can't finish their tax preparation by the filing deadline can file a Form 4868, Application for Automatic Extension of Time To File U.S. Individual Income Tax Return, or use an online service. The IRS will automatically grant extensions of as much as six months to file taxes. Remember, however, the tax extension provides more time to file the pressure cleaning business's tax returns but not more time to pay the tax bill—or a good estimate of the final tab.
Although taxes should never be the primary reason behind any strategy, purchase, or move made by a pressure washing contractor or business owner, taking advantage of our tax rules is important. It is never too late to plan on saving taxes. In fact, any pressure cleaning business owner changing their mind after the return is filed can amend or change an already-filed tax return. But, in order to achieve that low tax bill either before or after the return is prepared, professional assistance may be required.