Curious, Industrious, and Engaged
CETA Scholarship Winners 2018–2019
By Diane M. Calabrese / Published October 2018

Like sunflowers glistening in the sun, CETA Scholar-ship winners reflect the promise that is all around us in the world. Curious, industrious, and engaged, these scholars demonstrate that learning and doing are very good ways to experience the joy in each day.
In 2018–2019, CETA scholarships are helping to support the studies of two future nurses and a violinist. An aspiring biologist, event planner, and social worker are also among the six scholarship recipients.
Since its inception in 1996, the CETA Education Foundation has awarded scholarships to college students. The foundation raises money through many different activities, including a charity auction, golf tournament, and tax-deductible individual contributions. It is a separately incorporated charitable organization.   
Learn more about the CETA scholarship application and selection process by visiting the Cleaning Equipment Trade Association website (www.ceta.org) and opening the tab to information about the CETA Education Foundation.
Meet here—in alphabetical order—the six recipients of awards for 2018–2019 (listed with the CETA member company that conferred her eligibility to apply).
---
Kathryn Bellomo
(Power America/Power Washer Sales)
     A nursing major at Roberts Wesleyan College in Rochester, NY, Kathryn Bellomo has long been interested in science. "I wanted to apply my knowledge to a field that would directly make a difference every day," she says.
     Bellomo is now a sophomore. In her first year of study, she discovered that science is just one of her many interests. A seminar class that included visits to the Susan B. Anthony House and the Erie Canal (with its fascinating locks) was important to her.
     "Local history and culture are so important for us to understand, so that we can understand both background and perspective," says Bellomo. There's also much to learn in the present.
    Working with a group of classmates, Bellomo taught a science lesson to fourth grade elementary students last year, and she learned a lot. "It's amazing how the simplest concepts or properties in science can bring so much excitement and appreciation to children," she explains.
     There are two people who have particularly influenced Bellomo's outlook. "My parents have always shown a relentless support for me and have encouraged me to pursue whichever path I wish, knowing and trusting that my interests and passions will turn into a career field that I will truly be happy working in."
---
Jackie Hallaway
(Alkota Cleaning Systems Inc.)
     Nursing is the major of Jackie Hallaway, who studies at Augustana University in Sioux Falls, SD. "Ever since I was a young child, I was interested in the medical field," she says.
     Hallaway looks forward to beginning her nursing career and gaining experience in many different medical departments before settling on a specialty. She is a keen observer of interactions of all sorts and one who understands the value of team initiative.
     A class in advanced chemistry and participation in the South Dakota sweet sixteen volleyball tournament are just two memorable events from the last year for Hallaway. "My fellow high-school seniors and I really came together to show some senior leadership to guide our team through to postseason play," she says.
     Interacting with members of CETA has been a significant influence on Hallaway. "It taught me how a business can shape and influence a community through jobs and contributions to community activities," she explains.
     Hallaway has worked at Little Cubs Volleyball Camp and counts the experience as one of the most unforgettable she has had in the sphere of community service. "Seeing the young girls improve in their confidence and skills through the years has been very rewarding."
---
Rebecca Holman
(Kärcher North America)
     Committed to helping build strength in families, communities, and the nation, Rebecca Holman is studying human development at Brigham Young University in Provo, UT. This is her second CETA scholarship.
     Holman sees her undergraduate education as a foundation for further study toward a master's degree in social work. "I want to work with immigrant families and help get them connected to the resources they need to transition to life in the United States," she says.
     During the spring semester of 2018, Holman participated in a study abroad program in Mexico City. That opportunity to interact with people and learn from them has given her even greater insight into the inherent strength of communities and the vigor and intelligence to be found everywhere.
     Holman is already helping Hispanic immigrants. She is cub master of a Hispanic Boy Scouts of America cub group, coordinating weekly activities for 10 boys ages eight to ten.
     Work ethic and commitment to succeed in work and school derive from her parents, says Holman. Her first job was packing boxes for a convention for her father's company. "It helped me learn to manage my finances."
     Holman wants to continue to emulate her parents and others who are great models. "CETA has always really impressed me with their desire to give back," she says. In the future, if she owns a business, she hopes she may have an education foundation.
     Holman emphasizes she does things just for fun. They include sewing, dancing, and singing.
---
Madelynn M. Huff
(Chappell Supply and Equipment)
     Violin performance is the major of Madelynn M. Huff, who studies at the University of Okla-homa in Oklahoma City, OK. "I want to spread awareness and appreciation for classical music," she says.
     Huff believes music ought to be an integral part of life. This is her second CETA scholarship. Because the classical genre is an "insightful and complex" one, it "builds empathy and encourages contemplation," says Huff. "For that reason, I think that classical music can make the world a better place."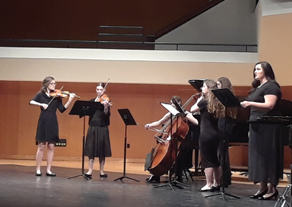 In the last academic year, Huff performed in her university's production of Engelbert Humperdinck's Hansel and Gretel opera. "I learned that I enjoy performing opera because I love the sound of voices accompanied by an orchestra," she says. "I was also inspired by the vocalists' passion and commitment to their characters."
     Summer 2018 took Huff to the Marrowstone Music Festival in Bellingham, WA, where she was a fellow. She performed two concerts with the Festival Orchestra. "My favorite piece we played was Richard Strauss' Till Eulenspiegel's Merry Pranks, which is a tone poem about a mischief-maker who eventually crosses the line," she explains.
     At Marrowstone, Huff also participated in string quartets and the chamber orchestra. "The learning pace was fast, but everyone worked hard because of their love for music," she says.
---
Erin Peterson
(American Pressure Inc.)
     A student at the University of Mary in Bismarck, ND, Erin Peterson spent the 2017–2018 academic year in Rome. "I took courses in history, theology, philosophy, art, and the Italian language," she explains.
     The Rome experience was more than classroom learning, says Peterson. It also was a way to develop skills in traveling well, budgeting, navigating language differences, and more.
     Peterson is pursuing a double major in sports & leisure management and theology. She hopes to find a career niche in the event planning field. This is her second CETA scholarship.
    During the summer of 2018, Peterson completed an internship for her church's youth ministry program in the field of event planning. "I got to organize a retreat, plan training meetings, and gain experience in the business side of running a week-long camp," she says. "The internship allowed me to strengthen my event-planning skills and learn more about what it takes to coordinate events." 
    Peterson says CETA members have influenced her. "Seeing how the CETA members at my sponsor company interact with their customers has taught me a lot about what it takes to succeed in customer service and how rewarding it can be. Watching my dad work in the sales industry has made me realize I also want to work in a field that involves helping and working to serve customers."
---
Morgan Witt
(Cat Pumps)
     A freshman biology major at the College of Saint Benedict in St. Joseph, MN, Morgan Witt got hooked on biology through a college honors biology course while still in high school. "I realized how much I love science and learning about the Earth," she says.
     Witt's interests in science encompass chemistry and astronomy. Thinking about "how vast the universe is" captivates her, she says.
     Witt chose her college for many reasons. "I love the diverse college community, beautiful campus, and the amazing liberal arts education I will receive," she explains. "I got the feeling it will be my home away from home."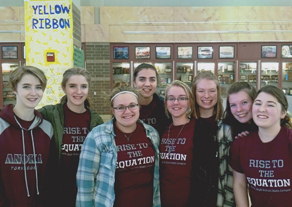 The Anoka Key Club in Anoka, MN, is an organization that connects high-school students with volunteer opportunities. Witt has been involved with the group for the last four years. Her participation in one volunteer project involved making sandwiches for the homeless in Minneapolis, MN.
     Witt explains that helping people locally is a way to make a "big difference" in communities, and she appreciates her experience as a volunteer.
     CETA members have also been among her great informal teachers, says Witt. "I have learned from them that most successful business organizations are the ones that care about their employees, customers, and the environment they operate in."