Cleaning Coast to Coast
New York—Pressure Washing in the 'Empire State'
By Terri Perrin / Published March 2022

Editor's Note: This is the third in a series of state profiles highlighting the opportunities, advantages, and challenges of the pressure washing industry across the USA. To read about opportunities in a specific state as the series is updated or to read past state profiles, please visit https://www.cleanertimes.com/cleaning-coast-to-coast.
     "Start spreading the news, I'm leaving today! I want to be a part of it: New York, New York." These are the opening lines of the iconic song about New York City—often referred to as "The Big Apple"—as recorded in 1979 by the legendary Frank Sinatra. Sinatra concluded the song by singing "If I can make it there, I'm gonna make it anywhere." The lyrics to this song, says John Tornabene, president of Clean County Powerwashing, pretty much sum up opportunities in the power washing industry, not just in New York City but the entire state. 
     Tornabene is a retired police officer who, in his words, "started power washing as a side gig in 1996, and it has been a great success." Now co-owned along with his wife Kathy, the Kings Park-based company offers a full range of power washing services in the Tri-State area (which includes New York, New Jersey, and Pennsylvania) as well as Connecticut.
     "Where I live, in the Long Island area, is one of the most populated places in the USA," describes Tornabene. "Within a 100-mile radius of Long Island, there is plenty of work. However, we have to factor into our business planning that we have all four seasons here. We go pedal to the metal from mid-March until January every year and things slow down—but don't stop!—during the winter months. It is expensive to live here, and this is reflected in the cost of operating our business and taking care of our employees. Because of the high cost of living, we must charge out our services according to what our area will hold."
     Although he is based in Upstate New York, Rick Benham, of Canandaigua-based Kepner Equipment, agrees that both the Big Apple and New York State have plenty to offer and that he has seen amazing growth in this service sector. Kepner Equipment, which was founded in 1992, is an authorized sales and service provider for the largest names in the pressure washer industry and has grown into Upstate New York's most complete and committed aqueous equipment dealer.
New York By The Numbers
     It is no surprise that opportunities abound in New York! With a land mass of 54,556 square miles, it is the 27th largest state by area. A population of 20 million-plus makes it the fourth most populous state in the USA. Its location as a primary transportation hub also makes power washing opportunities lucrative. New York is bordered by New Jersey and Pennsylvania to the south, with Connecticut, Massachusetts, and Vermont to the east; it shares a maritime border with Rhode Island, as well as an international border with the Canadian provinces of Quebec to the north and Ontario to the northwest. This ideal location opens opportunities to power washing contractors to provide services for fleet washing, agriculture, commercial buildings, parking garages, and restaurant hood cleaning. (Feeding a population of over 20 million means there are thousands of restaurants!)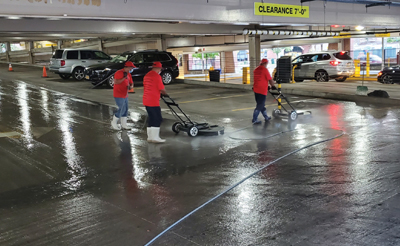 Not to be confused with the state itself, New York City (NYC) is the largest metro area in the USA and boasts a population of 8.8 million (in 2020). NYC is home to the Statue of Liberty, the United Nations head-quarters, the Empire State Building, and more than 100 other National Historic Landmarks. It has been described as the "cultural, financial, and media capital of the world" as well as the "world's most economically powerful city." Two-thirds of the state's population live in NYC, which is divided into five boroughs/counties (Manhattan, Brooklyn, Queens, the Bronx, and Staten Island). The next four most populous cities in the state are Buffalo, Rochester, Yonkers, and Syracuse. The state capital is Albany.
     New York also has a diverse geography, which offers more power washing business diversity. The southern part of the state is in the Atlantic coastal plain and includes Long Island and several smaller associated islands, as well as NYC and the lower Hudson River Valley. The larger Upstate New York region comprises several ranges of the wider Appalachian Mountains and the Adirondack Mountains in the northeastern lobe of the state. The north–south Hudson River Valley and the east–west Mohawk River Valley bisect these more mountainous regions. Western New York is part of the Great Lakes region and borders on the Great Lakes of Lake Ontario and Lake Erie as well as Niagara Falls. The central part of the state is dominated by the Finger Lakes, a popular vacation and tourist destination.
Whatever The Weather
     "Seasonal issues are some of the biggest factors affecting the power washing industry in New York," explains Benham. "From spring to fall we are as busy as any other dealer on the West Coast. During the winter months, contract cleaning opportunities do slow down, regardless of the weather. If it is really cold, they are not outside washing. But a snowy winter can be good for our business. Our customers are still washing trucks, trailers, cars, and snowplows indoors and, in doing so, still using chemicals, replacing hoses, and repairing or replacing machines."
     "One of the very unique things is that there is big money in ice removal from transport truck scales," adds Tornabene. "They get iced up due to condensation and freezing, and the scales won't work when this happens. Also, removing ice dams on the roofs is a winter-specific opportunity."
     Ryan Pyatt, owner of Batavia-based WNY Pressure Wash, agrees that the weather can be a big challenge. His company operates in the western part of the state. They specialize in commercial and residential pressure washing and sealing services as well as fleet washing, commercial buildings, homes, decks, and concrete cleaning.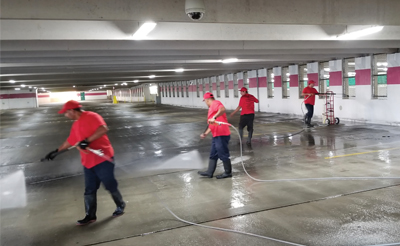 "Winter weather in any part of New York presents freezing temperatures," explains Pyatt. Heavy rain and storms, especially in more coastal areas, can also present challenges. "This plays a big part in how we structure our business. When the weather gets bad, we fall back on our commercial clients since residential work is zero to none in the dead of winter. Fleet washing, for example, still needs to be done in the winter. Businesses still have a need for salt removal. And it's not just about making the trucks look good; it is so they can be compliant with federal and state vehicle maintenance regulations.
     "Honestly, it is not the best state with regard to quality of life for weather," adds Pyatt. "It is actually a tough state to own a power washing business in … with high taxes and the limited amount of residential work we can get done each year. Without our commercial branch of operations, we would be challenged. You can set as many financial targets as you want, but the weather will always dictate your success."
Business Opportunities and Challenges
     While the Big Apple draws shoppers by the millions, many people would be surprised to learn that New York boasts many rural and agricultural areas. The whole state can't be painted with the same brush. So, while NYC may offer a wealth of opportunities for fleet washing, commercial work (parking garages, restaurants, and factories), graffiti removal, and residential cleaning (including ice dam removal), just a few hours' drive outside of the big city offers so much more.
     "When you say you are from New York, most people think you mean NYC," remarks Benham. "I've lived in Upstate New York my whole life, and I've never been to the big city! They are all blacktop and concrete … and we are blue skies and lakes with ATVs, motorcycles, downhill and cross-country skiing, snowmobiling, hiking, hunting, boating, fishing, and more. It's an outdoorsman's paradise.
     "Upstate NY is an agricultural mecca. There are large dairy farms as well as soy, corn, hay, and wheat farms. Apple-growing along Lake Ontario is big. Wineries are huge, and we are the Napa Valley of the East Coast. All of these industries need pressure washers to clean their equipment." 
New York Nicknames and Other Fun Facts

New York is nicknamed "The Empire State" for its national and global significance. Today people associate the nickname with the Empire State Building, but the nickname came long before the building was constructed! The actual origin of New York's nickname is unknown; some sources credit George Washington, who referred to New York state in December 1784 as "at present the seat of the Empire."

Other nicknames for New York include "The Excelsior State" (Excelsior is the state motto: representing our continuous search for excellence and belief in a strong, bright, and ever better future) and "The Knickerbocker State" (from the pants worn by early Dutch settlers).

Why is New York City called "The Big Apple"? It began in the 1920s when sports journalist John J. Fitz Gerald wrote a column for the New York Morning Telegraph about the many horse races and racecourses in and around New York. He referred to the substantial prizes to be won as "the big apple," symbolizing the biggest and best one can achieve. The term started to gain traction. Next came the jazz musicians of the 1930s, who referred to New York as The Big Apple in their songs. Show business had a popular mantra at the time: There are many apples on a tree, but only one Big Apple—New York.

What's with "New Amsterdam"? Initially, when it was discovered and settled by the Dutch, the area was called "New Amsterdam." It was later conquered by the British, and the name was changed in honor of England's Duke of York.

Central Park was officially opened in 1876! This 340-acre park is the largest and the most important public park in Manhattan, NYC, and it attracts more than 40 million visitors annually. In 1856, the 340 acres of land for the park were acquired for a sum of $5,000,000, and it took almost 20 years of work to develop.

Adirondack State Park is larger than any other state park in the U.S. and larger than any federal park in the contiguous states, covering over six million acres.
     While opportunities abound, Tornabene warns that the cost of doing business in NY is high as compared to many other states. "We have to deal with the New York State Insurance Fund, and we pay about 30 percent of payroll to Workers' Compensation. Income taxes are amongst the highest in the nation. That said, the unique thing about my area in particular is the abundance of work. Long Island, which includes Brooklyn and Queens, has over eight million people in a 100-mile radius. My company is small, with three full-time and three part-time staff. We work seven days a week when the work is there, and we offer generous bonuses to help motivate staff. Monday to Friday we focus on residential contracts, and during the weekends we switch to commercial projects. If we have more work than we can handle, we pass it on to other local cleaning contractors. This type of networking and collaboration is important for our industry and is something that took years to get organized."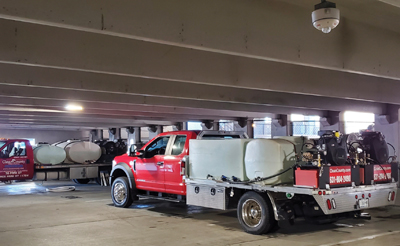 "The biggest challenge is to create a business that can work 12 months of the year despite the weather," adds Pyatt. "I don't see specific advantages, comparing our service area to others, as long as you compare the same climate and weather issues. A lot of residential customers are surprised that there are service providers who will wash their house. It is still an untapped area with lots of opportunity.
     "The biggest opportunity is that there is considerable activity in the trucking and transportation industry, due to our location and the related transportation network. We can more accurately forecast business this way, while residential work, for example, is harder to plan for. Environmental regulations here are also pretty strict as far as wastewater management goes. Operate according to the regulations, and you should be fine.
     "Our advertising plays a key role in helping us market our business, especially to the residential market," concludes Pyatt. "But you also get a lot of bookings simply through word of mouth. Neighbors see you cleaning a house, they come to watch and ask questions, and then they book you to clean their home."
     As the industry grows, so does demand for parts and service. "Within the last three years, we have embraced the contract cleaners," declares Benham. "Every year our list of contract cleaners grows exponentially. We have built more trailer packages in 2021 than in the last three years combined! In turn, when people call us for house washing, we put them in touch with our customers."
Why Love New York?
     Outside of NYC, land prices aren't out of control, and local governments offer a lot of services.
     Wages are higher here than everywhere else in America.
     Upstate NY school districts are good and well-funded by the tax-payer. You don't need to send kids to private school for a good education.
     It is expensive to live here, but the communities are well-maintained.
     Other than the income taxes, the cost of living here is pretty reasonable.
     There is plenty of water for this industry. You never have to ration water, and as a result, wastewater reclamation has not really taken off here.
Surprise! Surprise!
     When asked "What is something about New York that might surprise Cleaner Times' readers, these industry professionals responded as follows:
     Pyatt: The lack of knowledge that the community [overall] has with regard to pressure washing is surprising. Through my research and travels, I feel that we are not caught up as much as the rest of the country.
     Tornabene: The rich history and the number of famous people who came from here. [Theodore Roosevelt, Thomas Jefferson, George Washington, Jacqueline Kennedy Onassis, and Norman Rockwell, to name a few.]
     Benham: Upstate NY is not a two-hour drive from NYC. It is six hours away, and it is a whole different world. People are amazed at the rolling hills, the trees, the water, and the ease of getting around using the state thruway system.