Cleaning Coast to Coast: Minnesota
Land of 10,000 Lakes… and Endless Pressure Washing Opportunities
By Terri Perrin / Published June 2022

Editor's Note: This is the fourth in a series of state profiles highlighting the opportunities, advantages, and challenges of the pressure washing industry across the USA. To read about opportunities in a specific state as the series is updated or to read past state profiles, please visit www.cleanertimes.com/cleaning-coast-to-coast.
     The name Minnesota (MN) is believed to have come from the Dakota First Nation's language. It is said that the Dakota people demonstrated the name to early settlers by dropping milk into water, to show "cloudy water," and called it mní sóta.
     Located in the midwestern U.S., a significant portion of the state borders Lake Superior, the largest of the Great Lakes. The rest of this almost 80,000-square-mile state borders Wisconsin, Iowa, North Dakota, South Dakota, and the Canadian provinces of Manitoba and Ontario. This location has good transportation networks, making it ideal to support a thriving pressure washing manufacturing and distribution industry. In fact, many of this industry's most well-respected brand names are manufactured or distributed from here, including American Pressure Inc., Cat Pumps, Comet Pumps, General Pump, Hydra-Flex, Nilfisk, Northern Tool, and Udor, to name a few.
Minnesota By The Numbers
     Minnesota's economy has diversified significantly over the years, shifting from traditional forestry and agricultural industries to services, finance, and health care. The standard of living and level of education in Minnesota are among the highest in the U.S., and it rates high in terms of employment, median income, safety, and governance. It is the 14th largest state by geographical area and the 22nd most populated, with 5.75 million residents. About half of Minnesotans live in the Twin Cities area, which includes Minneapolis and St. Paul. The state's geography consists of western prairies, now given over to intensive agriculture; deciduous forests in the southeast, now partially cleared, farmed, and settled; and the less populated North Woods, used for mining, forestry, and recreation. Roughly a third of the state is covered in forests, and it is known as the "Land of 10,000 Lakes"… and 100 million mosquitoes!
Whatever The Weather
     Mike Blechta, co-owner of Minne-apolis-St. Paul-based Blechta Exterior Cleaning Services, explains that many local power washers are not able to work year-round due to extreme winter weather. Service providers need a climate-controlled building to store equipment in the winter, or it can easily freeze and be irreparably damaged.
     "I don't have a storage facility, so I have to winterize my equipment all the time … and I have small heart attacks from worrying about this on a regular basis," Blechta says with a laugh. "That said, Minnesotans do embrace winter, and we love our outdoor winter sports and recreation. The cold can get you down, with temperatures sometimes in the range -20ºF, but we take it in stride."
     "The constantly fluctuating temperatures are a concern," agrees Nick Guentzel, co-owner of Midwest Soft-wash. "By autumn you have to constantly watch the weather. Having a heated shop helps, but it is not a guarantee of protection. When traveling 65 mph down the highway, your lines will freeze in a few minutes, so we often have to winterize equipment between jobs. You need to be knowledgeable enough to know when it makes sense to shut down for the season."
     Mary Herding and Adam Leyen-decker, customer support and inside sales representatives at Valley Industries/Comet Pumps USA, explain, "People turn to indoor pressure washing or car washes to help prevent rust and salt build-up on vehicles. Some industries in the region have invested in their own heated shops to wash their vehicles."
     Ben Hagemann, CEO of American Pressure Inc., believes that winter weather can provide good opportunities for local power washing service providers and car washes. "There are also huge opportunities for fleet washing, but the real opportunity is internal wash bays," he says.
     Hagemann adds that paying attention to the weather also holds true for southern-based manufacturers shipping products to northern states. "When shipping north in the winter, you need to take the water out of equipment as liquids will freeze, and the ice will expand and damage it," warns Hagemann.
     "You have to be creative to make up for the lack of power-washing opportunities from December through mid-March," adds Blechta. "Some companies shut down completely in the winter while others keep workers employed by offering snow or ice dam removal and holiday light installation and take down. Contrary to what happens in other regions, the middle of summer is also a slow season for us. As soon as the 4th of July hits, everyone in the state gets into vacation mode and heads to lake country. I've learned to appreciate the breaks. During any downtime, we review how we did things the previous season, and we network with local business owners. Our biggest months are now October and November for fall cleaning. And we have added holiday light installation as well. It's interesting to note that lots of people here keep their holiday lights on for most of the winter. Maybe because it is so dark and cold, and this cheers them up. Everyone's mood shifts when the snow melts, and our phones ring off the hook!"
     But Minnesota is not all about snow and freezing temperatures. Summers there are spectacular. In 2021, however, North America experienced a severe drought and Minnesota was also affected.
     "There was talk about the possibility of introducing water usage regulations and the state following California's lead on emissions controls," recalls Blechta. "It was disconcerting for us to try to figure out how this would affect our industry. So far, we don't have strict environmental regulations, but we are still aware of the potential environmental impacts of this business. If drought conditions continue going forward, we [as an industry] will need to figure out how this will impact us and what to do about it. Utilizing safe chemicals and battery-powered pumps can help us cut down on emissions, but high water flow and high horsepower engines are essential in providing a thorough, quick, and efficient cleaning process."
Business Opportunities and Challenges
     "As far as business opportunities in the state go, at Comet Pumps we feel that the sky's the limit!" says Herding. "Pressure washing saves so much energy, water resources, and labor costs. We know of folks who pump maple syrup, honey, and other unusual applications of pressure washing equipment. We are diverse with the range of things that require pressure cleaning, such as iron mining and other service sectors that drive business in Minnesota. That said, we, like other industries, are feeling the pressure now when it comes to supply and demand [due to the pandemic and other global issues]. Every industry is feeling the strain of shipping delays and getting new product and replacement parts shipped in from all over the world."
     "Farm implement companies and repair shops also use power washers to take the grime and grease off farm equipment so they can properly identify and repair issues for the upcoming growing season," adds Herding "Larger farms use pressure washers to keep their barn alleys and equipment areas clean."
     Brothers Nick and Michael Guentzel, co-owners of Midwest Softwash, say that the state's 10,000 lakes are a boon for pressure washing service providers.
     "All these lakes mean there are plenty of lake home cleaning opportunities, as well as washing boats, to avoid the spread of invasive species as they move from lake to lake," states Nick Guentzel. "Working in lake communities you have to follow Department of Natural Resources (DNR) regulations. You can't let wastewater runoff into the water. You also can not pressure wash a vehicle on your driveway or road; you need to be on the lawn, so the wastewater doesn't go into the storm sewer drains. We sometimes do wastewater reclamation, but we can usually redirect it to the landscaping. That said, our water use is minimal considering that we generally soft wash because it is more effective and kills all organic growth, such as mold and mildew."
     "Our use of soft wash is a definite selling point," adds Michael Guentzel. "We explain to our customers that the constant freeze/thaw cycles we experience are not good for any surfaces with organic growth, and pressure washing alone does not necessarily clean; it just displaces the dirt. Surfaces like roof shingles and stonework retain water, then expand and contract when frozen, causing damage."
Why Minnesota?
     Cat Pumps' Tony Domiano, marketing and communications coordinator, and Derek Majewski, marketing and business development specialist, spoke to us from their company's Minneapolis-based global headquarters.
     "Minneapolis is where Cat Pumps' founder was born and raised, so that's why we are here," says Domiano. "The geographic location is in the hub of pump manufacturers in the USA, so we can easily make deliveries across North America and access international airports for overseas orders. Location, combined with a Midwest mindset of being hardworking and customer-focused, has enabled Cat Pumps to become very diversified."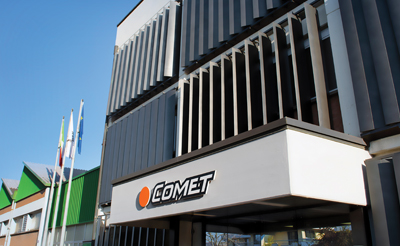 "American Pressure was founded here in 1976," says Hagemann. "Because of our long-standing history in the state, we are tied to many local businesses and have built a tremendous network. Minnesota is unique in that we have most of the pump companies in our industry represented here, giving us easy access to their full inventories. This gives us great flexibility in securing parts. It's a huge advantage."
     "From a personal point of view, Minnesota has four distinct seasons, so there are plenty of opportunities for outdoor recreation," adds Majewski. "Summers are very pleasant and access to state parks and water sports is great."
     "I grew up here and have no desire to live in any other state…despite the hard winter conditions," mentions Blechta. "Minnesota people embrace the winter as part of living here. I like the idea that we work really hard for a few months, then enjoy our summers. And you don't have to drive far to find a cabin or a place to hike or fish. You can have the hustle of a successful business, but you can break away to escape and not have to go too far. In general, it is a great place to live, with a manageable cost of living."
     "The saying 'Minnesota Nice' is a real thing, and it truly shines in our work environment," conclude Herding and Leyendecker. "Our main warehouse and production facility is in a rural small town, where life tends to be slower paced, resulting in a great sense of relaxation. We are a tight-knit community, always looking out for one another—kind of like a very large family!"