Clean It, Dry It, or Discard It
Cleaning Up After Floods
By April Hirsch / Published April 2017

Flood cleanup begins before the flood water recedes completely. It begins as soon as it is safe enough for pumps to be set up to empty water from basements or higher levels of structures.
Opportunities for power washing contractors to participate in flood cleanup are many. Yet because there is urgency required in at least the early part of the response, a contractor's schedule and location may limit involvement. (As for location, perhaps a contractor has himself been affected by the flood.)
"When Hurricane Sandy hit Long Island back in October 2012, we had mass devastation on the south shore of Long Island," says John Tornabene, owner of Clean County Powerwashing in Kings Park, NY. "I have a vacuum setup, but we were out of state, having just started on a 2,000,000-square-foot parking garage which needed to be power washed. We came back home four days into the job—with all my equipment still in Connecticut—to be with my family."
The flooding caused by Sandy was just one of many problems. "The end result was terrible here," says Tornabene. "My block was spared because we live on the north shore of Long Island, but numerous trees came down and in an elementary school in my town, the roof collapsed. Power was out for two weeks for most here, but the north shore was pretty much spared. The south shore went under water in some towns, causing mass devastation."
When the power was restored, Tornabene and his team had to return to the jobsite they had left and then continue with other projects already in the queue. His company was so booked with jobs that he could not add flood-related efforts, but colleagues in the industry were able to participate in flood cleanup.
When the Federal Emergency Management Agency (FEMA) initiates its disaster response, it seeks to employ local individuals who are survivors of the disaster. FEMA makes temporary local hires for terms of 120 days. Owner-operator power washing contractors affected by a flood (or other natural disaster) should always consider applying to assist with disaster recovery. Jobs are advertised at the USAJobs.gov website, and FEMA also uses local media to get the word out that it is hiring.
FEMA is part of the Department of Homeland Security (DHS), but it is not the only federal entity interested in facilitating recovery from floods. The EPA [Environmental Protection Agency] also enters the picture with the goal of ensuring that damage beyond that wrought by nature does not occur during cleanup.
Flooding
Some welcome candor at the FEMA.gov website reminds us that irrespective of where we live, we live in an area that may experience a flood. Many of us grew up hearing about 100-year flood zones and 1,000-year flood zones. The U.S. Geological Survey (USGS) offers an excellent poster (pubs.usgs.gov/gip/106) that explains how the flood-zone designations were developed
and why they do not always work.
It's all about probability (chance). Flood or no-flood is the heads or tails in a coin toss. Yes, in any coin toss, there's a 50 percent chance of turning up heads, but that does not mean tails should be expected on the next toss…or the next.
Here's an interesting fact from Floodsmart.gov: "In the past five years through 2016, all 50 states have experienced floods or flash floods."
Establishing communities on floodplains and shorelines has a great deal to do with the amount of damage that results each year because of flooding. With growing populations around the world, though, it's difficult to cede land, even low-lying land, to nature. In some communities, designated floodways—with building restricted—are gaining supporters.
Preparing
Power washing companies that receive FEMA or private contracts to complete flood recovery work and sole owner-operators that become temporary employees of FEMA will be given instruction in cleanup protocols. Companies and sole operators working directly with customers can become familiar with expectations by using documents FEMA produces. The Occupational Safety and
Health Administration (OSHA.gov) also provides information sheets for responding to certain situations (e.g., Hurricane Sandy).
An assumption that because a disaster has occurred particular regulations will be suspended is a very bad assumption. State and federal rules pertaining to abatement, remediation of asbestos, and lead paint will still apply. (It's conceivable that in extreme situations there will be latitude, but get it in writing.)
At the same time, contractors entering a building that has visible mold growth must wear protection. Personal protective equipment (PPE) in such a situation includes disposable outerwear, gloves, respiratory protection (sometimes a full-face respirator), and goggles. Wading into floodwater, even a small amount, puts an individual in contact with bacteria (often from sewage and fecal matter) and pesticides. Chance of injury—a puncture wound or cut—when working in a damaged structure increases. Tetanus immunization should be kept current, but if it is not, get up to date before taking on this kind of work.
Finally, the supposition that there is no danger from electrical service cannot be made just because the grid is dark. Have the electrical service confirmed as being turned off before entering a structure.
Working
There are three parts of flood cleanup where a power washing contractor might be involved. The first is the immediate aftermath where there is a need for contractors with the ability to pump out water. The second is the actual cleaning of structures; it's a phase that includes sanitizing framing, floors, and walls—exposed surfaces—with foam or chemicals. The third is the final touches phase, or cleaning mud and debris off sidewalks and driveways and cleaning tools (e.g., from manual shovels to front-end loaders) that were used in the first two parts of the cleanup.
Through all phases of work, contractors doing flood cleanup, including restorative efforts that follow on, must be able to cope with many questions and distressed building owners. Sites that are not restricted from residents are likely to be populated by those who would like more information—some clue as to when they might again be able to inhabit a familiar place. Local officials are also likely to respond to constituents by doing some monitoring of their own. Compassion for homeowners—irrespective of how many questions they ask—and courtesy toward elected representatives are absolute requisites for doing flood cleanup projects.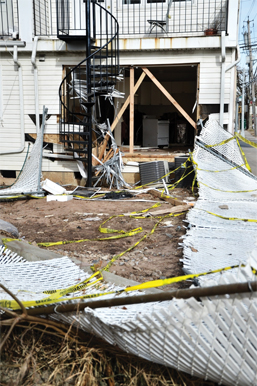 When using a pressure washer to clean structures, wastewater will have to be collected. Protocols from FEMA will direct contractors to use the least amount of water possible and to vacuum and filter waste.
Expect to get (and take) direction on the type of chemical to be used in cleaning. EPA wants the chemical with the minimum dwell time and the minimum negatives to be used. Bleach gets mixed reviews by the EPA because there's concern it is not completely effective as a disinfectant when there is dirt present. In addition, there's concern about the corrosion of metal parts in mechanical systems exposed to bleach. The concern about the interference of bleach with termite treatment seems a bit out-of-context in a disaster situation, but it's there too.
Collaborating with authorities is the best way to approach a flood cleanup project. A contractor who disagrees with recommendations should offer an alternative method and the rationale to back it up. The EPA is always open to best practices.
Floods occur at all times of the year. To use chemicals effectively in winter, some buildings will have to be warmed. In summer, interior spaces, no matter how stripped down, may need to be air dried and dehumidified prior to cleaning.
Contractors should not complicate their tasks. To clean crawl spaces in a manner that decontaminates them, the best approach is to remove flooring.
Taking on flood cleanup work can be rewarding because home and building owners will appreciate every step that puts them closer to reoccupying their structure. It also offers good remuneration, and it challenges the contractor to use many complementary techniques—as in removing flooring in order to get at joists and foundation walls.
Tools of a basic sort that the contractor rarely uses will come into service. Often mud and what's mixed with mud will have to be removed with a shovel before a pressure washer can even be used. To reach all areas of framing with chemicals, some chemicals may have to be applied with brushes. And to expedite the elimination of excess moisture after washing, squeegees may be as important as vacuums.
The trio of tips FEMA gives to homeowners is to clean it, dry it, or discard it. The same threesome applies to contractors doing cleanup. In the course of cleaning, a contractor will likely encounter dry wall or framing or even a slab that is damaged—whatever it is, it must be extracted and discarded. Know where to discard spent structural material and be sure to alert the correct authorities if structural damage beyond repair is discovered in the course of cleaning.
From 2006 to 2015, flood insurance claims averaged $1.9 billion per year, according to Floodsmart.gov. Since many flood victims are uninsured, the figure gives only a rough indication of the damage that water can do.