Challenging and Unique Jobs
By Diane M. Calabrese / Published November 2018

Getting the job done. Getting the job done right, on time, with, consistently excellent results. Therein are the essentials of the day for professional contractors.
Yes, there are challenges and some projects are one-of-a-kind undertakings. For the most part, however, it's all about getting to the best outcome in the most efficient way.
In 2015, Jim Pasternak, owner of NorthEast PowerWashing in Marlborough, CT, told us about a unique job cleaning a transformer at www.cleanertimes.com/magazine/cleaner-times-articles-2/cleaning-transformers).
Pasternak explains most jobs are not unique, but challenges arise in almost every project. "We did a 360-unit condominium complex in Fishkill, NY, which is two hours away," says Pasternak, giving us one recent example.
The condominium project required having members of the team up on lifts and rigging, and a need for sodium hydroxide that could not be obtained quickly from a local vendor which necessitated a team member to transport the caustic soda from Fishkill. "But we got the job done in seven days," says Pasternak.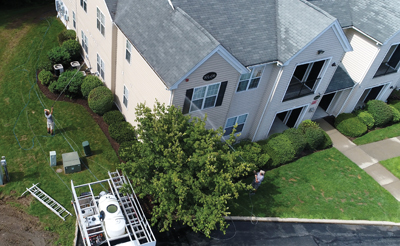 Some projects can be a challenge just because of their size. Stadiums, which are the focus of a "selling to" article in this issue, fall into that category.
In "How to Bid Pressure Cleaning a Stadium" at the Mi-T-M Corporation's website at www.mitm.com/blog/how-to-bid-pressure-cleaning-stadium, contractors are reminded that getting it wrong can make it very easy to lose money. With its tiered structure and added features, such as railings and spaces under and between seats, a stadium bid requires as much logistical thinking as the actual job.
Composing the bid for a stadium, or any large project, should be a mental dry run of the project. Part of the challenge is gaining a full understanding of how an owner wants the project to be approached. The owner, in fact, may provide the prioritization.
Working high up is another challenge. Anyone using a scaffold or lift must be trained for doing so, and that brings us to another reminder.
Safety. It's the first concern of every contractor. Any pressure washer and its ancillaries should only be used in accordance with its manufacturer's instructions and intentions for use. It should not be altered. Any operator of a pressure washer should follow all protocols established by the Occupational Safety and Health Administration (OSHA).
In July 2015, an article by Roy G. Chappell, CEO of Chappell Supply and Equipment, appeared in these pages. A part of the Power Washer's Guidebook series, it focused on safety and can be accessed at www.cleanertimes.com/magazine/cleaner-times-articles-2/pressure-washers-guidebook-safety-an-integral-part-of-the-work-process. Training, common sense, and good planning are musts for maintaining safety on the job.
The size of the job and safety are two big challenges for contractors. Staging is a third challenge. Space required for equipment, barricades necessary to protect passersby, and hours when work can be done just start the list of staging challenges.
Every job is challenging in its own way. It may also be unique.
Unique Versus Unusual
A job may be unusual without being unique, and many "unusual" uses of pressure washers are reported by end users of pressure washers. Anything is possible, but it's only appropriate if the equipment and the operator are matches for the task.
AgCareers.com, a website that outlines responsibilities and opportunities for jobs in the agriculture and food industry, has an excellent profile of the responsibilities of a pressure washer operator at www.agcareers.com/career-profiles/pressure-washer-operator.cfm. The first responsibility is the safe and effective operation of equipment. That includes keeping equipment in good repair.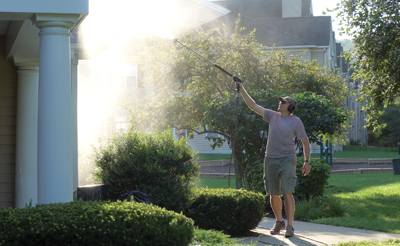 Whichever task an operator undertakes with a pressure washer, it should be done with responsibility foremost in mind. Here, we assume that all reports of unusual uses of pressure washers fit that criterion.
Big Blue is the name given to the skeleton of a female blue whale that washed ashore on Prince Edward Island in 1997. Residents buried it. Twenty years later, the Beaty Bio-diversity Museum at the University of British Columbia in Vancouver, BC, decided to undertake an excavation of the carcass and assemble the bones as a museum exhibit. A pressure washer was used to remove some of the decaying flesh from the bones.
Using a pressure washer to remove organic material from bones is not that uncommon, according to web-thread discussions by deer hunters. Many hunters have tried pressure washers to clean the skulls of deer destined to be trophies. Discussions point to a divide between the hunters who recommend just staying natural with dermestid beetles and microbes and those who want a perhaps speedier method, such as water under pressure.
Low pressure has been used to wash farm, zoo, and circus animals. For the most part, pressure washers are not used, but a simple pressure-making adapter for a regular hose is used.
The blue whale is the largest animal that has ever lived on Earth. Its bones, though, are subject to the deterioration and resulting fragility of all bones, so there are limitations to using water under pressure as an aid to cleaning. Wood is a different matter.
Using a pressure washer to debark and also clean logs destined for a small, portable saw mill or a firewood processor has proponents. The approach not only removes bark and the underlying insects, but it also cleans the log.
Debarking with a pressure washer is not the choice of large-scale operations, which rely on mechanical debarkers. Small operations use the method because it is faster than using small debarking tools.
On the whole-log side of the industry, pressure washers are tapped by builders of log homes to wash new logs before they are coated. The log-home sector has advocates for a variety of cleaning, staining, and rehabilitation techniques, but pressure washers are sometimes in the tool mix.
WET-INC.com, the website of Washing Equipment of Texas, published a short piece on January 28, 2016, about some of the less obvious uses of pressure washers its clients had reported. Among the activities listed are drilling (instead of using an auger), cutting, and stress testing (new or existing roof).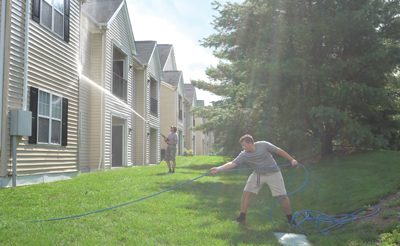 Removal of freshwater and marine life, particularly crustaceans and algae, from the hulls of boats is another task for which pressure washers may be called into service. The biological material being re-moved is more likely to be unusual than the process.
The U.S. Department of the Interior and state-level natural resources departments across the country increasingly put a premium on cleaning off-road vehicles on-site, so they do not contaminate the next site to which they move. It's all about thwarting the travel of invasive species, and pressure washers are among the tools recommended.
A scourge to some eyes and art to others, graffiti is no longer being made with paint and markers alone. Will the pressure washer be tapped? Possibly, given pressure washers are being used to create 'etched' patterns on flat surfaces to give patios and walkways a distinctive look.
Silent Partners
Contractors, distributors, and manufacturers who supply service, systems, and solutions to clients are often precluded from talking about what they did and how they did it. Unique jobs done for the government at any level, the military, or corporate clients often come with non-disclosure agreements. The silence is requested as much or more for security reasons as it is for concerns about competitors.
Many of our readers are silent partners involved in complex and challenging—and at their core, certainly unique—projects. The particulars of what their companies did cannot be discussed, but the general scope of the clients served can be named.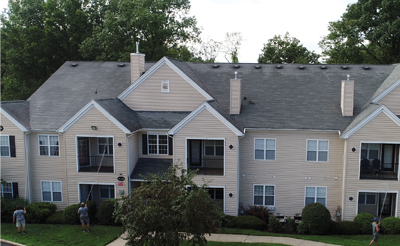 For example, at its website at www.camspray.com/industries/military-govt-municipal, Cam Spray provides a list of the many government entities that have used its pressure washers. The power washers and drain jetting equipment from the company based in Iowa Falls, IA, have gone to facilities worldwide.
Government entities also initiate and complete their own solutions to cleaning projects. (They do so with silent industry partners.) In an article dated September 7, 2012, Summer Berkley, the 401st AFSB public affairs officer, described wash racks that recycle thousands of gallons of water at the Kandahar Airfield in Afghanistan at www.army.mil/article/86884/Wash_racks_recycle_thousands_of_gallons_of_water.
The U.S. Army Corps of Engineers (USACE) completed the recycling rack project. Eighty to eighty-five percent of the water being used to clean vehicles is recycled. An oil/sludge water separator and filters are part of the system, which is described quite thoroughly in the article.
Using a pressure washer to remove paint is a challenging endeavor under any circumstance because of non-contamination and waste collection requirements. In 2013, the USACE used pressure washers to remove paint, rust, and marine growth from an 8900-ft. bulkhead along the Point Pleasant Canal.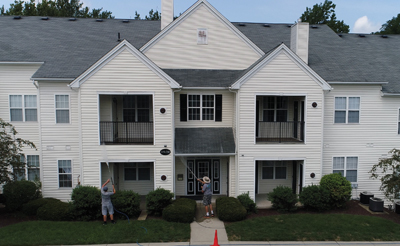 Riveer in Haven, MI, has built wash racks for the military for more than 10 years. It now complements the racks with an off-grid power supply (NOMAD™) that uses solar, wind, and standby generator power. This information can be viewed at riveermilitary.com/about.
What precipitates the unique use of a pressure washer? A need coupled with ingenuity. Whether it is for work or play, people continue to find that a pressure washer can be the best tool for a task, even if "we've never done it that way before."
Pressure washers and ancillaries are deployed in so many clever ways that an interesting game for anyone vacationing with children is to record the distance between sightings. Also, expect to see portable systems being used in restrooms at recreational sites in national forests and parks.