CETA's Annual Convention in Chicago
By Michael Hamline / Published December 2016

For those of you who couldn't attend the October 24–28 Cleaning Equipment Trade Association (CETA) Annual Convention in conjunction with ISSA/Interclean Noth America, you missed a great time of networking, learning, touring, business, and fun in the Windy City (Chicago). McCormick Place, the largest convention center in North America with a great view of Lake Michigan out its windows, played host to both CETA's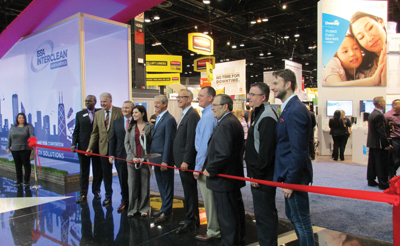 educational courses on Tuesday, October 25 and to the three-day trade show on Wednesday through Friday, October 26–28. The Wyndham Riverfront Grand hotel was the fantastic venue for CETA's business meeting and opening reception, which afforded a spectacular view of the downtown Chicago skyline from the penthouse on the 39th floor [For you fans of Christopher Nolan's Batman trilogy, this penthouse was Bruce Wayne's, aka Batman, new living quarters in The Dark Knight Rises after his mansion was burned to the ground]. Overall, it was a great show, and 2017 in Las Vegas is something to look forward to.
Day Of Education
Though there were many important things said throughout the day of education, below is a list of speakers, courses offered, and a few takeaways from each course. This is by no means an exhaustive list of what was shared.
Beth Borrego, See Dirt Run!, Germantown, MD
Topic: What's in Your Employee Manual?
Takeaways:
• Time keeping—Follow labor laws and recording of breaks. Record time honestly and be aware of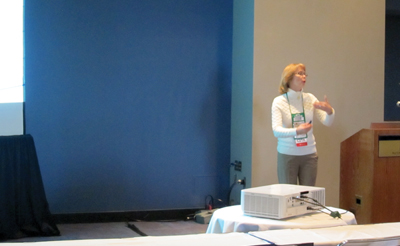 penalties for not doing this. Determine in your manual how many chances you give or time allotted so they can call in.
• Drug-free workplace—Important to have it due to liability issues and workers' comp. claims. Drug test at hire, then random testing especially if spotting suspicious behavior.
• No Smoking Policy—Chemicals being worked around are flammable. Spell out where and when people can smoke.
• Moonlighting—What are you going to allow, how close to scope of business can it be, and when does it become a problem?
• Internet, e-mail, and telephones—How are these tools going to be used and when can they be used or not used?
Jim O'Connell, Hotsy Pacific, Modesto, CA

Topic: Building a Stronger Business
Takeaways:
• Communication—Determine your purpose and goals. Get these across to your employees and what you do, how you do it, and why.
• Profitability—Employees shouldn't cost money but make you money. Productivity of your people is one of two key levers to profitability—the other is gross margin.
• Core values—Must have them and align your company around them. Own mistakes and fix them.
• Engagement—Must have our employees engaged whether we are there or not. Do your employees know your goals and core values?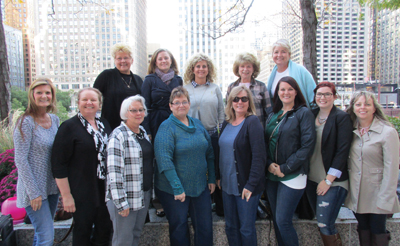 Bill Ott & Marlo Dean, Kärcher North America, Denver, CO
Topic: CETA Technical Update and Industry Trends
Takeaways:
UL 1776 Safety Standard
• Glasses no longer offer enough protection, so workers must have goggles. Take sales literature and use goggles in photos or opening yourself up to liability. Marketing must follow safety standards.
• Must label a product for indoor or outdoor use. Can't just interchange these as they have to be designed and tested.
CETA Performance Standard
• Manufacturer must have equipment tested by testing agencies like UL. Doesn't allow for falsifying of information. Good standard by which to test your products.

U.S. Cellular Field Tour
On the afternoon of October 25, a tour of U.S. Cellular Field (as of November 1, the name of the field has been changed to Guaranteed Rate Field), home of Major League Baseball's Chicago White Sox, was arranged. Jerry Powe, part of the Parks Operations staff, gave the CETA group a great tour that took us onto the field, into the stands, around the concourse, and into the bowels of the stadium. He talked to us about the frequency of pressure washing at the stadium, the different areas that are pressure washed, and how the pressure washing is accomplished throughout the park in terms of connections and equipment used. It was an incredibly fascinating and interesting tour.
CETA Business Meeting and Opening Reception
At 6:30 p.m. on October 25, the CETA Annual Business Meeting took place at the Penthouse at the Wyndham Riverfront Grand hotel. A positive report was provided on the CETA financials. In addition, it was reported in the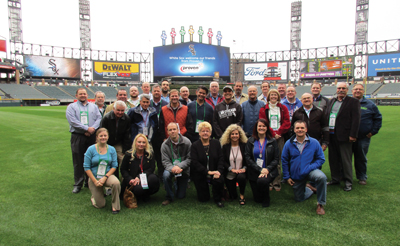 2016 Business Report that CETA will start implementing the CETA Performance Standard, which will help give CETA recognition and guidelines for the industry, which in turn helps business owners gain strength in your business. In addition to this report, the 2016 Lifetime Achievement Award Winner and Community Service Award Winners were announced. This was followed up by the Opening Reception with great conversation and delicious food.
2016 Lifetime Achievement Award Winner—Charles Tibboles
CETA established the Lifetime Achievement Award in 1995 to recognize those who have achieved excellence in the pressure cleaning industry and to honor those who have made significant contributions. Nominees must have made a significant contribution to the industry and will continue to distinguish their work in the improvement of our industry. Below are a few facts about Charles Tibboles and what led to the award.

• Resides in Bellevue, OH
• Part of CETA for 26 years (the entire life of the organization)
• Joined his current employer, R.W. Beckett Corp., in 1977
• In 1979, R.W. Beckett expanded its offering to include pressure washing equipment that relies on oil burners as a power source
• Married for 45 years to his wife, Sheryl. Has two children and six grandchildren.
2016 Community Service Award Recipient—CTA Cleaning Systems Inc.
The CETA Community Service Award recognized a company, its employees, or its owners who have improved their community through volunteer efforts. This can be on a local, region, or national level.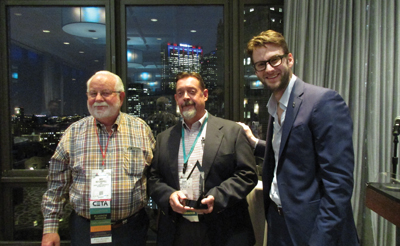 In 2004, Rodney Adkins and the Adkins family established the Mamie Adkins Education Fund. Mamie Adkins was an active member of the Tabernacle Baptist Church for more than 40 years. The Fund provides financial assistance to eligible church members of Tabernacle Baptist seeking to pursue higher educations. The Fund has now awarded more than $37,000 in scholarships and continues to annually fund recipients that meet the criteria.
Wrigley Field
Congratulations to the Chicago Cubs on winning the World Series in seven games! While in Chicago, Richard Johns and I took the "L" train to Wrigleyville on Wednesday night, October 26. The Cubs were playing Game 2 in Cleveland that night, but we took photos outside of the stadium. Afterwards we went to a sports bar right by Wrigley and ate a burger and fries while watching Game 2 and cheering the Cubs on to a win with several of their fans.