CETA's 2018 Lifetime Achievement Award Winner: Dr. Marlo Dean
A Lifetime of Contributions through
Diligence, Innovation, Relationships, and Perseverance 
By Kathy Danforth / Published February 2019

Editor's Note: There were two 2018 Lifetime Achievement Award Winners at Power-Clean. The second winner, Roger Walz, will be profiled in the March issue of Cleaner Times.
The pressure washing industry has attracted a variety of talents in its growth as an industry, including Dr. Marlo Dean, winner of CETA's 2018 Lifetime Achievement Award. Dean states, "In my 41 years in pressure washing, I've probably been involved with almost every department except accounting; every area was an opportunity to learn and take on the challenges to improve the company."
Dean grew up in Midvale, UT, and went into service in the U.S. Army as a combat engineer after graduating from high school. After leaving the Army, he attended Utah State University, majoring in biology and minoring in chemistry and microbiology. "I had a full ride athletic scholarship for football and track," shares Dean. "When I graduated, I moved to Portland, OR, to go to medical school."
At this point, pressure washing entered the picture. "While in school, I worked part time on the weekend for Larry Linton, who owned Landa (Linton and Associates)," relates Dean. "At that time, it was a rental yard, so those machines needed repair. There was a pile of pumps and burners, so I would tinker because it was interesting to get into the mechanical aspects."
After graduation, Dean joined a general practice. "I was considering launching out on my own, but when you start a practice, it's expensive. There is $100,000 in x-ray equipment, liability insurance at $50,000 per year, plus school loan expenses—you're so far in debt, you can't see how to get out of it.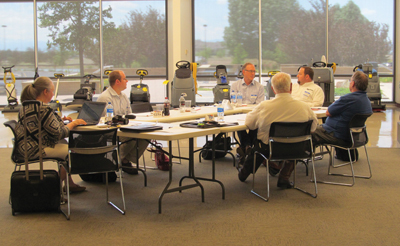 "At that juncture," Dean recalls, "Linton asked, 'How would you like to be a partner with stock options?' It sounded good to me, so I took the offer as vice president for Landa."
The company proceeded to evolve. Dean explains, "In 1999, Landa was sold to the Harbor Group out of St. Louis, MO. Harbor also bought other companies: Hotsy, SprayMart, Rhino, Tuff, and Cuda. Since we had all these different brands, we formed C-Tech industries a few years later to manage the brands. Five years after that, Harbor group sold us to Alfred Kärcher GmbH out of Germany. I've stayed through all those company transitions."
"While at Landa, I was over material requirements planning," Dean relates. "I oversaw service training, quality control, customer service, purchasing, and technical support. Before Landa sold, I implemented ISO 9001, so Landa became registered as an ISO (International Standards Organization) company."
Handling ISO 9001 registration was a challenge, but fortunately, Dean appreciates that. "I enjoy new challenges; I look at them as opportunities. With ISO 9001, I knew nothing about it. I attended classes at night to find out what it was and how to meet the requirements. It took over a year to write the procedures and obtain registration, but I enjoyed it because it was learning."
During his time at Landa, the company received the Oregon Quality Award twice. "We submitted our accomplishments, and they looked at the Quality Management System and associated procedures for quality compared to other companies," according to Dean.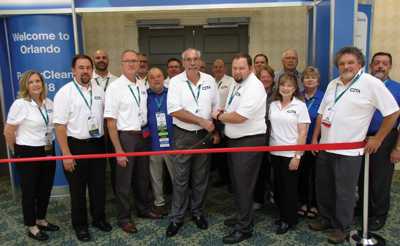 Dean's next responsibilities were over the warranty and quality control departments. After being purchased by Kärcher, Dean has been over safety certification and any litigation issues. "Currently I make sure products are certified to safety standards, and I handle regulations, such as OSHA, EPA, Proposition 65, and California Resource Board regulations," says Dean.
Dean sees his work with the development of safety standards to have had the biggest impact on the industry as a whole. "I was on the committee to develop pressure washer safety standards, and when those were completed in 1992, my job was to get our products listed. We had to redesign and change equipment to comply with UL 1776, which was a good process. We made sure wands were a certain length, hoses had protective guards, equipment passed a rain test so no one could be electrocuted, and other safety criteria were met. Then we went to the Canadian Standards Association (CSA) for equipment to be tested and listed as complying with CSA-B140.11 and UL 1776 pressure washer safety standards.
The step up in safety turned out to be a step up in sales and in industry safety. "We created a sales brochure because we were the first company to have our entire line of equipment certified," recalls Dean. "That year Landa really grew by a tremendous leap because many customers are interested in having the safest products available. This was key to improving products because the competition had to have products certified to compete."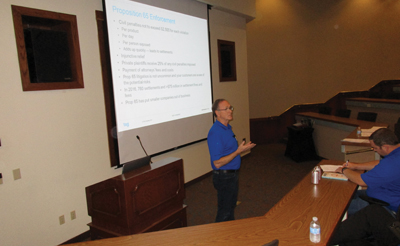 Dean has also contributed to the entire industry through involvement with CETA. "Being on the CETA board for more than twelve years working and networking with the competition has been important to my career and also to resolve industry issues," notes Dean. "For example, California was trying to put pressure washers under a boiler classification, which would have meant obtaining a $3,000 permit to operate a pressure washer. Also, pressure washers would have needed to meet emissions requirements that are not economically feasible. It is affordable to put a scrubber and other emissions control on a major boiler, but not on a $3,000 piece of equipment, so it would have driven pressure washers out of the state.
"When I first went to the state representing just Landa, they didn't want to waste their time with just one company. That's when I really got involved with CETA and was put over the technical committee. When I went down a year later and explained that I represented all of the pressure washers in North America, with many of those being companies in California that would be shut down and leaving the state, their attitude changed. We established a new category under rule 219 creating an exemption for pressure washers from the rule 1147 boiler regulations. That benefited all of us."
Outside of work, Dean is involved with family, church, politics, and service activities. "I've been happily married for 45 years and have two sons and two daughters, all married with children," he relates. "I got involved in politics and was elected to the Damascus, OR, city council for four years…but I don't know about getting involved in politics again, as that can get nasty. I am heavily involved in church and organizing charity groups; we have recently worked cleaning schools and conducting a food drive that collected more than 11,000 pounds of food." Dean is on the board and is also a choir member of the Portland Ensign Choir and Orchestra, which performs charity concerts and sings at Trail Blazers games.
Kärcher will be relocating to Aurora, CO, this year, a move that Dean does not plan on making, but Debbie Murray with CETA comments, "Yes, Marlo won the CETA Lifetime Achievement Award, but somehow I know he is not finished 'achieving.'"  She recalls, "Marlo has served on the CETA Board of Directors and/or technical committee in some capacity since 1998. When a technical question is asked, the first person you think of is Marlo. His intelligence mixed with his sense of humor makes him a unique and special person."
The pressure washing industry reflects a great blend of men and machines, and we congratulate Dr. Marlo Dean on his lifetime of contributions through diligence, innovation relationships, and perseverance.