CETA Edge
Why Serve?
By Diane M. Calabrese / Published May 2023

Time is precious and limited. There are so many good ways to fill one's hours that the idea of stepping forward to serve a professional organization might be overlooked. So do pause and consider taking on a leadership role.
     Current board members and trustees of the Cleaning Equipment Trade Association (CETA) heartily encourage others to follow their paths. They tell us some of the reasons they stepped up to serve.
     "Our industry organization is constantly working to promote, protect, and preserve, which improves our cleaning industry and benefits members as well as non-members," says Scott Hansen, president of Alkota Cleaning Systems Inc. in Alcester, SD. He adds that being involved at the leadership level confirmed to him how important CETA is to the industry.
     As Hansen notes, the entire industry benefits from the activities that grow from the mission of the association. "Working together as a team makes us stronger."
     Because board members come from different geographic regions and fill varied positions at their own companies, they bring many perspectives and many kinds of expertise to their leadership roles. Nothing does more to "promote, protect, and preserve"—the words of Hansen—than teamwork.
     Promote because of the many day-to-day contacts and conversations with industry members and industry affiliates. Protect because of the way the association's leaders monitor and respond to both industry changes and regulations. Preserve because due diligence ensures CETA persists and grows stronger each year.
     Two of Hansen's colleagues at Alkota also currently serve in leadership of the association. The colleagues are Russ Hess, a regional manager at the company, and Gary Scott, former president of Alkota. 
     Hess is a trustee of the education foundation. It's a vantage he relishes because of the connection to both learning and the future. "You will enjoy the satisfaction in knowing you play a role in furthering the education of CETA members and their employees," says Hess. "Additionally, and equally as compelling, is working with your peers within the industry toward a common goal."
     Scott cites all that the industry has meant to him in terms of a vocation that has enabled him to raise a family and move toward retirement. "The industry owes me nothing, but I owe the industry a great deal," he explains. 
     Service allows Scott to "give back" to the industry while getting to know and "enjoy the points of view" of all members of the industry. "Is it work?" says Scott. "Yes, it is very enjoyable work."
     The motivation to serve springs from many directions. "I wanted to serve on the board to be more involved in the industry while interacting and learning from experienced individuals," says Troy McCall, national sales director at American Honda Motor Company Inc. in Alpharetta, GA.
     McCall's expectations for a positive engagement have been met. "I've found it extremely rewarding to be involved with CETA and to serve on the board," he says.
     Members who have served more than one term as a board member or trustee become only more enthusiastic about all the plusses in the experience. It is work to be sure, but the work is just a part of the story.
     "My participation in CETA has benefited me immensely," says Dennis Black, president of McHenry Pressure Cleaning Systems Inc. in Frederick, MD. "Serving with the quality people of the association has made me a better person."
     Service stands as another way to fulfill a desire to be a lifelong learner. That's because we learn and gain from every kind of meaningful activity in which we engage.
     The rewards come in all forms. "I have made valued friendships that have enriched my business and personal life," says Black. "Participation in the association has played a part and contributed to my successes in business."
     There's also another important factor for Black. "It is a way to give back to the industry that has supported me and my family." 
     Karl Loeffelholz, distributor division manager at Mi-T-M Corporation in Peosta, IA, also stresses the many professional and personal gains that come with service. Above all, he says, he appreciates the way board service allows him to "get more involved" with CETA.
     "I have worked with distributors in the pressure washer industry for over 25 years from the manufacturing side," says Loeffelholz. That interaction has given him "a lot of insight into their businesses."
     In serving the association, Loeffelholz taps what he has learned firsthand across a quarter of a century. "Having the ability to share this knowledge and experience with the association is my way of giving back."
     Of course, board members and trustees always look ahead as they build on the foundation already in place "I look forward to working with the board to maintain CETA's great benefits and look to improve and create additional programs during my tenure," says Loeffelholz. 
     It's natural to hesitate a bit when considering a new activity. And for those who have not yet been part of a board, there may be trepidation. Overcome it by taking to heart what current board members and trustees say. Even better, ask one or two of them for their candid appraisal.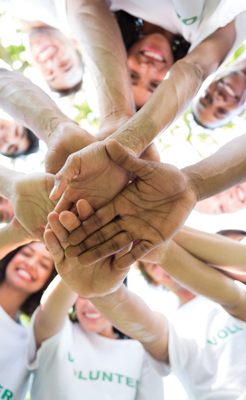 Yujin Yoo Anderson, the general manager at Steamericas in Gardena, CA, explains that she did have some reservations about service. But one thing above all won her over, and that was her great desire to give back to the community.
     "If the industry has served you well, you can return the favor by sharing your knowledge and experience," says Anderson. There's no need to fret about arriving to the board with less experience than veteran members.
     "Everyone's experiences and perspectives are so vastly diverse," says Anderson. As such, the "input" of everyone could not be more welcome. "The welcome to all is what makes CETA more resilient and better prepared for the future."
     CETA grows with diverse support. So does the industry. And so does the participant.
     "Being on the board helps me be up to date with the industry, whether it is a regulation change or new product release," says Anderson. "Service has been a great side bonus for my personal and professional growth." 
     Ultimately, as individuals grow in their professional and personal capacities, so does the entire organization and the industry. Good, good, and excellent.
     "I have been in the cleaning equipment industry for 40 plus years; I have had a great life because of the industry; and I felt that it was time to give back and possibly pay it forward, so to speak," says Jim O'Connell, president of Pacific Bay Equipment in Modesto, CA, who has served in many leadership roles, including president of CETA.
     "The greatest reward has been the wonderful lifelong relationships as well as friendships I have had with many individuals whom I would not have had an opportunity to meet, much less develop a camaraderie with," says O'Connell. He adds that the "level of professionalism" within the organization is so great that collaboration thrives among competitors.
     "Even though we all may sell a different product and compete against each other on a day-to-day business level, when we meet as the board, we all have one goal—to further promote the industry as a whole regardless of the brands or the companies we represent," says O'Connell. He encourages everyone to "take the time and volunteer their time" to CETA.