CETA Edge
No Better Way—CETA Membership
By Diane M. Calabrese / Published April 2022

From the Empire State to the Grand Canyon State, the CETA 2022 membership committee represents the breadth of our nation. That's good for outreach and great for staying in touch.
     The four committee members are Richard Benham, president of Kepner Equipment Inc./Chaffee-Ward Equipment in Canandaigua, NY; Al Bonifas, owner of All-Spray in Swanton, OH; Ryan Lindaman, industrial sales manager at Hydra-Flex Inc. in Savage, MN; and Greg Sprunk, president of Superior Cleaning Equipment Inc. in Phoenix, AZ. Bonifas chairs the group.
     Each individual brings a unique perspective to the membership committee, but they all share one unifying view: the Cleaning Equipment Trade Association (CETA) provides substantial benefits and resources to members. And it does so in an industry-specific way.
     Yes, membership in any vital professional organization offers the opportunity for growth and camaraderie. But for distributors, manufacturers, and suppliers in our industry, membership in CETA confers the added advantage of interacting closely with peers (and competitors). 
     There's much to gain from allying with others who experience the same challenges. Informal and formal interaction at regional and national meetings—and via phone and zoom—goes a long way toward clarifying and resolving issues.
     What are some things the collaborative environment of the association enables? Industry-specific problems and issues can be discussed and resolved. Regulatory entities can be persuaded by the force of a united voice. New technologies and methods can be appraised.
     From his vantage, Lindaman sees two huge benefits to CETA membership. One is benchmarking. In an indirect way, he explains, benchmarking facilitates "learning some of the best practices from colleagues in your field."
     And the second benefit? CETA is "a voice to represent the industry regarding new laws and regulations," says Lindaman. By preparing input for regulatory comment and monitoring new regulations, CETA reduces the possibility that regulations will have a negative impact on the industry. Lindaman cites the work of the association's technical committee on SORE [small off-road engine] regulation and UL1776.
     Connecting with members and potential members "to help them understand the resources that are available to them through CETA is a priority," says Lindaman. He adds, "We want to empower them with the knowledge that their peers and other industry leaders have used to make their businesses successful."
     Lindaman interacts with distributors each day in his role at the company where he works. He relishes the give and take and looks forward to the same on the membership committee. 
     Like Lindaman, Sprunk wants to get word more widely disseminated about all that membership in CETA offers. He plans to tap his love for marketing to accomplish that. 
     Does Sprunk have a particular strategy he hopes to use? "Well, speaking as a dealer, I think prospective members are pulled in a lot of directions, and we just need to get people's attention."
     The main question Sprunk and his committee colleagues pose to non-members is, "How can you afford not to be a member of CETA?" The successes of the association to date illustrate just what a significant industry force it is. 
     "From stopping the reclassification of hot water pressure washers to boilers, which would have led to much higher cost and more regulation in Texas, to the success in California [on SORE]," says Sprunk, successes keep multiplying. "CETA helps the entire industry, period."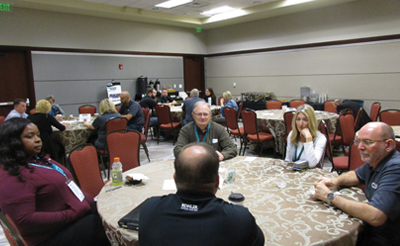 Sprunk also points to the wealth of information from benchmarking. "Comparing your company to others to see how you are doing is a very unique opportunity most small businesses don't have access to," he explains.
     Then, there are the connections. "The access to other dealers across brands as well as other manufacturers" is a real plus, says Sprunk—the chance for "meeting people you wouldn't normally meet. The tradeshow every year is also very good. We as dealers tend to be in a bubble—CETA gets you out and lets you have a broader view of the industry."
     With professionals pulling together, they can accomplish much more.  Can there be too many members? No. More people bring experiences and in-need-of-resolution issues from their own companies, thereby creating more energy.
     As chairman of the membership committee, Bonifas wants to add members. He has set a goal of a 20 percent increase. Ambitious and doable sums it up.
     Doable because the committee will be "marketing the benefits and recent accomplishments of CETA," explains Bonifas. "There is no other association in our industry serving the distributors of pressure cleaning equipment."
     All familiar channels are used in "getting these messages out," says Bonifas. "But nothing works like recommendations or referrals or the personal contact of one dealer to another on how CETA has benefited them."
     Participation in the association puts professionals on a steep and solid trajectory. "There is no faster, better way to shorten the learning curve to be more successful in our industry," says Bonifas.
     Besides its geographic dispersion, the membership committee reflects the range of experience within our industry: veterans and newer members as well as owners and employees. Such a combination ensures the retention of all that's been built as a foundation and the continuation of building with cutting edge outlooks and tools.
     "The work, time, and energy that has been put in by previous boards has gotten our organization to a point where we are stronger than ever and doing more for our members in very tangible ways," says Bonifas. Some of the ways—benchmarking and intense efforts of the technical committee—have been mentioned.
     Yet there are many more benefits to note. They include PowerClean, the annual conference and tradeshow in which CETA co-locates with PWNA (Power Washers of North America); certification for distributors; access to discounted shipping rates; lost/stolen equipment alerts; credit card processing discount program; and opportunities for employees and family members to compete for scholarships (through the CETA Scholarship Foundation).
     The annual and regional meetings of CETA incorporate education, certification, and networking. The association offers a program to assist members in keeping their employees certified to meet Hazmat, OSHA, and DOT requirements. A performance standard for manufacturers (CPC-100) and certification for distributors allow members to not only document their adherence to excellence but also to increase their visibility with the display of certification logos.
     Beyond the substantial (and still abridged) lists of benefits, there is the "something more" that derives from membership. Commitment to CETA, a professional organization, is synonymous with commitment to the industry. 
     The commitment signals an interest in contributing to the strength of the industry through continuing education, development, and innovation. It also demonstrates that there is an understanding of how building lasting links in all directions, including present to past, produces the kind of vigor necessary to sustain not only our industry but also the economic activity that enriches the nation and the world.
     Engagement is a powerful energizer and motivator. There is always something else to learn, do, and share. CETA gives members the opportunity to do all three and more.
     Bonifas sums it up this way: "With all the challenges and changes going on in our industry, there is no better way to be informed and to be a proactive participant in our industry than being a member of CETA."
     Not yet a member? Then, join today. Contact info@ceta.org.