CETA Edge
Membership Now More Important Than Ever
by Diane M. Calabrese / Published June 2023

Complicated. Challenging. Confounding. Choose all three. It's the reality of doing business in 2023.
      Regulations seem to be multiplying at an exponential rate. Hiring and retention can be difficult. Supply chains get disrupted. It's less than easy to forge ahead alone. Fortunately, no one must. 
      The Cleaning Equipment Trade Association [CETA] provides the resources and collaborative environment that industry members need to succeed in any economic environment, and this environment may become one for the record books.
      Membership in CETA is now more important than ever. Yes, there is every benefit of belonging to a professional organization—learning from others, networking, continuing education, professional discounts, and more.
      But in the 365 day-to-day of doing business, membership confers an even greater advantage. That is the significant force that can be realized by competitors joining together to consolidate their expertise and bring it to bear as they work for reasonable regulations.
      Greg Sprunk is president of Superior Cleaning Equipment Inc., headquartered in Phoenix, AZ, with a branch in California. He knows the regulations that have already rolled out in the Golden State and will eventually move across the nation.
      "The work CETA has done with the CARB [California Air Resources Board] and SORE [small off-road engines] committees is huge," says Sprunk. "Regulation across the country is only going to get worse.
      "It takes industry-specific knowledge to be heard clearly when regulating bodies request comments. We need to have an organization with our best interests at heart working for us," says Sprunk. "That is CETA."
      The association has been at the forefront of engaging on industry issues since 1990. "CETA was instrumental in not having hot water pressure washers classified as boilers," says Sprunk. "This would have meant a yearly licensing fee and many restrictions."
      Looking in all directions, in fact, the association keeps members up to date with structural and innovative changes in the industry. "There are and will continue to be great new technologies, great advances in the cleaning industry, and more efficiencies and opportunities in the future," says Sprunk.
      Among the structural changes are those connected to the move away from combustion engines as part of the global climate movement. SORE expectations are part of the effort to reduce carbon dioxide and other emissions.
      "The replacement of internal combustion engines is going to transform our industry," says Al Bonifas, former owner of Allspray and the immediate past president of the association. He adds that the ever-increasing regulations growing from climate initiatives cannot be ignored.
      "Those individuals and companies that are not proactive will be negatively affected," says Bonifas. "These changes will create many challenges but will also create many opportunities."
      Bonifas expresses concern that some industry members do not fully appreciate how fast things are moving and expectations are changing. Ignoring the trajectory is not a viable option.
      CETA, explains Bonifas, helps members put the challenges and the opportunities in equilibrium. "It will educate, advocate for, and lead and guide our industry in the tumultuous years that lie ahead."
      With its decades-long experience in advocating for the members of the industry and a long list of successes, CETA is well prepared for the coming years. Among CETA's accomplishments are the CPC-100 performance standards for manufacturers of pressure washers, a benchmarking program for distributors, and a commitment to development and enactment of safety standards (e.g., UL 1776, UL 60335-2-79).
       The THC 335H [Technical Harmonization Committee], which formed in June 2004 with four industry members for the development of UL 60335-2-79, has grown to more than 30. The deep and broad knowledge among its members ensures the priorities of industry will meaningfully inform national and multinational standards.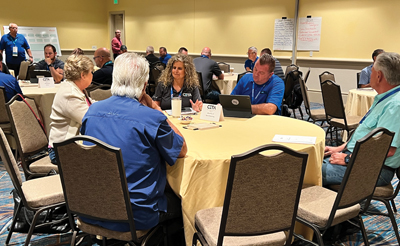 The association is an advocate for best practices in dealing with wastewater and emissions. On an as-needed basis it has stepped forward immediately to assist members with difficult topics (e.g., California Prop 65 and the COVID-19 pandemic) by collecting, consolidating, and disseminating accurate information.
      CETA is ready for what comes, and there is more to come.
      "One of the most vexing issues facing our industry today is the furtherance of regulations by government agencies against the use of pressure washers with less than 25 horsepower engines," says R. Calvin Rasmussen, CEO of Royce Industries L. C. in West Jordan, UT. And he reminds us again of the implementation of SORE regulations.
      Rasmussen explains that by working together members of CETA can make their voices heard. On behalf of the association and the industry, he presented an argument for giving manufacturers of pressure washers more time to comply with SORE rules. 
      "Without the help of CETA, we would not have had the success heretofore in moving this issue down the field," says Rasmussen. He emphasizes that continuous efforts are needed to make certain industry goals and regulations remain in equilibrium. 
      The Environmental Protection Agency (EPA)—and environmental entities such as CARB that trend a bit ahead of the EPA—see the taming of carbon dioxide emissions as just a first step. Nitrogen oxides and methane emissions, for example, are being scrutinized and rules for reductions in allowable amounts developed.
      Individuals can offer public comment regarding any pending federal rule when it's posted for comment. Yet a clear statement on behalf of an association representing industry members carries more weight than a series of individual statements. 
      "Our voices are louder when we stand together," says Karl Loeffelholz, distributor division manager at Mi-T-M Corporation in Peosta, IA. It's very important, he adds, that there be the maximum amount of input from industry members.
      It's an integral part of the mission of CETA to "stay on top of certifications, regulations, and day-to-day requirements" for industry members. The association benefits distributors greatly.
      Of course, the benefits of membership do not begin and end with the rigors of business. They extend to the recreational and social timeouts at the annual meeting (PowerClean). Through a separate financial entity (The Scholarship Foundation), family members and employees of CETA members can apply for competitively awarded scholarships. Employees can also apply for financial assistance with continuing education and certification courses.
      One big benefit of membership, already cited, is the access to benchmarking that comes at no cost with membership in CETA. "Benchmarking is an effective way to compare business portfolios and be able to make subtle changes to increase profits," says Loeffelholz.
      Back to the nuts and bolts, though, there is no better example of how fast things are moving in a challenging direction in 2023 than SORE regulations. "The regulations will affect all of us greatly in the near future; we are already seeing this in other states," says Loeffelholz.
      "The Technical Committee is spending a lot of energy, time, and money on making sure the California Air Resources Board understands how this affects communities and all business in general, which in turn directly impacts the pressure washer distributors," explains Loeffelholz. 
      Hoping for the best and/or sunny thoughts cannot erase the serious issues affecting the industry. The hard work of running a business demands attention to every factor affecting the business—internal ones and external ones alike.
      Not yet a CETA member? Visit www.ceta.org for membership information.