CETA Edge: It's Time to Apply for the CETA Education Foundation Scholarships
Published April 2014

H
istorical Roots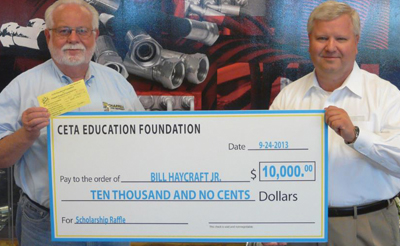 According to the website, www.ceta.org, the CETA Education Foundation is a separately incorporated, charitable organization for the purposes of scholarship awards to students of CETA members, their employee's and families, member education, and industry research. Since its inception in 1996, the CETA Education Foundation has given CETA members an opportunity to participate in encouraging and preparing the next generation to join our business and our industry. The goal is to benefit future leaders in the industry and increase professionalism at every level.
Letter From CETA Education Foundation
Dear CETA Members,
The CETA Education Foundation proudly announces the availability of scholarship applications for the school year of 2014–2015. It is our intention to offer six scholarships to CETA members in good standing, their employees, and their families.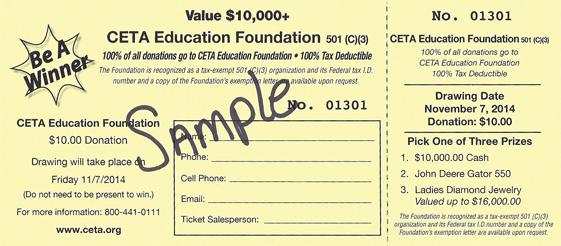 Two scholarships will be awarded in each of the following eligible membership classes: manufacturers, suppliers, and distributors. In the event a qualified applicant is not identified in one of these classes, the Trustees will award the scholarship(s) to the next highest ranking applicant, regardless of his or her membership class. Scholarship forms can be downloaded from the CETA website at www.ceta.org and logging into the "Members" section or by calling the CETA office at (800) 441-0111.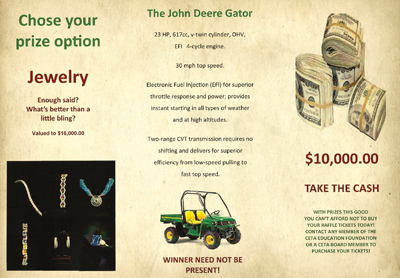 The CETA Education Foundation funds scholarships through a variety of activities. Members using the CETA-endorsed Lease Consultants programs earn the Foundation rebates on each lease financed. Raffle ticket sales and live auction bids during CETA's annual convention also help fund our efforts. We are pleased to announce our new Manufacturer and Distributor Challenge Sponsorship program to help raise money. And, as always, we continue to count on your generosity! Your tax deductible, individual contributions are vital to our efforts and will be greatly appreciated by the deserving students who earn our awards.
Through the support of the CETA membership and individual contributions, the Education Foundation has provided students with 90 scholarships over the past 18 years. We would like to take this opportunity to extend our sincere thanks to everyone who has made this program possible and who will help the program grow in years to come.
Best Regards,
The CETA Education Foundation Board of Trustees
Previous Scholarship Winners Speak

My name is Kim Micha, and I am the current Chief Financial Officer at High PSI in the Chicago area and a CETA board member. Every year, CETA's Education Foundation offers scholarships to students pursuing a higher education. I received the CETA scholarship in 2003 for my freshman year at the University of Wisconsin. With the help of this scholarship, I earned Bachelors and Masters Degrees in Accounting. This scholarship and other scholarships were very important to me being able to finish school with minimal debt.
After school, I spent a few years increasing my accounting knowledge in the business world, earned my CPA license, and then turned my focus back into the pressure washing industry. My parents started High PSI 38 years ago in their garage, and it is now the largest pressure washer sales and service center in Chicagoland. Going from the accounting world to pressure washing was a big, but welcome, change. This industry allows for much more human interaction, and every day is different from the last, especially at a small business. 
I know that CETA helped me get where I am, both with helping decrease my education expenses, and providing valuable member resources to learn more about this industry, increasing business, and networking. I now hope that my work on the CETA board will aid others in the same way and will help many more students.

Erica Hess
I am in my seventh year of a nine-year program to become a Doctor of Optometry. Tuition, room and board, plus necessary books and equipment costs at this stage of my educational process cost more than $40,000 per year. I am the fourth (and final) child in my family to pursue an advanced degree, therefore, my education is certainly not paid for. Student loans and my parents' financial assistance, plus scholarships are all absolutely necessary. The CETA scholarship helps ease my mind about the financial side of my education, therefore, I can better concentrate on academic achievement. I appreciate all of the help so much. I plan to give back to society even more than I have received.

Timothy Hardaway
The finances provided by the CETA Foundation Scholarship are vital to the completion of my degree. The funding is very substantial, but the scholarship also provides a level of recognition that makes me feel genuinely proud of my accomplishments. It's not every day that my name gets featured in a magazine, and that is something quite unique about the CETA Scholarship.

Mary Lohberg
I cannot fully express what CETA's award has meant to me. CETA has touched many aspects of my education experience, as the award has assisted me in both my undergraduate career and graduate school undertakings. I combined my studies in part of a fast-track program, in addition to supporting a study abroad/service learning trip experience to Ecuador for a course where we focused in Occupational Therapy care of the pediatric population.
This award has also allowed me to not feel guilty about taking advantage of other opportunities, such as traveling to larger hospitals outside of my local area to broaden my experiences during clinical fieldwork rotations. CETA's belief in me as a student, and the educational and professional pursuits I take on, makes me grateful beyond words. Though I continue to maintain the same workload I had before receiving CETA's award, I value that their support allows me to do well in school and take advantage of extra learning opportunities, not work, which can remain the top priority in order to succeed both now and as a future healthcare practitioner.
Additional Opportunities
• Silent/Live Auction—The Education Foundation will host a live auction this year, so be sure to participate and receive great items donated by the industry and help educate our children.
• The Great Diamond Giveaway—Farley's, Inc. will be sponsoring this again with two, one-half carat diamonds to be given away. There will be 200 boxes available at $20 each.
• The First Annual CETA Education Foundation Golf Tournament—Make plans to attend and donate to the first annual, CETA Education Foundation Golf Tournament  and fundraiser where there will be additional opportunities to secure sponsorships while getting to know our industry leaders. We will co-host this event with the ISSA Education Foundation.
The CETA Education Foundation will be accepting scholarship applications through April 30, 2014. Please download the forms at www.ceta.org or call (800) 441-0111.