CETA Edge: Encouraging Employee Involvement and Initiatives
By Diane M. Calabrese / Published December 2015

Bridge the gap between image and reality to seize opportunities for innovation. That's the day-to-day of continuous improvement. 
Of course, ideas pop up all the time. Capitalizing on them requires knowing about them in the first place.
Manufacturers and distributors realize their employees provide a great source of ideas. As such, employee engagement counts not only to ensure excellence in products and service, but also to ensure there is an easy give and take of notions and concepts, which might benefit the business.
A fundamental dimension of involving employees is to encourage them to aim to see the business as they would their own. "I don't consciously take a special approach to keep my employees fully engaged in their jobs, but I do regularly remind them to treat the business as if it was their own," says Twig Wood, who co-owns American Cleaning Systems, Inc. with his wife Bondi Wood. The family-owned company is based in Columbia, MO.
A natural reciprocity develops when there is a strong link between employer and employee. "Sometimes I'll ask my employees for input on how to solve an issue," says Wood. "For example, when it comes to computer programs or Internet services, I rely almost entirely on my employees to make decisions."
Being able to delegate to employees, and in turn value their approach and suggestions, is one manifestation of having involved, trusted employees. Similarly, acting on the solid initiatives of employees also strengthens a company.
"My son, Joe Wood, who is vice president of the company, has come up with some new ideas to increase sales and marketing," says Wood. "And we are using his ideas to improve our website and social media."
An openness to considering changes recommended by employees is the hallmark of an employer who knows how to keep a business strong. Some manufacturers and distributors—and particularly those with many employees—put in place a formal mechanism for exchanging recommendations.
"Having employee engagement is very important," says Curtis Braber, president of BE Pressure Supply, Inc. in Abbotsford, BC, Canada. "We host monthly meetings with office staff and warehouse staff—separately—to discuss what is new…"
The discussions of the new can include anything from new products to new facilities to changes in manufacturing and so on, explains Braber. "We feel that when we give our employees the whole picture—similar to what management is doing, then they feel they are part of the direction we choose."
Positive outcomes flow from the understanding that employees gain during such discussions. "We see the employees often step up to take new challenges on when we empower them with this knowledge," says Braber.
Keeping information flowing is a process in itself. The stronger the mechanism for sustaining the flow, the easier it is to capture the best from the entire team.
"We often have department roundtable discussions to allow staff to express the things they see as obstacles to getting their work done," says Braber. "That flows into bigger discussions about different ideas related to internal structure, as well as ideas about product development."
For instance, one recent idea that originated from an employee roundtable will benefit dealers. "We are in the process of creating a very large dealer-only website for ordering and product information for our dealers," says Braber. "This idea and direction was chosen from our staff at a roundtable discussion."
Lean and Friendly
The colloquial expression 'lean and mean' antedates the advent of lean manufacturing processes, which were introduced to the United States by Toyota and others in the 1990s. Yet the equating of skillful with 'mean' in the colloquialism conveys the essence of lean, a process improvement methodology that has taken hold across sectors of the economy as far-ranging as automobile plants and hospitals.
The federal government constitutes another entity that has embraced process improvement. Consider one illustration in an agency manufacturers and distributors know well. The Environmental Protection Agency's Lean Government Initiative (www2.epa.gov/lean-government) endeavors to identify and then eliminate waste (in programs and processes) with the result that efficiency, effectiveness, quality, speed, and transparency all improve.
Employee engagement can be fortified by using any number of process improvement methods—informal ones included. Many manufacturers and distributors are using formal approaches, such as lean, however.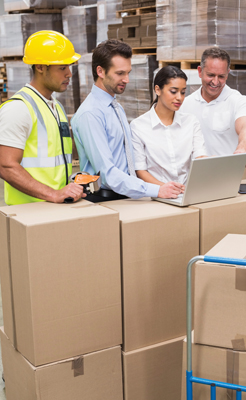 "We have recently implemented a lean approach to our business where we encourage all employees to save two seconds a day by reviewing their everyday tasks—and problem-solve to find a better way," says Jim O'Connell, president of Hotsy Pacific in Modesto, CA.
"We also have a meeting for 10 to 15 minutes every morning with all employees to share the concept of lean —and after that we devote 20 minutes to their areas to sweep, sort, and standardize," says O'Connell. "During the morning meeting, we focus on the employees more than the business…"
A focus on employees by management and ownership builds ties to employees. It is a key component of employee training. It is a sort of training separate from training on equipment or processes, explains O'Connell. And it's just as important because it "helps develop the employee."
As the professionalism of each employee grows, a professionalism that includes being able to discuss issues and ideas with everyone at the company in a concise and cogent way, the company benefits, too. It's a facet of employee development as important as all others.
"We encourage all ideas to be brought forward on a daily basis in our meetings," says O'Connell. "There is no bad idea. We encourage everyone to fix what bugs them, no approval needed."
Moreover, the good that comes from employee involvement and initiatives is both small and large. To amplify the point, O'Connell cites a change that occurred because an employee came forward.
"An employee noticed that every time someone walked through a door, they did not seem to know how to close the door behind them," says O'Connell. "So someone else had to close the door or risk wasting dollars either heating or cooling their offices, depending upon the time of year. The simple idea was to install spring-loaded hinges on the exterior doors so the doors close automatically."
Incremental changes matter immensely. "You might say, is the door solution a business initiative?" says O'Connell. "I would say, absolutely. The employee is engaged in the business enough to recognize wasted dollars and time and to come up with a solution."
Amongst the formal and the informal but structured approaches to engaging employees and establishing a network for involvement and initiatives, manufacturers and distributors never lose sight of the quiet ways that employees demonstrate their involvement and initiative each day. Owners know their valued employees do not share—or as professionals consider it necessary to share, each tribulation of the day and how it was met.
Yet the manufacturers and distributors are aware that they have competent team members who deal with the unexpected, such as a misdirected order, a less-than-cordial prospective customer, or a software malfunction, daily. Because the employees are fully involved, they find a solution and take care of the issue—almost always without the owner being aware. It's what the owner expects of a solid team member: the kind of initiative noticed only when absent.