CETA Edge: Don't Slight Your Inventory Management
By Diane M. Calabrese / Published August 2015

T
racking Inventory
      So connected are sellers and buyers in 2015 that in some cases it's possible to get a glimpse at a seller's inventory when ordering online. If the product is out of stock or there are only a few quantities left in stock, the prospective buyer gets that information immediately.
Letting a prospective buyer know the ready-to-ship supply of an item is limited can gently push the decision to buy, making it at least partly a good strategy. It can be a less-than-good strategy if competitors are tapping into and using the information to refine their product line. Of course, with the ability to track visitors to a website, it's also possible to assess what competitors are viewing. That evens things.
Irrespective of what a manufacturer or distributor decides to share about inventory, inventory management cannot be slighted in any way. "Inventory management is a very important part of our business," says Karl Loeffelholz, dealer division manager with Mi-T-M Corporation in Peosta, IA. It's part of "making the sale and being profitable."
When a customer wants a product, the customer more often than not wants it quickly. "We see a number of markets today that demand a product be shipped within two to three days of order," says Loeffelholz.
As a result, a lag in replenishing inventory can mean the loss of a sale. "Nobody wants to lose the order to someone who may have the inventory in stock," explains Loeffelholz.
"It's essential to keep track of all inventory, regardless if it is parts or finished goods," says Loeffelholz. "It can get very costly to have the wrong inventory."
For example, explains Loeffelholz, there is overhead tied to keeping items in stock that are not moving to buyers. As such, inventory management encompasses tracking what moves and what does not, as well as speed of movement from seller to buyer. The effort generates a sales history.
"All forecasts are put in place based on past sales history," says Loeffelholz. Projections are not made exclusively using quantitative data, though. "Knowing the market and talking with customers" are qualitative aspects of forecasting, says Loeffelholz. They enable adjustment of forecasts based on inventory.
Chicken and Egg
Among all the components of a business, how important an endeavor is inventory management? Well, it's a little like a chicken and egg question about which comes first.
"It is difficult to rank the importance of inventory management to other endeavors, as they all ultimately affect how you serve your customers and how successful you are," says Ray Najda, purchasing manager at R.W. Beckett Corporation in Elyria, OH. "It's safe to say that inventory and the management of inventory are extremely important for businesses."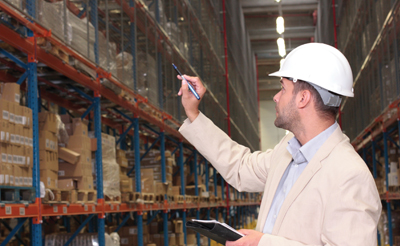 Inventory management is part of sustaining and growing a business. "First and foremost, you want to be able to meet your customer requirements, and how you do that affects your overall cost," says Najda.
There's a reciprocity between customer service and cost control. "The better a company is at managing its inventory, the better they are able to support their customers and manage their costs," explains Najda.
Najda's company has software that helps manage inventory, as do almost all firms today. But he offers the same cautionary note that Loeffelholz does by reminding inventory management is not an entirely quantitative enterprise.
One must know the market, the customer. "We plan our purchases and inventory based on customer and forecasted requirements," says Najda. In other words, both Loeffelholz and Najda advise there is no substitute for the human connection. Whether they are a member of the sales team or service team or any other part of a company, listening to what customers are saying about future needs is a must.
"I feel one of the biggest mistakes a company can make when managing inventory is to think that purchasing in large quantities will result in lower overall cost and better customer service," says Najda. "It has been my experience that more frequent receipts in smaller quantities is a more effective way to manage inventory while meeting customer requirements."
To get the optimal balance, truly engage the customer, says Najda."The best way to do this is with your short- and long-term planning and to involve your customers in the planning process."
Useful Tips
Inventory Management, a publication in the Management and Planning Series of the U.S. Small Business Administration (SBA) at www.sbaonline.sba.gov, offers many useful tips for manufacturers and distributors who would like to reappraise their inventory management with an eye to doing it even better. The authors of the educational document suggest some goals for successful inventory management.
The goals hinge on combining the quickest possible turnover, lowest possible stock, and best assortment of items with cost containment and good service. As the authors of the document point out, if service is sacrificed to achieve one of the goals, the seller will lose market share.
The SBA educational document also discusses approaches to inventory management, such as material requirements planning (MRP), just in time (JIT), and Kanban. Each has advantages, and a company must decide, which, if any particular named method, works best.
With MRP in place, manufacturers can tie the sale of products to the components or raw materials required to make more product. It speeds reordering.
JIT can reduce the amount of storage space required. When a manufacturer (or distributor) supplies a JIT business, it must be willing to make many small deliveries—perhaps in one day. JIT can be a good strategy for the buyer, but for the seller, it may add costs (e.g., packaging, transportation, and delivery personnel).
Whether using a specific approach for inventory management or just relying on an unnamed system that has been developed in-house, certain basics apply. Consider the basics of receiving a shipment.
The basics can be summarized (our summary) this way: verify, report, consolidate, and wait. The count and integrity of every shipment received should be verified on receipt. If there is damage, it should be reported to the carrier. The carrier should be asked on next return to inspect the damage and sign a damage report (to the shipper) be prepared. The waiting comes in retaining the damaged items until the shipper indicates what should be done with them.
Often a shipper wants damaged items returned. Sometimes the receiver is told to discard. Wait until there are instructions.
On the flip side, every customer receiving items from a manufacturer or distributor will be doing the same verification of deliveries. Have a plan for dealing with damaged items and errant deliveries. (Such things sometimes happen to all manufacturers and distributors.)
Finally, the SBA educational document on inventory management has special tips for manufacturers. Some of the clients of manufacturers must bid on work. When they bid, they must often describe their equipment in terms of its capability and certification. A manufacturer can make it easier for a buyer to choose (and use) its equipment by supplying such information along with the description of the item.
When a product is built in multiple models or with many options, make certain that the inventory of the product includes such subcategories. The same sort of detailed inventory—not only products available but products with options—also benefits distributors.