Business Opportunity: Find It or Make It
By Kathy Danforth / Published August 2020

Sometimes you stumble on an opportunity, and other times you create it. C. L. Scott of Houston Washpros Power Washing has found that it often takes both, with a good measure of perseverance thrown in.
Scott moved from Detroit to Houston in 2010 with the idea of going into youth ministry and landscaping with his older brother. "The landscaping and then tree trimming didn't work out," he recalls, "so I was installing sprinkler systems. At a job it started raining, so I rented a pressure washer to clean the customer's sidewalk. Two days later the customer asked for his driveway to be cleaned. Then a neighbor called us, and when I went to rent the equipment, the lady came back with a surface cleaner. That cut a six-hour job down to an hour, and I saw that this was something I could do."
With this new job path, Scott proceeded to expand his services. He explains, "One customer wanted a clean house, so I researched how to do that on YouTube and power washing forums. That was better than driveways since I could make $500–600 in a couple of hours."
Marketing and entrepreneurship come naturally to Scott, so he pursued more customers. He relates, "When I was seven or eight, my parents gave me a Polaroid camera, and I would take pictures at church and sell them. I had always been in sales, so I had learned how to market and make simple graphics."
To start out, Scott took blank color cardstock—with the cheaper black and white printing—and made three door hangers per sheet from 250 sheets. "I went door to door passing out door hangers," he explains. "I used EDDM (Every Door Direct Mail from the post office), social media, flyers, word of mouth, and networking groups."

However, from 2011–2013 pressure washing was relegated to part time while Scott worked at other jobs. By 2013 he was married, and when he needed to find another job, he was able to pursue power washing full time since his wife was working and able to provide financial stability. "Initially, she held us together," Scott notes. "My wife was awesome the whole time and whole-heartedly believed in me. It has definitely been key that I didn't have to stress about home and how she felt about the process of building a company.
"When I started, the first couple of years were tough, not knowing what was going to happen, so I was exercising my faith. One of my mentors calls it FROG—fully relying on God. I would drive around and would clean a driveway for $50 just to make money for the day. There were two pivotal moments. One was when I got my first commercial job. I was working my way down about three miles of street, giving the worst sales pitch on the planet—'You don't want pressure washing, do you?' And when I was almost to the end, BJ's Brewery had just had someone quit, and the manager said, 'How soon can you come?' That was awesome and gave me a huge boost of confidence. Plus, I took so many pictures to put on flyers everywhere.

"Another pivotal moment was when I was talking to my mom and said that God's not blessing me enough to get a new trailer. She said that you can't do enough to make God love you more or less—our righteousness is like filthy rags. She read me the riot act and said, 'You need to tell the devil to let go of your stuff; that's not God's problem, it's about your confession." I made the adjustment to my daily confession. Then a week later I got one job that paid for a new trailer, and by the end of 2015 I was making six figures profit."
Residential work is where Scott started, and he found it a great training ground. "I've learned how to clean graffiti, battery acid stains, and rust stains, and how to deal with cobwebs and dirt daubers. You learn how to deal with a lot of surfaces—stucco, brick, concrete, old and new materials. You learn the different cleaning solutions, ratios, and processes to use, and the jobs pay right away.
"It's hard to break into commercial work," Scott advises. "First you need to have enough money to have the right equipment. You need the knowledge and ability to effectively clean. There has to be the right contract to keep business going, and you have to have a resume that will get them to believe you can do the job without causing damage or liability or creating a hassle. For most commercial contracts, a contractor needs two million in liability insurance, a two million umbrella policy, and one million in auto insurance. That's almost $10,000/year, and you have to provide a certificate to bid."
Having the right equipment is a major step in the journey. Scott shares, "I started with a trailer borrowed from my brother (which I eventually purchased) and a small 2.2 gpm pressure washer with a garden hose reel that I found in the trash and painted. When I got my 401K payment from my last job, I cashed that out and got a gas-powered hot-water unit. I have added equipment every chance I got with every big job."
Scott advises, "When you have six months of savings, reinvest immediately in equipment so you can get commercial jobs. I added constantly and went from a 5 ft. x 8 ft to a 16 ft. trailer and then upgraded to a flatbed. Now I have a 2019 Ford F550 flatbed with two commercial 8.5 gpm, 3500 psi hot water units with two electric hose reels. They hold 300 feet of industrial grade high-pressure hose each, so I can go 600 feet in one shot, and I have a 925-gallon tank so I don't have to stop to get water."
Currently, 95 percent of Scott's work is cleaning shopping centers, so he maintains focus on that market. "Shopping centers have been most profitable for me. I thought it would be restaurants, but the problem is that they have so many partners that pressure washing is often postponed or cut from the budget. I can't take residential jobs during the day because I have to keep up with the shopping center work at night. Exhaustion makes bad work." For residential and most other day jobs, he says, "There are five or six guys I have trained, and I'll subcontract those jobs to them.
"Time is money," Scott notes, "so there's no time to break down. I always buy new equipment, and we change oil and filters as recommended. I buy a lot of spare parts, and we stock plenty of 50-foot hoses so if one pops, I can change it and keep going."
Scott's brother works with him part time, but finding good help has been Scott's main challenge. "I could be bigger than I am now," he says, "except for having to rely on people. Some help for a while, but then, in my opinion, prematurely start their own company. It takes time to train someone and can double the time on the job when someone is training. If he wants to do it his own way, or take shortcuts, or do other stuff when you're not looking, it can cause a lot of damage. Power washing is sophisticated, and a lot of things can go wrong. The job can take longer if you don't do it a certain way, and I have a process. The swivels on the hose need to be aligned so you're not fatigued, cones are important, flashing lights are important, the cleaning solution and which tip you use for different surfaces all make a difference. Some employees take instruction the right way and then leave; some work and get paid, and then you don't see them until the money runs out; some are on the phone. I'm trusting God to find good help."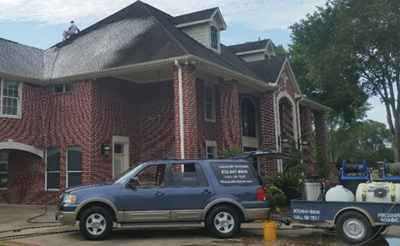 Though Scott would like to grow, his first goal is to maintain his current business. "I believe I have a really good system, and I've got a great company with my brother right now, but I would rather have two or three more trucks working because there's so much more work out there. I would definitely like to pursue growth and training, and I have nephews that I'm pretty sure will be able to take the company if we hang in for ten years or so," he says.
The flexibility of being self-employed is also enabling Scott to pursue mentoring in Houston. "I was certified as a mentor in two of the Houston area's largest school districts, but then COVID-19 hit and messed everything up. But with my contracts set up, I save time on marketing. It's a perfect time to start helping youth."
Growing a business is an exciting challenge, but the satisfaction of an established business constructed to your specifications has, over time, become reality for C. L. Scott.