Building the Dream: Highlights from the 2013 PWNA Annual Convention
Published December 2013

This past October, the Pressure Washers of North America (PWNA) met for their Annual Convention in Orlando, FL. This was the 21st Annual PWNA Convention and was themed "Build the Dream, Live the Dream." For the second year in a row, the event was held at the Embassy Suites Orlando—Lake Buena Vista South. In fact, John Nearon of Exterior Wood Restoration in Cicero, IN, and incoming President of PWNA comments about the 2014 Annual Convention, "We have made arrangements to have it again at the Embassy Suites Orlando in 2014." The dates of the 2014 Annual Convention aren't set yet, so continue to check in at www.pwna.org so you can make plans to attend next year.
Highlights from the 2013 PWNA Annual Convention held October 18–19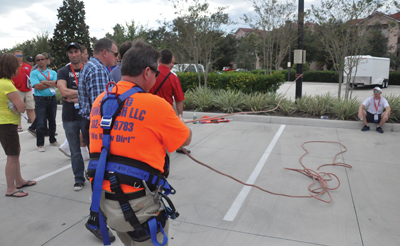 • Jared Greene, Fayetteville, NC, won the "Washin' Warrior Project" award, presented by Envirospec. Greene was provided with a hot water pressure washing unit skid. He also received a $1,000 chemical inventory gift and $3,000 worth of marketing assistance. Greene served six years in Afghanistan.
• Attendee Jessica Norwood won the Mentoring Program award. Paul Horsley will be available to mentor Norwood for the next year.
• The Joe Walters Award went to Pressure-Pro.
• On Saturday, October 19, Marv Gerdes of Hydro Tek presented the skid giveaway, which was won by Jared Greene of Fayetteville, NC.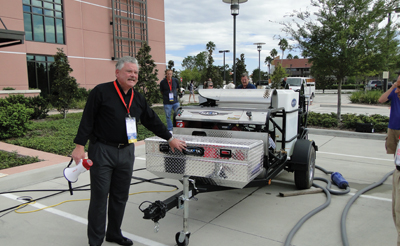 Educational Classes
There were more than 10 educational classes offered to attendees. Michael Hinderliter taught on Nine Tips to Help Manage the Growth of Your Business. This was a solid presentation on the nuts and bolts of managing your business wisely.
Here are a few of the important lessons gleaned from this course:
• Take care of your employees and customers. This is one of the most important practices you can make in being successful.
• As a business owner, develop successful systems and put them in place.
• Maintain a budget and keep an eye on your profit margins.
Mark and Joanne Forbach, Green Thumb Professional Services, Buffalo, NY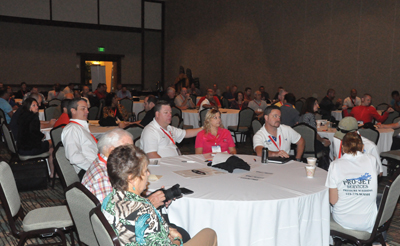 As owners of Green Thumb Profes-sional Services, Mark and Joanne Forbach made the trip from upstate New York to attend PWNA's 2013 Annual Convention in Orlando, FL. While attending the convention, they spoke to Cleaner Times | IWA about their positive experience at the Convention.
What have you learned at this convention that you will take and implement in your business?
Most importantly, we have learned that we need to work on our business strategies, and we need to work on marketing our business more efficiently and improve the management of our budget.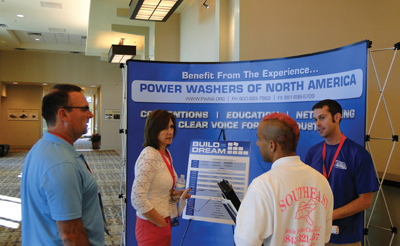 What brought you to the convention?
After I (Mark) attended the Nashville convention, I made a commitment then that I would try to attend at least every other year. I learned so much from the Nashville convention that I knew this year's convention was something I needed to attend again.
What challenges are you facing in your work?
The biggest challenge we face in our work is growing a quality staff by finding and retaining good people.
What has enabled you to grow in  your understanding of the industry?
The Internet and attending educational sessions like the ones offered at PWNA have encouraged our growth in the industry.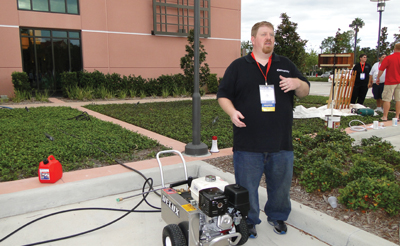 What has stood out to you as a strength at this Convention?
I (Joanne) think the best part is that everyone here is willing to help one another and provide useful business information so freely.
What would you like to see at next year's convention?
We would love to see the same enthusiasm that is here this year. I believe this year's show is better than the show in Nashville that I attended two years ago.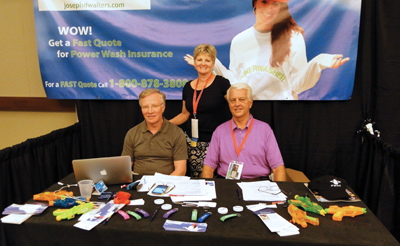 John Nearon, PWNA President
What goals has PWNA set for 2014?
We want to continue to grow PWNA's membership and opportunities to network among members. We also desire to improve the value of education and increase educational opportunities. The board wants to serve the membership and increase awareness of PWNA's online recertification program. In order to get certified for the first time in any category, it is required for the person seeking certification to attend class.
What challenges are PWNA members facing right now?
Increasing federal regulations are a challenge for our members, as are business insurance costs and across-the-market expenses.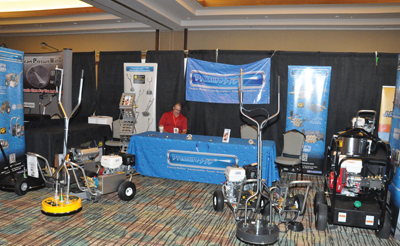 What new technologies are being introduced to the industry?
The use of soft washing is beginning to increase in use and manufacturers are developing newer products that require us to use different methods to effectively clean these surfaces.
How has the Embassy Suites Orlando and locating the event in Orlando the last couple of years been advantageous to PWNA?
We have developed a great relationship with the Embassy Suites staff in Orlando. The hotel is a clean, family-friendly environment with great amenities; it doesn't hurt that Disney World is only minutes away. Plan on making a trip to Orlando in 2014 in order to be a part of the great educational opportunities and networking that happens at PWNA's Annual Convention.
Panel Discussion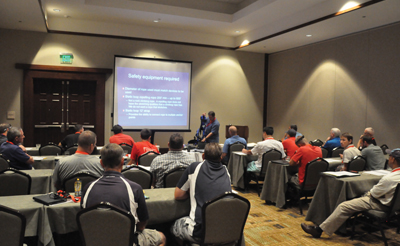 Taking Your Business into the Millions
The panel of Eric Clark, Ty Eubanks, Paul Horsley, Michael Hinderliter, and Daryl Mirza were asked questions on how to run and grow a successful business. Here are a couple of the questions they were asked and the answers they provided.
Should I diversify my services or not?
Eric Clark: "Focus on what you do well."
Ty Eubanks: "Find your balance, and use your resources wisely."
Michael Hinderliter: "In making those decisions, make sure you are keeping track of your numbers and financials."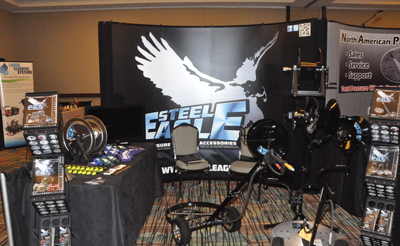 How do you manage multiple projects and see that the work is completed properly?
Paul Horsley: "Trust your staff, develop good systems, and reward your staff for good performance."
Eric Clark: "Give your staff recognition."
Ty Eubanks: "Have quality control, present yourself professionally, have good processes in place, and offer something similar to a supervisor of the month award for good service."